Rhode Island Philharmonic Presents WEST SIDE STORY
The concert will be conducted by Tito Munoz.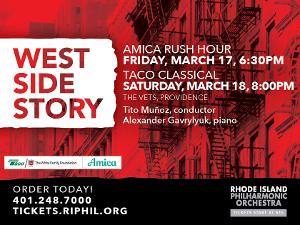 The Rhode Island Philharmonic Orchestra presents West Side Story on Saturday, March 18th at 8:00pm at The VETS, Providence. Conducted by Tito Munoz.
The program includes Ravel's Rapsodie espagnole, Prokofiev's Piano Concerto No.3, featuring renowned pianist Alexander Gavrylyuk, Jennifer Higdon's Cold Mountain Suite, and Leonard Bernstein's Symphonic Dances from West Side Story.
Tickets start at $15 and are available online at tickets.riphil.org or by phone at 401-248-7000. Rush Hour concert on Friday, March 17th, at 6:30pm.