Click Here for More Articles on BEAUTY & THE BEAST
BWW Review: Theatre By The Sea's BEAUTY AND THE BEAST Full of Fairy-Tale Enchantment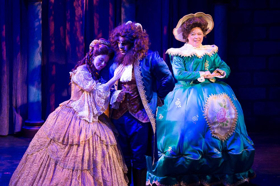 Disney's animated Beauty and the Beast was deemed an "instant classic" almost from the moment the film's opening frames came into focus on cinema screens. Even in its earliest days, Beauty earned glowing critical praise and enjoyed phenomenal commercial success. The film garnered an impressive slew of awards, and it had the distinction of being the first full-length animated feature to be nominated for the Academy Award for Best Picture. More than two and a half decades later, Beauty is still considered the gold standard in animation storytelling. Not only is the film a visual masterpiece, it boasts a beautifully crafted storyline, a superb cast of voice actors, and one of the most memorable musical scores in cinematic history.
That award-winning music drew great interest from the start, and many viewers - critics and audience members alike - noted the grand theatrical sound of the film's big numbers. Beauty had Broadway in its blood and seemed destined for the stage; indeed, only three years after the movie's debut, the story and songs came to life on the Great White Way. Like its film counterpart, the stage show was a smashing success. Beauty and the Beast became the tenth-longest-running musical in Broadway history, with national tours crossing the United States and more than 30 international productions bowing on stages from London to Japan to South Africa.
Now Matunuck's Theatre By The Sea captures that fairy-tale magic in its summertime production of Beauty and the Beast. This is a sizeable show for the petite TBTS stage, but director Bob Richard and choreographer Diane Laurenson make judicious use of the limited playing space both to showcase the biggest song-and-dance numbers and to bring a sense of atmosphere and scale to smaller, more intimate scenes.
As for those song-and-dance segments, TBTS's talented company (under the musical direction of Jesse Warkentin) delivers "Gaston," "Be Our Guest," and "Human Again" with the depth and resonance of a chorus twice its size. These scenes are showstoppers in every sense of the word, and from ensemble members to lead performers, the sparkling TBTS cast clearly committed to giving each number its very finest efforts and energies.
Lauren Weinberg heads the company as Matunuck's "Beauty." She embodies all the key qualities that make Belle one of Disney's most beloved characters: spunky independence, far-reaching compassion, and keen intelligence. Weinberg has a lovely singing voice and she builds her characterization through each musical number. Her Belle is utterly - and hilariously - aghast at the boorish Gaston's romantic advances in "Me"; she enjoys a close, loving bond with her father, beautifully pictured in the duet "No Matter What" (with Thom Warren as Maurice); and she experiences a dynamic moment of self-realization in the second-act solo "A Change in Me."
Weinberg's interactions with Philip Bryan's Beast are spot on as well. These two actors are well paired, and they play Belle and the Beast's scenes - from antagonistic beginnings to budding romance - with sensitivity, chemistry, and great humor. Bryan spends the majority of the production clad in prosthetics and a fuzzy mane, yet he works with the makeup application to enhance his portrayal through his furry facial expressions. This Beast can be utterly fearsome with a mighty growl and hair-trigger temper, but his softer side is no less developed, and Bryan offers subtle changes in the Beast through brilliantly delivered comedic lines. In addition, Bryan also gives one the most impressive and beautiful vocal performances of 2017 to date. His renditions of "How Long Must This Go On?" and "If I Can't Love Her" drew audible murmurs of appreciation from the opening night audience. Not only are his performances entirely on point musically, the depth of emotion Bryan brings to these songs make them truly standout moments in the production.
Rounding out the main trio is Beauty and the Beast's antagonist, the narcissistic chauvinist Gaston. Wayne Hu steps into "town hero" Gaston's boots at TBTS, and the millisecond he swaggers into the spotlight, the stage is unequivocally his. Hu gives a masterful performance as the self-absorbed, arrogant hunter, and he has wonderful rapport with Josh Walker, who plays Gaston's sycophantic sidekick, Lefou, to absolute perfection.
Gaston is established as a bully early on, but the comic side of his character is much more in play during the first act. Hu basks in each overblown, hammy moment, posing and flexing with glee and reveling in the quick-witted (and self-aggrandizing) musical numbers "Me" and "Gaston." By the second act, the gloves are off as Hu's Gaston turns downright menacing, and blithely egocentric first-act melodies give way to the dark, dangerous tones of the "Mob Song." No matter the character of the number, Hu's outstanding baritone interprets every note for a vibrant and authoritative performance.
Other TBTS cast standouts include the delightful duo of Jeffrey Johnson II as wonderfully fussy and overwound Cogsworth and Josh Houghton as the lighthearted, amorous candelabra Lumiere. Ellen Peterson plays the iconic Mrs. Potts, delivering a lovely performance of Beauty's award-winning title song. Along with Stacey Geer as operatic Madame de la Grande Bouche, Melissa Jones as the flirtatious Babette, and adorable Reid Taylor as Chip, these actors breathe life into the castle's collection of Enchanted Objects. The musical's script sensibly provides a rationale for human-sized teapots roaming the halls by indicating the inhabitants of the Beast's castle are in a progressive state of transformation, each day becoming a little less "human." While the Objects often serve as comic relief, this encroaching enchantment affords their characters a real, growing sense of anxiety - even despair - and allows these actors room to create a more layered and detailed performance.
Kyle Dixon's scenic design calls to mind key elements of the animated Beauty, with stained-glass panels flanking the stage and trailing vines crossing the proscenium. Mobile set pieces establish place in the narrative and help transition smoothly between scenes. Paula Peasley-Ninestein coordinated Beauty's costumes, which feature some real gems from Miguel Angel Huidor's beloved Stage Entertainment designs. Jose Santiago's lighting sets the mood of each scene, from dappled sunshine filtering onto Belle and Maurice's cottage roof to the foreboding, eerie gloom of the woods surrounding the Beast's castle. Danny Erdberg's sound design supports the storytelling even as it polishes every note of the musical numbers to an ideal shine.
Undoubtedly Beauty and the Beast will prove a sure-fire hit for Theatre By The Sea this summer, and audience members of any age are certain to fall under its spell.
---
Theatre By The Sea presents Beauty and the Beast through August 12, 2017. Ticket prices range from $46-72 and can be purchased in person at the TBTS box office, by telephone (401) 782-8587, or online at www.theatrebythesea.com. Theatre By The Sea is located at 364 Cards Pond Road, Wakefield, Rhode Island 02879.
Image Credit: Steven Richard Photography.