Sandhills Repertory Theatre to Present JUDY, JONI AND JOAN in March
The performances will be on March 18 and 19.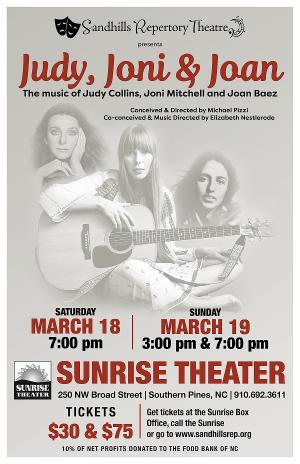 "Judy, Joni and Joan: The Music of Judy Collins, Joni Mitchell and Joan Baez" will be presented by the Sandhills Repertory Theatre at the Sunrise Theater March 18 at 7pm and March 19 at 3 and 7pm.
Their music changed the world and was music that inspired, activated and engaged a whole generation. They were also best friends and have been for over 60 years ! Hear their biggest hits such as "Big Yellow Taxi", "Both Sides Now" and "Forever Young", along with "Amazing Grace" and "Send in the Clowns" sung by a trio of musicians playing guitar and piano, while their vocals bring you back to an era you can remember!
Conceived and directed by Michael Pizzi and music directed by Elizabeth Nestlerode (June Carter Cash in SRT's recent Johnny Cash show).
Tickets at the Sunrise Theater box office, by calling 910-692-3611 or go to www.sunrisetheater.com or www.sandhillsrep.org. Email: sandhillsbroadway@gmail.com