Interview: Paige McNamara and Francesca Ferrari Step Into Rock Icon's Shoes in A NIGHT WITH JANIS JOPLIN at NORTH CAROLINA THEATRE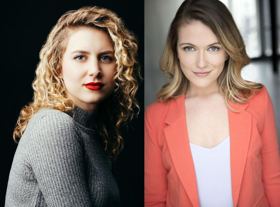 Like a comet that burns far too brightly to last, Janis Joplin exploded onto the music scene in 1967 and became one of the most successful female rock stars of her time.
This week, North Carolina Theatre pays tribute to the rock legend and her influences by bringing Randy Johnson's 2014 Tony Award nominated A Night with Janis Joplin to the AJ Fletcher Opera House in Downtown Raleigh. Johnson not only wrote and directed the Broadway musical, but he is also directing the North Carolina Theatre production.
Sharing the role of Joplin are Paige McNamara and Francesca Ferrari, both of whom say stepping into the rock icon's shoes, sharing her legacy, and working with Johnson is a dream come true.
"I've loved her for so long even before the show came into my life," says Ferrari. "I still sing Me & Bobby McGee with my best friend Jack. He accompanies me on the guitar and we sing it in harmony. It's just such a special song to me. And then Try (Just a Little Bit Harder) is one of my all-time favorite songs ever."
"At the end of the day my job is really to capture her essence and bring that to the stage and bring what people love about Janis to the stage," says McNamara. "She had this crazy tremendous energy about her and this attitude that I think was way ahead of her time, especially being a young woman. She kind of paved the way and was this really strong empowered woman before women empowerment was this trendy thing."
"Janis really took on the role of being a teacher to everybody and she knew that her voice was important, and that people were listening," adds Ferrari.
And although Joplin herself influenced so many, both Ferrari and McNamara say Randy Johnson has created a masterful piece that really pays tribute to the women who influenced her.
"That's the coolest part of the show, I think, that in addition to Janis being on stage, you meet other women throughout the show that represent her musical influences," says McNamara. "Janis was really into all these blues singers, Bessie Smith, Nina Simone, Odetta, Aretha Franklin... those were her core influences that she listened to over and over, and that's why when you listen to a lot of her music it is so bluesy."
"These were really the people who were unknowingly her voice teachers in certain ways and really captured the essence of what she wanted to do vocally," adds Ferrari. "I think what's so cool about Janis is that she is always giving credit where credit is due."
Ferrari also says while Joplin covered a lot of other people's songs and made them her own, the thing that surprised her the most in researching for this role was Joplin's prophetic writing.
"I didn't know that she wrote some of her songs," Ferrari says. "In all the songs that she sang and in all the songs that she wrote, she really had a sense of unknowingly foreshadowing where her life was going."
And both Ferrari and McNamara say Randy Johnson's connection with Janis, her friends, and siblings, who entrusted him to tell this story, is what makes A Night With Janis Joplin so special.
"He is the brains behind the whole shebang," says McNamara. "He created it. He wrote it. He directed it. Every iteration that has occurred of this, he has touched, and he has been responsible for."
"I think what is great about this musical is he really thought about how Janis would want to be portrayed," adds Ferrari. "He's really thinking about what Janis would want, and what her siblings want."
And at the end of the day, both women say audiences can expect good music and a rocking good time.
"To see the music that you heard on the radio, to see it and hear it again is so much fun," says McNamara. "There are so many moments where you feel like you are really at a rock concert rather than seeing a musical."
"Its just such a joyful experience," adds Ferrari. "Wear comfortable shoes 'cause you're definitely going to want to dance and move around and jump around. Maybe do a little vocal warm up before so you can sing along and have a great time. Maybe bring some tissues because there are certainly very heartfelt moments in the show."
"It's just a beautiful show."
A Night With Janis Joplin runs May 4-20. Best seats available May 15-20. For more information visit: