CMNW's POETRY IN MUSIC 2023 Summer Festival Set For This June and July
The festival runs June 24-July 29.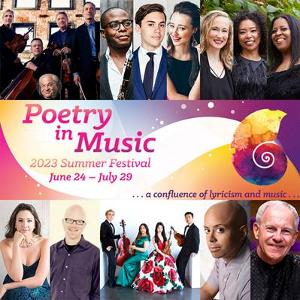 Chamber Music Northwest (CMNW) has announced its 53rd consecutive annual summer festival spanning the Portland metro region for five weeks from June 24 to July 29. Themed Poetry in Music, Artistic Directors Gloria Chien and Soovin Kim have created a festival celebrating the confluence of these art forms, with artists and repertoire carefully curated with an eye toward the poetry in chamber music.
Chamber Music Northwest's 2023 Summer Festival will feature more than 70 of the finest chamber musicians from our region and the world-from string and saxophone quartets to Pierrot and Renaissance ensembles, to renowned instrumental and vocal soloists. Some of the musical selections feature a lyrical themes, others thoroughly classical chamber music, while others focus on new music by some of today's great living composers incorporating historical, cultural, and textual story.
Notable highlights include the unparalleled Emerson String Quartet in their final two CMNW concerts (after 30 concerts in 17 appearances) before they disband-including performances with CMNW Artistic Director Emeritus David Shifrin and CMNW Artistic Director Gloria Chien. Several internationally-esteemed musicians make their CMNW Summer Festival debut: illustrious South African pianist Anton Nel, Metropolitan Opera soprano Susanna Phillips, and New York Philharmonic clarinetist Anthony McGill (a longtime collaborator and recording partner with Gloria Chien), and the head-turning phenomenal pianist Stewart Goodyear. David Serkin Ludwig's The Anchoress, set to the poetry of Oregon-native Katie Ford, combines intimate vocal storytelling with ancient and modern instruments. Host of NPR's Performance Today and Portland-native Fred Child, lends his voice to the whimsical and touching world premiere of Blame the Obituary, composed by the dynamic composer (and his wife) Wang Jie.
From Artistic Directors Gloria Chien and Soovin Kim: "Music and poetry have connected to one another since their ancient beginnings. Long before each art form was written down and codified, music and poetry were performed together, and inspired one another. Essential musical elements such as lyricism and rhythm lie at the heart of poetry, and a particularly moving musical experience is often described as 'pure poetry.' Our Poetry in Music festival celebrates the historical and ongoing interaction between the two art forms."
In crafting this summer's festival, Chien and Kim have envisioned a festival layered with classical repertoire favorites and familiar CMNW festival faces, while heralding new commissions and bringing the world's next generation of musicians to our stages. This year's festival will include pre-concert Prelude Performances on Thursdays and Saturdays featuring young musicians from CMNW's Young Artist Institute, and youth involved in metro area music programs. Furthering the Poetry in Music theme and in partnership with Literary Arts, audiences will enjoy a "poetry amuse bouche" at the start of each lyrically-infused concert.
The 2023 festival boasts eight CMNW-commissioned, or co-commissioned, world and west coast premiere works: Stewart Goodyear's The Torment of Marsyas; Wang Jie's Blame the Obituary; Chris Rogerson's Quintet for Soprano & String Quartet; Kian Ravaei's Gulistan; and The Little Things (2023); and umama womama's Three Pieces for Flute, Viola & Harp including Nokuthula Ngwenyama's Down, Han Lash's Music in Cold, Valerie Coleman's Aja. With more than 130 new works commissioned and premiered since 1971, creating opportunity for composers to make new music is a long-standing commitment of CMNW.
Other 2023 Summer Festival premieres include: Sarah Kirkland Snider's new work for the Emersons Drink the Wild Ayre (west coast premiere); Alistair Coleman's Cello Sonata (west coast premiere); Aiden Kane's Triptych (west coast premiere); and Patrick Castillo's ephemera (world premiere).
CMNW brings back the exciting contemporary music series New@Night with pre-concert social time, followed by new music by some of today's most innovative and creative composers at The Armory and Alberta Rose Theatre.
The organization's much-lauded Protégé Project is back with a new crop of talented artists: composer Kian Ravaei, pianist Zitong Wang, and violinist Diana Adamyan. Composer Kian Ravaei's world premiere, CMNW-commissioned pieces will be played for three different programs. This year's Protégé musicians will not only have the opportunity to play together, but also alongside master musicians on mainstage concerts, New@Night, and Spotlight Recitals. Recent Protégé Project alumni return this year including Benjamin Beilman, Kenari Saxophone Quartet, Alistair Coleman, Zlatomir Fung, and the Viano Quartet.
Citywide performance venues this year are Patricia Reser Center for the Arts, Kaul Auditorium at Reed College, Lincoln Recital Hall at PSU, Alberta Rose Theatre, The Armory, as well as to be announced free outdoor community concerts and pop-up performances all over the metro region. At least three free community concerts are in the works, as well as more than a dozen "pop-up" concerts at farmer's markets, senior living homes, hospitals, care facilities, and public places.
CMNW's AT-HOME series continues with up to five of the live festival concerts professionally recorded and streamed online. These AT-HOME concerts will premiere once per week beginning July 8, with viewing access at CMNW.org August 31.