BWW Review: In THREE SISTERS, Life is a Long, Disappointing Slog, But You Should Still Totally See the Play, at Northwest Classical Theatre Collaborative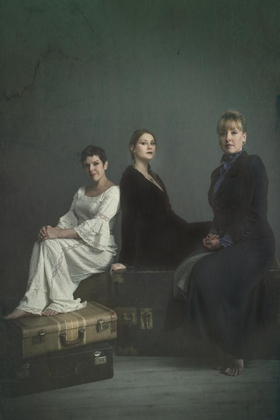 In watching THREE SISTERS, what kept going through my mind was the moment during the opening bit of Cabaret when the Emcee looks directly at the audience and says, "So, life is disappointing, hmmm?"
For Olga, Masha, and Irina, the three sisters at the center of Chekov's masterpiece, life is very disappointing. The sisters are intelligent, well-cultured, and throw great parties. And all they want...all they want...is to move back to Moscow, where they grew up, from the small, provincial town where their father moved the family 11 years ago. Now dear old dad is dead and the four siblings (three sisters plus their brother, Andrey) are stuck in the town (18 miles from the nearest train station), in a house that's falling apart, with little hope of anything ever changing.
The three sisters are each disappointed in their own way. Olga, the oldest, is a spinster school teacher destined to become a spinster headmistress. This isn't the future she wants, but she doesn't see any other options. Masha, the middle child, is the most depressed - she married too young to a man who's essentially a human puppy dog. Irina, the youngest, is full of romantic ideas about love and work, only discover that true love isn't all that easy to come by and work is, well, work.
The other characters really aren't much happier. Andrey is headed for an academic career (which is the sisters' best chance at getting to Moscow), but that never materializes. Chebutykin used to be a doctor but has forgotten everything he once knew and is now a drunk. And poor Solyony is bad with people - he always manages to say exactly the wrong thing at the wrong time. The only character who's not disappointed with life is Andrey's wife, Natasha, and she's mean.
In the end, the only hope THREE SISTERS offers is that someday someone somewhere might be happy.
So, yes, the play is a bit of a bummer. But it's a fascinating bummer, and definitely worth a watch for anyone who may feel like we as a country are stuck in some pretty deep muck, with no clear path out. It's instructive because, despite the fact that all of the characters are miserable, none of them takes any steps toward change. The sisters likely could go to Moscow (18 miles isn't that far), if they ever actually tried. They all have the power to change their situation, and they don't, except Natasha, who knows what she wants and does what she needs to do to get it. I'm not saying we should all model ourselves after Natasha, but we certainly can learn the lesson that if we want change, we have to take action.
I thought Northwest Classical Theatre Collaborative's THREE SISTERS, adapted and directed by Patrick Walsh, was very good. True to the organization's name, it's a classical presentation (not at all like PETE's Uncle Vanya), and all of the actors do a fine job - from Christy Bigelow's resigned-to-her-fate Olga to Isabella Buckner's ambitious-but-heartless Natasha. The two who broke my heart the most were Chris Porter as Chebutykin, the doctor, and Heath Koerschgen as Masha's ever-forgiving husband, Kulygin.
Overall, THREE SISTERS is a great play, and now is a great time to see it. The show runs at the Shoebox Theatre through January 28. Details and tickets here.
Photo credit: Gary Norman