BWW Review: In Artists Rep's EVERYBODY, Death Comes for Us All, Whether We're Ready or Not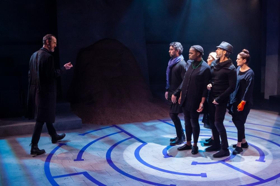 You've heard the old saying, "Everything I know about life I learned from a revamp of a 15th century morality play." No? Okay, so it doesn't exactly trip off the tongue, but it's a pretty accurate description of how I felt walking out of Branden Jacobs-Jenkins' EVERYBODY. This play, which was a finalist for the 2018 Pulitzer Prize for Drama and is unlike any play I've ever seen, is a roughly 100-minute journey through life, death, love, friendship, family, selfishness - all the things that make us human. It's funny, haunting, and strangely a very appropriate choice for the holiday season.
EVERYBODY isn't your typical play. It's the kind of norm-busting piece that Jacobs-Jenkins has become known for (and which you'll recognize if you saw last season's production of AN OCTOROON).
EVERYBODY is an updated take on EVERYMAN, a 15th century allegorical morality play in which God instructs Death to summon Everybody, who stands for all humankind, to give a full accounting of how they lived and why. Terrified, Everybody searches for someone to accompany them on the journey, from which there's no coming back. Everybody asks Friendship, Kinship, and Stuff, to no avail. In the end, the only thing that really matters is Love.
The trajectory of the play is no surprise - Everybody dies, as we all one day must. It's the journey that's important.
Jacobs-Jenkins has conceived the play so that the journey is different at every performance. In the cast of 10, the actors for five of the roles, including Everybody, are drawn using a bingo cage every night. The core team in this production, directed by Jessica Wallenfels and Damaso Rodriguez, consists of Sara Hennessy, Michael Mendelson, John San Nicolas, Andrea Vernae, and Barbie Wu. There are 120 possible casting combinations, which means that every performance will (probably) be different. While the full effect of this can only be appreciated by seeing the show multiple times, you're still watching a show that has likely never been rehearsed in its current configuration.
On opening night, Michael Mendelson played Everybody (brilliantly!). And in the days following, I've found it fun to imagine how the scenes would change with different actors in the roles. For example, how would the age of the actor playing Everybody impact the way they, and friends and family, contemplate their mortality?
Even more importantly, how does Everybody's journey impact the way you contemplate your own mortality? Because, ultimately, Everybody doesn't just represent humankind in general. Everybody represents You.
Jacobs-Jenkins pounds this point home by completely obliterating the fourth wall, making you an active participant. At the beginning of the play, the actors are all seated in the audience - perhaps right beside you - while an usher (played by Sarah Lucht) guides you stream-of-consciousness-style through what's about to happen and what it might mean. And as Everybody works desperately to account for how they've lived their life, you can't help but doing the same.
I thought EVERYBODY was excellent. It's a far cry from your normal holiday fare, but I highly recommend you find time in your busy schedule to see it...at least once. Perhaps, like me, you'll walk out inspired to be a better person, or at least be a little better about recycling.
EVERYBODY runs through December 30. Details and tickets here.
Photo credit: David Kinder
Krista runs a content marketing business in Portland, Oregon. She fell in love with musicals at age 5, when her parents took her to see (read more about this author...)