10 Things to See at Fertile Ground 2019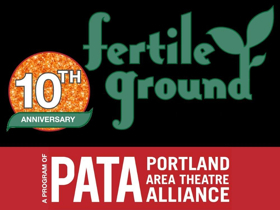 The 10th Anniversary Fertile Ground Festival starts in just over a week! This is both my favorite and the most frustrating time of the year -- favorite because there's so much new and fun theatre to see, and frustrating because it's impossible to see everything.
In case you're unfamiliar with Fertile Ground, it's our local festival of new works. Anyone can submit a show at any stage of development, which means it's an eclectic mix of readings, workshops, and fully staged performances. This year's festival features more than 70 works, including plays, musicals, storytelling, dance, comedy, and more. Check out the full schedule here.
With so many options, the toughest part is choosing what to see. Here's a list of 10 shows I'm particularly excited about.
1. JUICEBOX (comedy, workshop)
About the show: Cluelessly insatiable and hilariously vulnerable, Anne Zander explores the teetering edge between innocence and desire, and what happens when you try to figure things out for yourself. Inspired by real-life entries from Anne's teen diary, JUICEBOX is a devised solo character piece incorporating clown, improvisation, music and very bad seduction. For the first time as a full-length show, don't miss this face-first dive into the most awkward, exciting, endearing, hilarious and horrifying elements of pubescent fantasy and obsession.
Why I'm excited: I laughed and cringed until my face hurt when I saw Anne Zander perform a short sketch from this piece at last year's Fertile Ground. The fact that there's a full-length version is the best news I've heard all year.
Festival dates: Jan 26, Feb 2 @ 5pm; Jan 27, Feb 3 @ 2pm
2. THE UNDERTAKING (theatre/movement/music, workshop)
About the show: An aging mother's health teeters on the brink. Her adult daughter scrambles to find footing as her role shifts from child to authority figure. Death pounds at the door and they both wonder, could someone this pissed off actually be dying? Through an interdisciplinary blend of music, movement and theatrical storytelling, The Undertaking portrays end-of-life care of an elder using Dmitri Shostakovich's piano trio #2, played live by local classical ensemble Northwest Piano Trio. Incorporating original text by Emily Gregory along with the classical score, The Undertaking embraces the absurdity of the dance of death as it takes on the complicated questions which come with caregiving (and receiving).
Why I'm excited: I recently had the chance to speak with Many Hats Collaboration co-founder Jessica Wallenfels about the company's new 5 in 5 Initiative, an ambitious project to create five works in the next five years, all showcasing voices from underrepresented populations. THE UNDERTAKING is the first show in the cycle. I'm expecting it to tear my heart out.
Festival dates: Jan 25 @ 8pm; Jan 26, 27 @ 7:30pm (Community Music Center); Feb 2 @ 7:30pm; Feb 3 @ 2pm (Lincoln Recital Hall)
3. VORTEX 1 (musical, work-in-progress performance)
About the show: Oregon is the only state that has ever paid for and sponsored a rock festival. In August 1970, the American Legion held its conference in Portland and invited Richard Nixon to be its keynote speaker. In May of that year, 31 activists were hospitalized after protests took place in the Park Blocks near Portland State University. These protests were not only a reaction to the Vietnam War, but also to the death of four students at Kent State, and the proposed shipping of nerve gas to the Umatilla Army Base. The FBI warned then-governor Tom McCall that he should prepare for 25,000 Legionnaires and 50,000 protestors. The People's Army Jamboree was the group of activists leading the protest. A faction of this group called The Family approached Governor McCall with the idea of sponsoring a rock festival to encourage protestors away from the convention, yet still give them a platform to voice their concerns. McCall agreed to the plan, as he considered a festival to be the most viable option to prevent the very real threat of violence. This meant that law enforcement had to turn a blind eye to drugs and nudity and allow thousands of young people to camp out in a public park. A Republican who was up for re-election, McCall referred to his choice as "political suicide." Vortex I: A Biodegradable Festival of Life took place in Estacada from August 28 through September 3, 1970. This musical is loosely based on the Vortex I story.
Why I'm excited: First, Portland is the best. Also, VORTEX I was written by Sue Mach, who wrote a brilliant stage adaptation of The Yellow Wallpaper, and has music by Bill Wadhams of awesome 80s band Animotion!
Festival date: Jan 28 @ 7pm
About the show: The teen suicide rate in Utah has been rising exponentially in the last decade, especially among LGBTQ+ youth. This new musical follows one Mormon family who, upon learning their son is gay, must confront the beliefs that have been the foundation of their faith. Maya and Jason are devastated when their son, Tyler, lets them in on his long-held secret. Jason goes into denial, Maya seeks solace in a new neighbor, and Tyler must find a way to navigate the world of both hate and love that his coming out has introduced-a world where, sometimes, suicide feels like the only option.
Why I'm excited: This feels like an important story to tell right now. Playwright and composer Holly Yurth Harmon grew up in Utah and has mined this experience for multiple works. Earlier this year, she was a featured songwriter at the Dramatists Guild/ASCAP Songwriters' Showcase at the Dramatists Guild National Conference in New York City, as well as a panelist at BroadwayCon.
Festival date: Jan 29 @ noon
About the show: Mary Shelley's Frankenstein is reimagined as a dark, passionate musical within a nostalgic gothic realm of late 1990s Oregon, complete with anticipation of the approaching year 2000, booming technology, and unrequited love. Vicky is a promising neuroscience graduate student whose pursuit of a new invention leads her down a dark path after her friend is in a serious accident.
Why I'm excited: Gayle Towell and Chris Rentzel have big plans for DISCONNECTED -- they're hoping to make it to Broadway. But for now, it's in the early stages and they're seeking input. This show will be a reading (with songs) of Act 1, then the audience will have the chance to provide feedback. Over the next year, Towell and Rentzel will develop the full musical, with the goal of presenting it at next year's Fertile Ground. After that? Perhaps the Great White Way!
Festival dates: Jan 27 @ 2pm; Jan 29 @ 7:30pm; Feb 3 @ 2pm
6. WITCH HUNT (clown performance, workshop)
About the show: How did the Puritan work ethic inform our social and political institutions? How have these systems served to repress creativity? And most importantly, who can beat Satan at musical chairs?! Inspired by the Federalist Papers, current events, and a certain famous play, the CoHo Clown Cohort playfully examines the conflict between repression and freedom through the lens of clown performance.
Why I'm excited: I loved PHILIP'S GLASS MENAGERIE, which was the CoHo Clown Cohort presented at last year's Fertile Ground and then at CoHo Summerfest. Once again, the group will continue to develop this piece for a full summer production.
Festival dates: Jan 24, 25, 26 @ 7:30pm; Jan 26, 27 @ 2pm
Additional run dates: Jan 17, 18, 19 @ 7:30pm; Jan 20 @ 2pm
About the show: Hans Christian Andersen's mermaid tale gets transported to 1990s Coos Bay, Oregon, where a former mermaid navigates a town undone by the spotted owl controversy and the clash of the fishing generation with the new male-dominated grunge music scene. Peppered with the magical, some distortion, ripped t-shirts, the most beautiful plastic castle, and playwright Laura Christina Dunn's quirky humor, this play asks, how do we find agency in divisive times even when we have lost both voice and home?
Why I'm excited: I've enjoyed The Broken Planetarium shows every year. SIRENS OF COOS BAY is a bit of a departure for Laura Christina Dunn -- rather than her typical folk music, this one features full-on rock. The Fertile Ground performance is a reading, with a fully staged version coming in May.
Festival dates: Jan 30, 31 & Feb 1 @ 7pm
8. I AM AN ACTRESS (fully staged world premiere)
About the show: I AM AN ACTRESS returns to Fertile Ground for a World Premiere production after a critically acclaimed workshop run at Fertile Ground 2017. The play is a trip down a dark, rocky, but also funny memory lane written and performed by one of Portland's pioneering trans performers, Jane Comer. Watch Jane overcome a severe speech impediment to become what she was born to be... an actress. Come see the story of two women breaking out of the boxes the world tried to put them in: Joyce, who wanted to be the last thing the world expected her to be, perfectly normal. And her daughter Jane, who is...an actress.
Why I'm excited: I met Jane Comer at the Fertile Ground Meet the Media night and was immediately drawn to her warmth and humor. This show promises to be the kind of funny tearjerker I particularly enjoy. I AM AN ACTRESS is running in repertory with three other works presented by Fuse Theatre Ensemble: UNDE+EC+ABLE, TETHER: ADHD+BDSM, and THE TAROT SHOW. If you time it right, you can see three of the four shows all in one night.
Festival dates: Jan 24 @ 8pm; Jan 25 @ 10pm; Jan 26 @ 6pm
Additional run dates: Jan 11, 13, 19 @ 6pm; Jan 12, 17 @ 8pm; Jan 18 @ 10pm; Jan 20 @ 4pm
About the show: You think you know your friends, your neighbors, your spouse, but what happens when you suddenly find out they have a garage full of guns? This new dark comedy explores the complicated issue of gun proliferation when two young liberal couples are forced to confront their assumptions about who should own a gun - and why. The time of easy answers regarding this issue is long gone. In the wake of current events, we are all forced to reexamine our strongly held beliefs about gun ownership. Friends with Guns explores the question of what we can compartmentalize...and what we can't. It pulls the curtain back and does all of this through a female lens.
Why I'm excited: I've been hearing great things about the new Chapel Theatre Collective, which is producing this play. FRIENDS WITH GUNS was a finalist for the 2018 Eugene O'Neill National Playwrights Conference. Also, I do have strong opinions about guns.
Festival dates: Jan 31, Feb 1, 2 @ 7:30pm; Feb 3 @ 2pm
Additional run dates: Feb 7-9 @ 7:30pm, Feb 10 @ 2pm, Feb 13-16 @ 7:30pm
10. THE DELAYS (fully staged world premiere)
About the show: How did you become who you are today, and what dreams have you let go? In an airport, where everyone is busy going somewhere, The Delays focuses on a group going nowhere. Taking place around the New Year, and traveling back 10 years, and then another 10 years, the past lives of these characters slowly reveal themselves, while asking bigger questions. Written by local playwright Sara Jean Accuardi, The Delays follows Theatre Vertigo's tradition of winter commissioned works.
Why I'm excited: A local playwright recently told me that Sara Jean Accuardi is his favorite local playwright. Plus, Theatre Vertigo is one of the few companies that regularly commissions local works, and that's worth supporting.
Festival dates: Jan 25, 26, 31, Feb 1, 2 @ 7:30pm; Jan 27, Feb 3 @2pm
Additional run dates: Thursday-Saturday 7:30pm, Sundays at 2pm, through Feb 23
What shows are you most looking forward to at Fertile Ground? Share them in the Portland on Stage Facebook group.