Review: LIPS SEALED at Teatr Wspolczesny Wroclaw
Are we all just islands?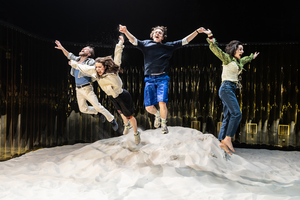 Theater has to be on display and expose vulnerability, that extremely fragile part of your being that we hide day after day from society, the people around us, and even ourselves. In the new show, Teatr Wspolczesny Wroclaw does it in a modern and interesting way.
Let's start with the stage setup (by Arek Slesinski), we have a huge space (love being close to the actors) with sand and an island shape, for most of the time, there is a yellow semi-transparent curtain surrounding the island. Everything we see is a blur, but we also feel like everything behind the curtain is happening inside Viola, the main character. After all, she is alone on the island haunted by her demons and isolated from the outside world. Are we all just small islands separated and closed by our inner problems and challenges? We build these curtains ourselves by digging deep into the sand of our ego and even if we are afraid of being alone, we protect our inner demons by making sure they don't escape. This way we can look into the eyes of our fear. Viola (Paulina Wosik) says repeatedly that she is not prepared for this stay on the island - are we ever prepared for this?
The story is simple and metaphorical. I totally bought it. Paulina Wosik's great performance takes us with her on this journey full of fears, doubts, and inner strength that lies somewhere out there. Her twin brother Mariusz Bakowski is there to help her, to be her rock, although I doubt he really exists because maybe he's just her imaginary support so she doesn't lose her mind. Parents (Anna Kieca and Rafal Cieluch) are the source as the whole escape is caused by domestic violence, alcoholism, and the damage caused by a huge dose of fear and loneliness.
There is great lighting and visual effects with gold and yellow, and beautiful stage movement (Ula Zerek) which makes this piece pleasant to see.
This story is universal because we all feel like a desert island at some point. We have to carry our bags and sink into the sands, we have to fight to survive. Memories mingle with emotions. Everything is there and thanks to Lena Frankiewicz, the director, we can see it from the outside. It's not just about addiction, it's about getting along with our souls. It is not an easy subject and in my opinion, it is very well told, with respect and patience but without pity. Excellent approach. It's not optimistic but so true that it's definitely worth seeing.
photo: Natalia Kabanow