Review Roundup: ROCK OF AGES at Pittsburgh CLO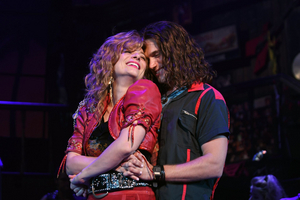 Pump up the volume and bust out your air guitar moves! For the first time ever, Pittsburgh CLO is going to shake the walls of the Benedum Center with ROCK OF AGES, July 23 - 28. This Pittsburgh CLO premiere is only running for one week - there are just 8 chances to get here for a raging good time! The cast features Ace Young, Nathan Salstone, and more! Check out photos of the cast in action!
Tickets are now available by phone at 412-456-6666, online at pittsburghCLO.org or by visiting the Box Office at Theater Square.
Nominated for five Tony Awards®, including Best Musical, ROCK OF AGEScaptures the iconic era that was big, bad 1980s Hollywood. Amidst the madness, aspiring rock star Drew longs to take the stage as the next big thing at one of the Sunset Strip's last epic venues - a place where rock god Stacee Jaxx commands the stage and groupies line up to turn their fantasies into reality. But the fairy tale is about to end when developers sweep into town with plans to turn the fabled Strip into just another capitalist shopping mall. Can Drew save the Strip before it's too late AND win the affections of newcomer Sherri, fresh off the bus from Kansas? Only the music of hit bands Styx, Journey, Bon Jovi, Whitesnake and more hold the answer. You'll hear favorites "I Wanna Know What Love Is," "Final Countdown," "Sister Christian" and so many more! This is one for the ages that will have you singing "Just Like Paradise."
What did the critics have to say?
Greg Kerestan, BroadwayWorld: The cast is great from top to bottom, starting with Nick Druzbanski as narrator and sound technician Lonny. Interacting with the audience, flirting shamelessly and clowning his way through the show, Druzbanski does the nearly unthinkable, playing a role that was written and designed as a vehicle for Jack Black without ever once going for the way Jack Black would deliver any line or bit. His chemistry with the perpetually harried and stressed Gene Weygandt is great, with Weygandt usually (but not always) the straight man to Druzbanski's clown. (In an interesting look at how culture has progressed over the past ten years since the show premiered, Lonny and Dennis are portrayed pretty openly as being bisexual lovers in this staging, while the Tenacious D-inspired pairing in the Broadway staging was merely a series of jokey "are they or aren't they" flirtations. It's 2019. They are... and if you watch closely, you can see the two of them ogling guys and girls alike during crowd scenes.)
Sharon Eberson, Pittsburgh Post-Gazette: Leads Justin Matthew Sargent as aspiring rock star Drew and Tess Soltau as aspiring actress and "smalltown girl" Sherrie were victims of the sound issues that plagued the first act, but they played through and eventually got to strut their stuff. As he sought his lost love to the tune of Steve Perry's "Oh Sherrie," Sargent held a note that delivered one of the musical thrills of the night. "Rock of Ages" becomes part of CLO's storied history as the musical marks the 10th anniversary of its Broadway debut. Don't stop believin' that it will go on and on and on and on.
Ted Hoover, Pittsburgh Current: Jean Kerr (playwright and wife of famed New York reviewer Walter Kerr) once said that being a theater critic would be ideal ... if it weren't for having to see all those damned plays. For me personally, Rock of Ages would be a great night at the theater, if it weren't for having to listen to all that 80's rock.But you know what? There's a reason the show ran six years - there are lots of folks who love this music and they were sitting around me or in the back of the house or up in the balcony. I heard them singing along whenever a particularly favorite tune popped up during the show. It was a wildly enthusiastic audience giving back to these performers just a fraction of the enormously uplifting energy coming at them from this high-voltage, muscular production.