Chatham Baroque Presents ENSEMBLE DIALOGOS
The internationally acclaimed ensemble will delve into the medieval Christian legend of Barlaam and Josaphat – a retelling of the story of Buddha.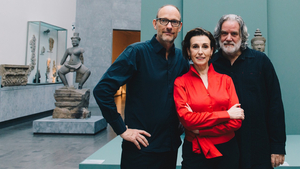 What if one of the most popular saints in medieval Christianity was none other than Buddha?
In fact, this was the case: the legend of Barlaam and Josaphat, popular across medieval Christendom, was based on the story of Siddhartha Guatama. Pittsburgh audiences will get a glimpse into this intriguing history in February, when Chatham Baroque presents Ensemble Dialogos.
For the past 32 years, Chatham Baroque has performed on stages around the world, establishing itself as one of the nation's most distinguished period ensembles. In addition to performing its own music, the group also hosts a diverse array of visiting musicians.
Ensemble Dialogos, directed by singer, musicologist and professor Katarina Livljanić, brings together singers and instrumentalists from different backgrounds and countries to revive European oral and written traditions, from the Middle Ages to the present day.
In Barlaam and Josaphat, three of those musicians tell the Christianized adaptation of the story of Buddha using musical repertoires from medieval Greek, Latin, Russian, Croatian, French, and Italian manuscripts. The popularity and cosmopolitan nature of this legend, as well as its universal dimension, inspired the creation of the program.
Dialogos members performing Barlaam and Josaphat:
Katarina Livljanić, singer and musicologist, is an international specialist in medieval music and plainchant performance. Born on the Adriatic coast of Croatia, she decided to become a medieval music performer at a very early age, training at the Zagreb Music Conservatory before moving to France to study voice and musicology. She directs the vocal ensemble Dialogos, which she founded, specializing in medieval chant and liturgical theatre of the Glagolitic tradition. For her work in this field, she was decorated for cultural achievement in 2002 by the president of Croatia and received in 2016 the title Chevalier des Arts et des Lettres by the French government.
The violinist, fiddler and composer Albrecht Maurer studied violin at the Musikhochschule Köln and taught himself the piano, which he then later studied. In addition, he pursued the study of non-European tonal systems and computer music. He gathered his experience with new and experimental music through work with composers from the Kagel "school," including Maria de Alvear, Carola Buckholt, and Manos Tsangaris. In the 1990s, Maurer started to compose chamber music for jazz musicians as well as for different chamber groups.
Norbert Rodenkirchen studied flute at the Staatliche Musikhochschule Köln. He directs the ensemble Candens Lilium, has been the flute player of Sequentia since 1996, and works regularly with Dialogos. He is also much in demand as a composer of music for theater and film, produces CD projects, most of them in co-production with the WDR/ West German Radio, and co-authored the newly released book Textless and Instrumental Monophony, 1180-1550 (Olive Music, 2023). Rodenkirchen last appeared in Pittsburgh with Benjamin Bagby & Sequentia as part of the 2019/20 Chatham Baroque + Renaissance & Baroque concert series.
Chatham Baroque Presents: Ensemble Dialogos

Barlam and Josaphat
Sunday, February 19, 2:30 PM, Pittsburgh Theological Seminary
Tuesday, February 21, 7:30 PM, Pittsburgh Theological Seminary
Tickets are $40 for adults, $35 for seniors (65+), and $20 for students. Subscribers and advance ticket buyers will receive a link to an on-demand video of the program following the live performance. For tickets and info, visit chathambaroque.org.
While in Pittsburgh, Dialogos member Norbert Rodenkirchen will also perform Medieval Echoes, a recital of contemplative flute music from Notker to Machaut and beyond. Intermingling well-researched historical sequences and references with the art of improvisation, Rodenkirchen will treat the audience to a feast of styles and eras - from anonymous lais and early minstrel tunes, through instrumental versions of Guillaume de Machaut and echoes of Occitan music, to impressionistic fin-de-siècle piano arrangements of medieval compositions.
Chatham Baroque Presents: Norbert Rodenkirchen
Medieval Echoes
Monday, February 20, 6:00 - 7:00 PM, Pittsburgh Theological Seminary

Tickets are pay-as-you-will, $20 suggested

Learn more: https://cloud.broadwayworld.com/rec/ticketclick.cfm?fromlink=2221305®id=74&articlelink=https%3A%2F%2Fchathambaroque.org?utm_source=BWW2022&utm_medium=referral&utm_campaign=article&utm_content=bottombuybutton1