BWW REVIEW: My Way Tributes Sinatra at St. Vincent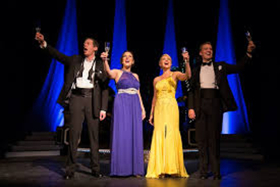 When it comes to vacations, I'm a cruise ship junkie. Always have been, most likely always will be. And the most important thing about the choice of cruse isn't destination (not that big a deal) or even food (although it's close), it's entertainment. After all, the luxury of having live performances surrounding you 24/7 while you're at sea is a big part of the cruise life's appeal. And if you're on a good, non-schlocky cruise ship, you'll notice that the entertainment atmosphere, particularly the live music and comedy scene, has a specific ambience: professional but loose, hip but casual. The banter isn't scripted, but it's not the first time it's been said. You're attending a party that's been done before but is now a well-oiled machine, not old hat. This is what I mean when I say that My Way: A Tribute to Frank Sinatra felt like the greatest cruise ship nightclub act I've ever seen.
As a musical revue, Todd Olson and David Grapes haven't attempted to add any throughline, narrative or even semblance of plot to the show, and that's a good thing. Nobody here has to impersonate Frank, Ava Gardner or any of the numerous larger-than-life figures in the legendary singer's life. It's simply an evening with four singers (Allan Snyder, Eddie Brandt, Blair Alexis Brown and Lara Hayhurst) and a jazz trio. Dozens of songs are sung, anecdotes about Sinatra are shared, and that's about it. It doesn't feel heavy or belabored at all- like the cruise entertainment I mentioned, you never feel like you're watching a structured "book show," and could almost walk up onstage to get a drink at the bar, just like you could in the Jazz Lounge at sea.
There are no leads and no characters; the four performers are nebulously themselves, though they occasionally assume personae and do little "bits" with each other. In some ways, this works, but in other ways, it never quite gels, as the loose, banter-heavy script is clearly written from a specific moment in time and point of view. The four young-ish performers are all a generation or two too young to be believable as "themselves" talking about the feeling of melancholy walking around Times Square the day Sinatra died, or sharing anecdotes about how their parents had their entire lives soundtrack by Sinatra. The fourth wall isn't technically there, but moments like this (or a bit near the end where the actors talk about how they convinced their director to let them share a toast with real champagne onstage) almost magically make a fourth wall flicker temporarily into existence.
Luckily, though the book may be paper-thin and flimsy, the music carries the evening, as does the talented cast (under the direction of Gregg Brandt). Blair Alexis Brown has a knack for ballads and for direct audience communication, plus a subtle comic sensibility that can say volumes with just a quirked eyebrow. Lara Hayhurst handles more of the uptempo material, and is the small cast's most polished dancer. Her pas de deux during "It Was a Very Good Year" rendered the somewhat maudlin tune almost haunting, complete with a gold dress straight out of "Dancing with the Stars."
This being a show about a legendary alpha male and his discography, the men have bigger shoes to fill than the women, and the material sometimes helps and sometimes hampers them. Eddie Brandt is polished, handsome and suave, but this occasionally works against him as his character is frequently forced to play naïve, buffoonish and childlike. Despite these somewhat awkward attempts at comedic interludes, Brandt dances quite well and sings with the soft, muted jazz bari-tenor popularized by Harry Connick, Jr. and Michael Buble, two of Sinatra's most famous modern successors. Allen Snyder fares better due to an easier track to play as the more "experienced" of the male duo; though he sounds nothing like Sinatra, his mix of arch character-actor humor and traditional leading-man presence is not that different than Sinatra's own well-known persona.
If I haven't discussed too many individual songs or credited one performer for a knockout number, it's mostly because My Way structures itself as a series of medleys, where individual songs are rare and rapid switches between one song and another occur frequently, often inspired more by a similar rhythm than anything, but occasionally structured by theme. There's a getting older medley, a moonlight medley, a "places in the world" medley- you get the idea. The individual songs are a mixed bag of crowd-pleasers like "I'll Be Seeing You" and the obvious finale, "My Way," and more left-field choices that don't always land. Why, for instance, would you drop "Theme from New York, New York" in the middle of Act 1 instead of using it as a rousing closer? And why does Sinatra's disposable and quasi-sexist "Lean Baby" get a whole production number to itself? (Luckily, Snyder sings it with a wink and with tongue in cheek, and the dated chauvinism of its depiction of a very tall, skinny girl is blunted by pairing Snyder not with tall and slender Hayhurst but with petite and curvy Brown, who is clearly amused by the whole situation.) Similarly, a banter segment in which Sinatra and company's bag of slang terms for attractive women are poured out one by one falls a little flat- it feels like the moment was intended to be satirical but was written in a way that prevented it from having much of a point to its digression.
The nightclub-inspired set design, complete with subtle piano-key motif, conjures the atmosphere of a cruise nightclub so perfectly I was tempted to look for port windows. And though the after-party refreshments were hot dogs and beer, instead of crème brulee and mixed drinks, I still felt the magic of an evening of music with no responsibilities. Classy but crass, polished but free and easy- My Way is a trip out to sea on a ship of music, and significantly cheaper than booking a room on an ocean liner, too.