Valley Youth Theatre to Present THE HOBBIT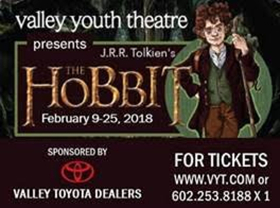 Valley Youth Theatre presents The Hobbit, weekends from Friday, February 9th through February 25th at VYT's theatre in downtown Phoenix, 525 N. First St. (southeast corner of First and Fillmore Streets). Valley Youth Theatre is an award-winning professional theatre company for audiences of all ages. This production of The Hobbit is a dramatized version of the book by J.R.R. Tolkien, author of the Lord of the Rings books which are also a popular movie trilogy by Director Peter Jackson.
Before Frodo's famous journey to destroy the Ring, Bilbo Baggins lived his own adventure with the legendary wizard Gandalf. Based on Tolkien's story, Bilbo battles evil and danger in this prequel to the popular "Lord of the Rings" movies. J.R.R. Tolkien's The Hobbit dramatized by Patricia Gray. This dramatization of The Hobbit is authorized by Professor J.R.R. Tolkien and produced by arrangement with The Dramatic Publishing Company.
Directed by Sandi Carll, VYT's Director of Education, The Hobbit runs February 9th through February 25th at Valley Youth Theatre. Performance times are: Fridays at 7:00 p.m. and Saturdays and Sundays at 12:00 p.m. and 3:00 p.m. Tickets are $20 per person, adults and children 2 and older, and can be ordered online at www.vyt.com or through Valley Youth Theatre's box office at 602-253-8188 ext. 1.
About Valley Youth Theatre
VYT is an award-winning professional youth theatre company. Alum extend from Hollywood to Broadway and into boardrooms across America. Some include: Academy Award-winning actress Emma Stone and other award-winning performers: Jordin Sparks, Kimiko Glenn, television star Chelsea Kane, Broadway actors Max Crumm, Nick Cartell, Charity Dawson and many others.
VYT is a unique place where young people from diverse backgrounds can learn and grow as individuals, performers and creators through a wide variety of performing arts opportunities. Camps and classes taught by professional arts instructors are offered throughout the year. VYT produces six MainStage productions each season, three of which are at the Herberger Theater Center.
Valley Youth Theatre productions are fee-free to participate and all youth are always welcome to audition. Valley Youth Theatre (VYT) is in its 29th Season of inspiring young people to be the best they can be! Partial funding also is provided by the Phoenix Arts Commission through appropriations from the Phoenix City Council. Valley Youth Theatre is a member of Theatre Communications Group, the national organization for the American Theatre. For more information, visit www.VYT.com.