Theatre for Youth USA Brings Major Conference & Festival To Tempe
Theatre for Youth Conference will bring 4 productions & 3 new works from across the nation.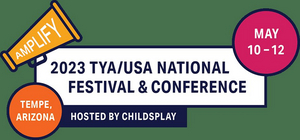 Theatre for Young Audiences USA (TYA/USA), the national organization that provides advocacy and resources to the field of Theatre for Young Audiences, in collaboration with Childsplay in Tempe, Arizona, will present the 2023 TYA/USA National Festival & Conference: AMPLIFY on May 9-12, 2023.
This landmark event, which will take place at the Childsplay campus, Tempe Center for the Arts, and the Herberger Theater Center in Phoenix, will provide a platform for exchange, dialogue, and connection. It is the largest convening of leaders, educators, artists, and organizations in the field of Theatre for Young Audiences.

Sponsors for the 2023 TYA/USA National Festival & Conference currently include National Endowment for the Arts, Children's Theatre Foundation of America, Dramatic Publishing, and Tempe Center for the Arts.

2023 programming highlights to include:
Keynote Speech featuring Mahogany Brown (Vinyl Moon; Chlorine Sky; Woke: A Young Poets Call to Justice; Woke Baby; and Black Girl Magic) a Kennedy Center Next 50 leader and Wesleyan's 2022-23 Distinguished Writer-in-Residence. Browne is also, the Executive Director of JustMedia, Artistic Director of Urban Word, and a playwright, organizer, and educator.

4 live performances featuring stories of young people and their resilience by Honolulu Theatre for Youth (Honolulu, HI), Glass Half Full Theatre (Austin, TX), Manual Cinema (Chicago, IL) and Childsplay (Tempe, AZ).

A professionally performed SONG SLAM cabaret featuring songs from a variety of new musicals for young audiences, music directed by renowned theatrical composer Deborah Wicks La Puma.

18 Breakout Sessions led by TYA leaders across the nation, including "Insights to Advancing Access: Disability Justice in TYA," "TYA Advocacy in the Time of Book Banning," "Power Sharing: Colaboración & Creating Comunidad in the Devising Process," and "If You Build It: Creating New Platforms for a New Canon in TYA."

3 new immersive theatre workshops, hosted and showcased by Childsplay's Write Now, the institution's renowned new work development program.

Pre-Conference Training Program co-hosted by Childsplay and Arizona State University's Theatre for Youth and Community MFA Program: a FREE opportunity for students and emerging career professionals the afternoon of Tuesday, May 9. This event will include a master class led by Assistant Professor of Theatre Education at Emerson College Josh Streeter, a panel featuring TYA leaders including Director of Education & Engagement at Seattle Children's Theatre Johamy Morales and TYA/USA Executive Director Sara Morgulis, and networking opportunities.
TYA/USA Executive Director Sara Morgulis states, "The 2023 National Festival and Conference's theme is AMPLIFY, as we seek to highlight TYA as a powerful catalyst to support and inspire multiple generations: our young audiences, families, and surrounding communities. We will showcase innovation in the immersive Write Now Workshops, examine new models of presenting and touring, and highlight groundbreaking arts in education practice, as we collectively envision a more sustainable and equitable future for our industry."
Childsplay Artistic Director Dwayne Hartford shares, "Childsplay is proud to host the 2023 TYA USA National Conference at our Campus for Imagination and Wonder and at Tempe Center for the Arts. We are honored to partner with TYA/USA in this venture. After three years of virtual conferences, we are excited to welcome TYA professionals, students, and educators from across the country to Arizona this May. We are also thrilled that Write Now, Childsplay's national new play festival, will be part of the TYA/USA National Conference. The TYA world has been shaken by the events of the last three years.

We and our national colleagues are looking to TYA/USA to facilitate the conversations to help us adapt to this new landscape. The conference will be geared to do just that. Our field must figure out how to operate in a more inclusive and equitable way while adjusting to new financial challenges. We as a field must be willing to explore new ways of bringing theatre to young people. TYA/USA and Childsplay are both committed to this journey. We look forward to greeting our national colleagues in-person for what is sure to be a dynamic and engaging three days." Registration is now open. More information can be found at www.tyausa.org/festival.

Childsplay, Inc. is a nonprofit theatre company of professional, adult artists who perform for and teach young audiences and their families. The mission of Childsplay is "to create theatre so strikingly original in form, content or both, that it instills in young people an enduring awe, love and respect for the medium, thus preserving imagination and wonder, the hallmarks of childhood which are keys to the future. For more information, visit https://www.childsplayaz.org.

Theatre for Young Audiences/USA (TYA/USA), is a national service organization whose mission is to promote the power of professional theatre for young audiences through excellence, collaboration, and innovation across cultural and international boundaries. The organization provides advocacy and resources in order to strengthen and diversify the field of theatre for young audiences. Founded in 1965, TYA/USA is the only theatre organization in the United States which has the development of professional theatre for young audiences and international exchange as its primary mandates. TYA/USA is the United States Center for the International Association of Theatre for Children and Young People (ASSITEJ). TYA/USA hosts an annual national conference and offers a range of professional development opportunities, both for its membership and the greater field. www.tyausa.org.