Scottsdale Arts Joins Movement Source For Second Annual Trolley Dances
Trolley dances are choreographed performances that are set on or around a specialized trolley route and performed at various stops along that route.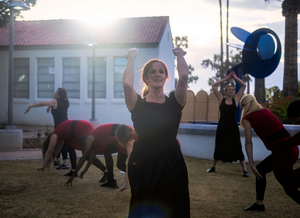 Scottsdale Center for the Performing Arts is collaborating with Movement Source Dance Company to bring a second series of explorative, mobile dance performances to Old Town Scottsdale on April 14 and 15.
The Arizona Trolley Dances begin at the center, where guests will meet to board a trolley that journeys to five unique and hidden public art destinations around the downtown area. Each stop on the tour will feature its own site-specific dance work that fuses the creative essence of both performance and public art for an innovative, unparalleled guest experience.
"This event is packed with hidden treasures of the city, social exchanges and new dance works inspired by Scottsdale Public Art's collection," said Diandra Adamczyk, senior programming coordinator at Scottsdale Center for the Performing Arts.
Trolley dances are choreographed performances that are set on or around a specialized trolley route and performed at various stops along that route. Local performers may include dancers, musicians, and more - all of whom use motion to express themselves while taking passengers on an unexpected adventure. These performances are typically choreographed using the physical location as an artistic influence.
Because the Arizona Trolley Dances are performed at five secret public art locations, this immersive community experience offers attendees the opportunity to explore Scottsdale's various art scenes with greater depth.
This year's performance lineup includes Movement Source Dance Company; Furious Styles Crew, specializing in urban hip hop style; Shola K. Roberts, specializing in contemporary Caribbean style; and Jordan Kriston, specializing in contemporary style. Movement Source Dance Company will kick off the opening performance and close the show with choreography by Mary Anne Fernandez Herding and Susan Pine Harris.
"Dancing outside is exhilarating for the dancers and offers an intimate and unique setting to share dance with audiences. It's raw and integrates our art form into real life spaces," said Mary Anne Fernandez Herding, founder and director of Movement Source Dance Company. "The setting of public art complimenting and inspiring each dance work is also an added point of interest on the Trolley Dances tour."
Blending dynamic style with zestful energy, the Arizona Trolley Dances harmonize physical space with the artistry of movement. In celebration of the fluid connection between space and motion, Old Town Scottsdale is brought to life with vibrancy and vitality.
"We look forward to sharing connections and a collective appreciation for human communication through movement and culture," said Edson "House" Magana, director of Furious Styles Crew.
All performances begin at Scottsdale Center for the Performing Arts, 7380 E. 2nd St., Scottsdale, Arizona. Tickets are $20 for youth (children 12 and younger) or $30 for general admission. Purchase general admission tickets for only $25 by March 3 with an early bird discount. View our Upcoming Dance Events or call Scottsdale Arts Guest Services at 480-499-TKTS (8587) for more information.
Scottsdale Arts is continually striving to increase our accessibility offerings to provide enriching arts opportunities for everyone in the community. For more information about services we offer, please visit ScottsdalePerformingArts.org/visit/accessibility.