Review: Winding Road Theater Ensemble Flaunts Committed Cast with TICK, TICK...BOOM
Now through March 5th, 2023.
To the unsuspecting crowd, TICK, TICK... BOOM passes muster as a crude experiment with unpredictable charm. An emotional, "cleansing" exercise, it shows little regard for technical artifice and bares the author's soul with remarkable urgency.
Perennially upstaged by its blockbuster sibling (RENT), Jonathan Larson's semi-autobiography of a struggling artist who defies all odds strikes a sympathetic appeal: earnest and unabashedly indulgent. Jonathan makes a living as a part-time waiter in a neighborhood diner, but he's a legitimate composer with a knack for the modern Broadway musical. He's obsessed with Stephen Sondheim and makes no apology for riding his coattails.
TICK, TICK...BOOM began as a "rock monologue" in the early 1990s. In 2001, five years after Larson's untimely death, it opened Off-Broadway as a "restructured" three-person musical courtesy of playwright David Auburn.
With due respect to Lin Manuel Miranda, I'm no fan of the film homage. I applaud the generous effort to give Larson's seminal piece its due; still, the intimate clarity of a versatile, three-person cast on a small stage stands out in creative integrity.
For lack of alternative venues, the cabaret space at the Temple of Music and Art has become a communal hub for homeless theater companies. By sheer luck, the limited space supports this production's modest possibilities -- specifically, Jonathan's cramped Soho apartment, where walls are closing in on his desperate existence.
That's not what happens here. Winding Road's talented team averted the opportunity to account for the imagined environment, electing to treat the stage as a concert space. Let me be clear: They're not wrong. The real challenge is how each performer perceives and projects a persona while sitting on a stool away from the action. Is there a discernible purpose?
A case in point: Jonathan and Susan's sensitive moment, presumably set in his bedroom, might be rendered "privately" without Michael (Zach Wetzel) observing the action a few feet away. If one must stay visible, is it Michael (the character) or Zach (the actor) looking in from the outside? The same predicament affects Alli Rowe when she's not playing Susan or Karessa.
Given the relaxed "workshop" ambiance, actors get a pass for their languid omnipresence and for occasionally dropping out of a relationship, as it were. Without a clear and sustained focal point by the artistic team, I'm spoiling for an alternate design where anyone can leave the stage when they're not needed.
As long as an actor stays on as a spectator, it's prudent to recall an enduring principle: Wherever there is movement, the eye will follow (live band excluded). Tyler Gastelum inhabits Jonathan's voice with lucid honesty; he should be able to sing without Alli Rowe diverting our attention by picking up her drink in the middle of his poignant solo (here's hoping she never drops her drink by accident).
Staging choices notwithstanding, Winding Road's production is a moving personal encounter. It recalls the existential confrontation we tend to ignore until we come of age: Do we choose love or fear? What happens if we compromise our mission for comfort and security? The proverbial clock nears midnight -- what becomes of me?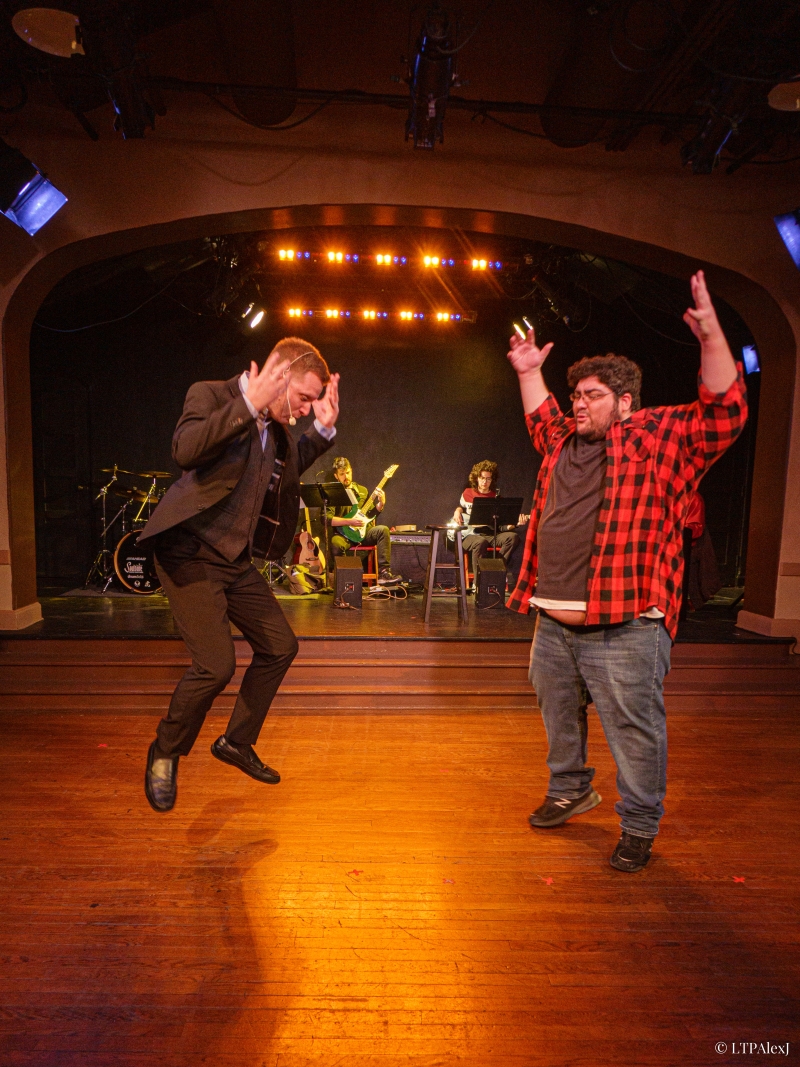 Zach Wetzel owns the best vocal highlights of the show. A resonant baritone with a decent range, Wetzel gives Michael a classic and polished timbre, an appropriate quality given his newly elevated status as a member of the corporate universe. Wetzel plays multiple roles, including the show's co-director and music director, affirming his impressive skill set. But multitasking can also undermine a live performance; Wetzel's covert attempts to direct his fine four-piece band reinforces concern about his focus and priority. Less is more, as they say.
Tyler Gastelum dodges the beautiful burden of playing multiple roles. He shapes Jonathan's arc with creative anxiety, turning it into manic gloom at the mere suggestion of a failing Bohemian lifestyle. I suspect the vocal requirement is a tad above Gastelum's range, but there's no obvious sign he struggles with confidence. He strikes an agreeable chemistry with Rowe, who deftly transforms multiple characters and delivers a passionate rendition of "Come To Your Senses," one of my favorite Larson ballads.
TICK, TICK...BOOM is a bold and daring production that only gets better with repetition. Lucky for you, there's one more weekend left. Go and support live theater!
Photo Credit: Alex J. Alegria
The Cabaret Space at The Temple of Music and Art is located at
330 S. Scott Avenue
Tucson, Arizona 85701