MusicaNova Orchestra Announces New Season At The MIM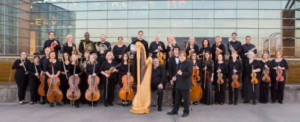 The MusicaNova Orchestra (MNO) today announced its ground-breaking 2018-19 concert season,"Reflection, Discovery, and Hope,"with three performances at the Musical Instrument Museum (MIM) in Phoenix. The new venue is a natural evolution for both the MIM and MusicaNova, as both organizations seek to offer surprising and varied musical experiences to the public.
MNO continues its mission to bring the finest in new and neglected music to the Valley of the Sun, with three world premieres, one American premiere, and one regional premiere performed during the season.
"We are thrilled to have MusicaNova Orchestra perform at the MIM this year. This ensemble of professional musicians continues to amaze us with its depth of artistry and dedication to preserve lost or little-known masterpieces of classical repertoire. We are looking forward to hosting them at the museum, which also seeks to be a vibrant space for the living, breathing preservation and exploration of music." - Patrick Murphy, Theater Manager, MIM
Tickets for MusicaNova Orchestra's 2018-19 concerts will go on sale August 10 at www.themim.org or by calling 480-478-6000.
For more information about MusicaNova's season visit www.musicanovaaz.com
MusicaNova Orchestra 2018-19 Season at The MIM
October 28, 2018 - 2:00 PM 1918: An Armistice Without A Peace Musical Instrument Museum 4725 E. Mayo Blvd, Phoenix AZ 85050 Tickets: $33 and $38 (plus $3.50 surcharge) Claude Debussy, Prelude to the Afternoon of a Faun Sergei Prokofiev, Violin Concerto No. 1; Rina Kubota, violin soloist Hubert Parry, Symphonic Variations
January 6, 2019 - 2:00 PM The Forgotten Symphonies: Unveiling the Romantics Musical Instrument Museum 4725 E. Mayo Blvd, Phoenix AZ 85050 Tickets: $33 and $38 (plus $3.50 surcharge) W. A. Mozart, Rondo No 1 in D Major, K.485, Angelina Zhang, piano soloist Edmund Rubbra, Viola Concerto in A Major, Op. 75, Graham Cohen, viola soloist César Franck, Symphony in D Minor
March 31, 2019 - 2:00 PM The Mystical Muse: Cycles of Inspiration and Hope Musical Instrument Museum 4725 E. Mayo Blvd, Phoenix AZ 85050 Tickets: $33 and $38 (plus $3.50 surcharge) Cécile Chaminade, Concertstück, Op. 40 Cark Reinecke, Symphony No. 2, Op. 134 "Håkon Jarl" (American Premiere) Anton Bruckner, Symphony No. 0 "Die Nullte" (Arizona Premiere)
Each orchestra concert includes the world premiere of a work by a MusicaNova Composition Fellow.
Since 2015, MNO has named nine Composition Fellows, local and international young composers whose music deserves introduction to a wider audience to this unique program.
MNO's October and March orchestra concerts feature the participation of exceptional student-musicians from MNO education partners. Students sit side-by-side with MNO's professional musicians who mentor them in the preparation, rehearsal, and performance of full concert programs.
ABOUT MUSICANOVA ORCHESTRA
MusicaNova is a professional symphony orchestra founded in the Valley in 2003. MNO also presents its Young Artists Concert and free Community Concert Series at venues in Phoenix and Scottsdale, conducts extensive educational outreach with Valley schools, and sponsors the unique MusicaNova Composition Fellows Program for hands-on mentoring of emerging composers.
The Musical Instrument Museum is a City of Phoenix Cultural Facility, located at 4725 East Mayo Blvd., Phoenix AZ 85050.
MNO Orchestra Concerts are supported by grants from the Arizona Commission on the Arts, the Phoenix Office of Arts and Culture, Scottsdale League for the Arts, and Tempe Arts Grants.
For more information call 480-750-9466 or visit www.musicanovaaz.com.
Related Articles View More Phoenix

Stories

Shows
More Hot Stories For You