Broadway Star Ramin Karimloo And More Come To Scottsdale Center For The Performing Arts In February
Scottsdale Center for the Performing Arts has a little something for everyone this February.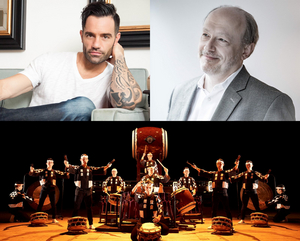 Scottsdale Center for the Performing Arts continues the 2022-23 season with new performances in February. From a legendary American jazz bassist and a performance of Beethoven's greatest work to a Broadway star known for his roles as Valjean and Enjolras in "Les Misérables" and the perfect post-Valentine's Day classical date night, Scottsdale Center for the Performing Arts has a little something for everyone this February.
Below is the schedule of concerts and other performances at Scottsdale Center for the Performing Arts in February (subject to change):


Friday, Feb. 3, 2023, 8 p.m.
American jazz bassist Christian McBride is a luminary with one hand ever reaching for new heights and the other extended in fellowship - and perhaps the hint of a challenge - inviting us to join him.
KODO
Wednesday, Feb. 15, and Thursday, Feb. 16, 2023, 7:30 p.m.
Exploring the limitless possibilities of the traditional Japanese drum, the taiko, Kodo is forging new directions for a vibrant living art form.
Scottsdale Philharmonic
Sunday, Feb. 19, 2023, 4 p.m.
The Scottsdale Philharmonic performs Beethoven's ninth symphony with Melissa Solomon, Patti Graetz, Ted Zimnicki and Jeffery Stevens as featured soloists.
Keyboard Conversations with Jeffrey Siegel
Musical Valentines
Tuesday, Feb. 21, 2023, 7:30 p.m.
Find a little something sweet with Musical Valentines as Jeffrey Siegel waxes romantic with the love-inspired music of Liszt, Chopin, Schumann and more.
Marc-André Hamelin
Wednesday, Jan. 22, 2023, 7:30 p.m.
"A performer of near-superhuman technical prowess" (The New York Times), pianist Marc-André Hamelin is known worldwide for his unrivaled blend of consummate musicianship and brilliant technique in the great works of the established repertoire.
Thursday, Feb. 23-26, 2023, various times
With shows like "The Male Intellect: An Oxymoron?," Robert Dubac draws on decades of showbiz experience as a writer, actor and stand-up comic to explore social mores, political ideas and the complexity of the human experience. Now he's back with "Stand-Up Jesus," an irreverent look at reverence.
Friday, Feb. 24, 2023, 8 p.m.
Ramin Karimloo is an Olivier and Tony Award nominee who made his name in some of the West End's most enduring productions, most notably "Phantom of the Opera" and "Les Misérables."
All performances take place at Scottsdale Center for the Performing Arts, 7380 E. 2nd St., Scottsdale, Arizona. Ticket prices vary by show. Visit ScottsdalePerformingArts.org/events or call Scottsdale Arts Guest Services at 480-499-TKTS (8587) for more information.
Scottsdale Arts is continually striving to increase our accessibility offerings to provide enriching arts opportunities for everyone in the community. For more information about services we offer, please visit ScottsdalePerformingArts.org/visit/accessibility.