BWW Feature: Mark and Ryan Kleinman, Living the Dream
In 1975, my family moved from Toronto Canada to Casa Grande Arizona. Culture shock doesn't begin to describe the experience for a 15 year-old theatre and vocal music maven (which is how I perceived myself). There is much to look back at in horror, about Casa Grande in the old days. I had never experienced such racism, sexism or backward thinking. In Toronto, it was cool to be smart. In Casa Grande, it was cool to be a stoner, a jock, cheerleader or in choir. Or all of the above, which many kids were. I wasn't a stoner and I wasn't a jock. The cheerleaders tried to recruit me, but I was a proud "Women's Libber." I was also a lifelong singer. When the school counselor who signed me up for classes asked if I wanted to be in Sophomore Choir, I didn't hesitate to say "YES!" The theatre department was hopelessly backward by my (pseudo) sophisticated standards - we had done Man for all Seasons and Jesus Christ, Superstar in 1973/74 in Canada, but my high school in Casa Grande was doing How to Succeed in Business Without Really Trying and Charley's Aunt. Hopelessly corny, kitschy, silly fluff, to my way of thinking. So I stuck to choir, where I met Mark Kleinman.
Mark was an enthusiastic Mormon guy, tall and handsome with a fine, clear tenor voice and a sense of humor that never quit. While I and my "popular" circle of girlfriends were making fun of the geeks, nerds and misfits, Mark was effortlessly demonstrating how to be a quality human being. He was a credit to his family and the community and culture he came from. I liked and admired him and soon felt related (once you go on tour with people, you become siblings. It's the law). I met a lot of Mormon kids in choir and they were uniformly unselfconscious about performing, often funny and almost always kind. I remember mentioning it to my mother, and she responded, "Oh, yes - " and went on to rattle off a litany of friends from my small Arizona hometown who were lovely people and also Mormon, several of whom had been with her in musical projects and community theatre there. I didn't know what Mormons were, except a Christian denomination different from ours.
When Mark and I were both in junior college - just outside Casa Grande, where we could still live at home and commute, so it wasn't such a shock at 17 or 18 years of age to completely leave our families - Mark and I continued in choir and I was jubilantly engaged with the theatre department after spending the summer doing six shows in rep at in WSU in Pullman Washington. When I learned that the spring show was to be South Pacific, I ran and found Mark in the choir room and told him he had to audition for the role of Lieutenant Joe Cable. He said, "I've never done theatre before!" and somehow, I talked him into it. I remember telling him about the powerful, important song, You've Got to be Taught. He auditioned and got the role.
The rest is history.
Mark Kleinman has performed extensively as a professional in Operatic, Musical Theater, and dramatic repertory around the world. A small sample of his diverse roles include Rodolfo in La Boheme, Faust in Faust, Hoffmann in Les Contes de Hoffmann, The Witch in Hansel and Gretel, The Beast in Beauty and the Beast, Lt. Joe Cable and Emile de Becque in South Pacific, Captain Von Trapp in The Sound of Music, Harold Hill in The Music Man, Ebeneezer Scrooge (a perennial favorite now, at the Hale Centre Theatre) and Fred in A Christmas Carol, Archibald Craven in The Secret Garden, Herr Drosselmeyer in the The Nutcracker ballet, Governor Johnson in Blackbeard, Jacob in Joseph and the Amazing Technicolor Dreamcoat, The King in Cinderella, and Detective Sergeant Porterhouse in Run For Your Wife. Mark is an AriZoni Award winner as Best Actor and twice as Best Supporting Actor, and also voiced the role of The King in Amazon Studios' grand prize-winning test film, 12 Princesses. He was a semi-finalist for Amazon Studios' Best Actor Award.
JS: As a married Mormon, Mark - aren't you supposed to wear garments at all times and never wear, publicly, anything that would reveal them or the physical areas beneath them? How do you get away with going shirtless in South Pacific, or running around in boxers in shows, etc.? Even when we were kids and you played Cable in SP that first time, wasn't it something of a dilemma for you? How did you and do you deal with it? I remember that the director hoped to cast you, based on your leading man good looks, as the lead in Summer and Smoke, but you weren't comfortable playing a character who was drinking and smoking. But you took the part of Archie Kramer, a traveling salesman with whom Alma runs off at the end, presumably on a wild tear of debauchery and general immoral tomfoolery. Were you able to do that (your first dramatic role in a series of dozens) because you didn't drink and/or smoke onstage?
MK: Well - a few clarifications. Any adult member that has gone through the temple wears garments. That means any missionary (male or female) and most members (married or not) that are mid-20s. You don't have to be married to wear them. The covenant taken in the temple has some guidelines with the wearing of the garment but the instruction makes it clear that it is a covenant between the member and the Lord - so it is a very personal thing. I would point to Professional Mormon athletes that wear their uniforms while playing and then their garments the rest of the time. Pretty much the same as an actor. Costumes can at times accommodate them (especially the older I get and no one...I mean NO ONE wants to see my bare chest any more!) but, generally, garments are removed, costume worn, then re-put on the garments. See Donny Osmond in Joseph and the Amazing Technicolor Dreamcoat. Good example. He has served in the church as a Bishop and a Stake President.
As for things I will or won't do onstage. Again, very personal decisions for each actor. I won't do any nude scenes. I turned down a speaking role in the movie Revenge of the Nerds, which would have required a shower scene. No can do. I don't smoke on stage because I think it is unhealthy and generally not character driven. I have, however, held a cigar and a pipe because they were character-driven and important to the plot. I have performed as a drunk often (once again, especially as I have gotten older!). Never been drunk. Performing with fake liquor and actually drinking are two different things. Also, as I have attended many cast parties, I have had a chance to REALLY study the actions of drunk people! There are many Mormons (marrieds especially) that have a problem with doing romantic scenes with someone not their spouse. Again, very personal decision, but I think it has mostly to do with the support and trust of your spouse. If they are fine and it is not going to be a problem for you as to temptation, etc., I say go for it.
So, in short - I don't do nude work. I don't do gratuitous sex scenes. I don't do drugs onstage. I try to do shows that uplift as opposed to those that don't. I understand that there are some conflicting themes here and, at some level, probably some hypocrisy, but I am okay with that and I therefore don't judge other Mormons who decide differently than I have, including my children. Boom Baby!
JS: All my years working as an artist in the schools, I felt so grateful for the Mormon proclivity for performance. The most enthusiastic actors were the Mormon kids, who would jump up and launch into whatever exercise I introduced. It kept you in my heart and mind, Mark - along with our other LDS friends in high school and college choir and theatre. I'm suddenly interested in your responses to the show, The Book of Mormon, which I absolutely love.
MK: I feel like the official "LDS Church" response is of interest here. They placed an ad in the
Book of Mormon
program saying something to the effect of "you've seen the show...now read the Book...it's better!" Then they placed a kiosk directly outside the theatre (across the street) staffed with Missionaries giving out free Book of Mormons to those that might be interested. No protesting. No hissy fits. No wailing, moaning or gnashing of teeth. I liked that.
JS: Let's get your son, Ryan, into the conversation. How do you feel, Mark, about your son living in New York and going on tour around the country and the world? Did you see that coming?
I am incredibly proud of all my kids and Ryan is pursuing his dream as a performer. He has been performing for quite awhile now as a professional and I have had the idea that this would be so since about his Junior year in High School. I have always taken the time to include my kids (when they have shown an interest) into the shows I was doing. Ryan and his older sister, Kaitlynn, were able to be more inundated with it at a young age as I was more active as a professional performer and they got to be backstage and at rehearsal, and often in shows with me. Whenever I was in a show that needed kids, I got them an audition and, since they were talented, often got cast, so we were able to share the stage.
Sound of Music, South Pacific, Music Man, Secret Garden, A Christmas Carol
, all shows that my kids been able to share with me.
JS: You've got to have some great anecdotes.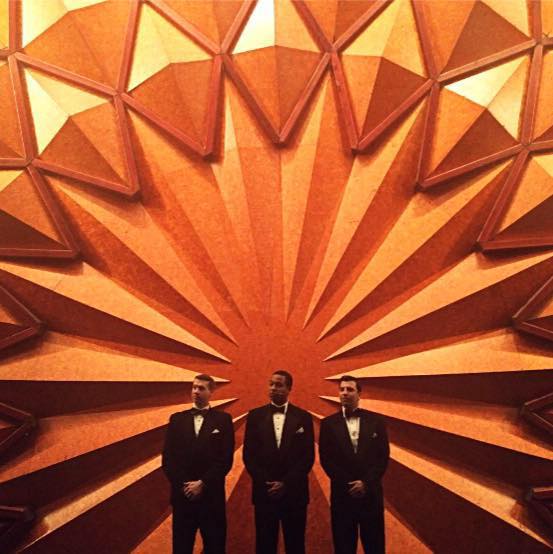 MK: Two stories. Ryan was playing the part of Jerome (Emile De Becque's Polynesian son) in South Pacific, when he was age 8 or so. As he is a Ginger, he does not look Polynesian, so they asked if he would wear dark makeup and dye his hair black. Sure, no problem. The weekend before tech rehearsal began, I said, "hey, mom is out of town, let's go to the store and get the stuff to dye your hair." Ryan, in his wisdom, suggested we wait for mom to get home. Me: "Nah, we can do this!" We went to the store and I bought the first black wash-in hair dye I saw. We got home and I put it in his hair and wait the allotted time. We washed it out and his hair was a DEEP BLUE. I mean INDIGO! Not good. Ryan, looking at me in the mirror, said: "I told you we should have waited for mom!" He was right. Then, she got home and fixed it. As always.
JS: Ah, yes. The legendary Dee (Shelton) Kleinman. The adorable little girl who lived across the street from my family in Casa Grande. You CRADLE ROBBER!! Okay, just kidding. Duh. Continue, please.
MK: My senior year at the University of Arizona as a Vocal Performance Major (Opera), the Theatre Department decided to work with the Vocal/Opera Department and do a joint production of
South Pacific
. I was cast as Lieutenant Joseph Cable (the role you talked me into, Jeanie, when we were at CAC!) and the production got rave reviews and was well received within the University. Dick Hanson was the director and he was so enthused that he decided to create a new department of Musical Theatre at the UA, which had not existed before. Jump ahead 20 years and Ryan was accepted there on scholarship and it is one of the top ten Musical Theatre Departments in the world! So, I had a small hand in what he was doing.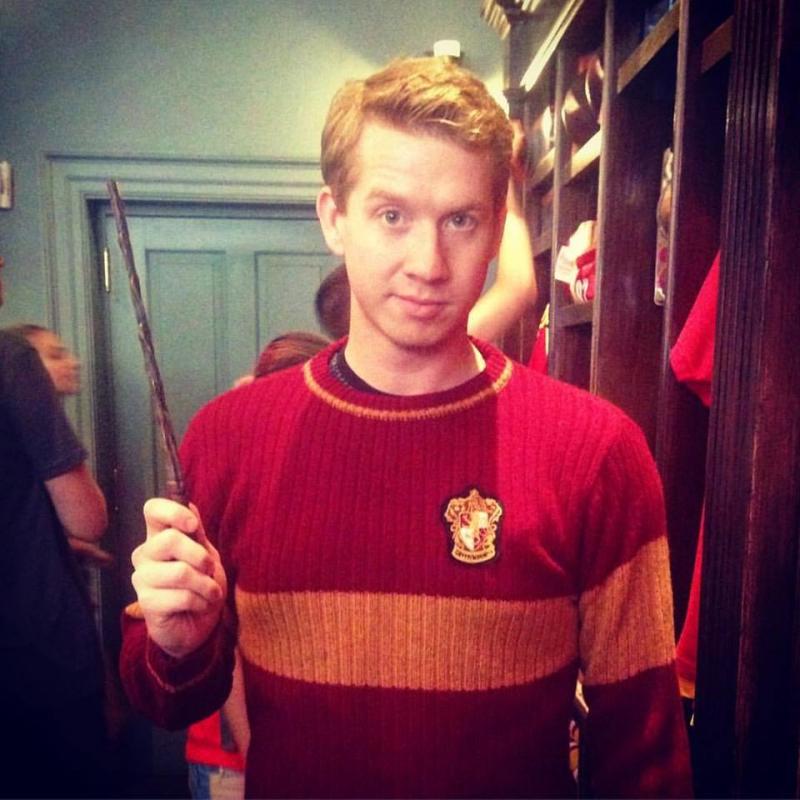 Ryan Kleinman says he knew he was going to perform from a very early age. Blending his father's opera career and his mother's dance history, at the age of 9, Ryan stepped into his first musical, South Pacific. Since that first show, Ryan has continued to foster a love of, and a talent for, performing. Ryan started out performing in school and community theatre in the Phoenix metro area. Some of these credits include the title role in You're a Good Man, Charlie Brown, Angel City Four in City of Angels, Tommy Djilas in The Music Man, and Jack in Into the Woods, for which he received and AriZoni nomination. After spending 2 years serving as a missionary, Ryan returned to the stage at The University of Arizona. It was there he gained an appreciation and understanding of classical theatre: Shakespeare, Chekhov, Commedia dell'arte, Rodgers and Hammerstein. He also performed in more modern works including Dr. Parker in Bat Boy: The Musical, Brian in Avenue Q, and Albert in The Secret Garden. During college, Ryan was able to begin a professional career as an actor. His first contract was with Prather Entertainment in their Phoenix production of Rodgers and Hammerstein's Cinderella, as an ensemble member, where, among other characters, he was fortunate to wear a horse head and perform as one of the "four white mice [that] will never be four white horses". This was his first step into the professional world. Notable Phoenix area roles include Will Parker in Oklahoma, Tin Man in the Wizard of Oz, and Captain Hook in Peter Pan.
After a few years in Phoenix, Ryan decided it was time to go for it, and he moved to New York City. After many many auditions, and "meeting wonderful friends along the way," he found himself working for a "very small, but friendly boss - Mickey Mouse." Ryan spent 6 months at sea performing on board the Disney Dream with his friends Captain Hook and Kronk.
He said, "Who knew being a pirate in the Caribbean could be so much fun?"
Ryan is just wrapping up a national tour with In the Mood, a 1940s big band review, as the principle swing dancer and lead tenor.
JS: Ryan, what's it like to grow up with a parent who has a day job, is extremely busy in the community and does a lot of rehearsing and performing at night? Not that you have anything to compare it to.
RYAN: When I was growing up, my dad WAS constantly on the move - work, community service, church responsibilities, and his performing career. I'm sure he must have been exhausted. But I never felt slighted. Part of that has to do with the efforts he made to make us feel included in his activities when he could. My older sister and I were brought backstage to rehearsals; one I remember in particular was Hansel and Gretel, where my dad was playing the witch. We fell madly in love with the candy tree and just about got into serious trouble contemplating eating some of it. He would make sure the family served together on weekends - cleaning up the local church building, bringing a Christmas tree to a family in need, picking fruit and mowing an elderly neighbor's back yard. He also would take me specifically to his early morning basketball games and shoot around with me a bit.
All this being said, he was gone an awful lot. I understood the necessity and I don't remember ever begrudging him being gone. This wasn't because I was a super thoughtful and mature child, it was because of my mother. The woman was and is a saint. She never missed a single baseball game, recital, parent/teacher meeting, PTA board, afternoon snack, goodnight tuck in. And what is more, she never used that to turn her children in favor of herself. She made sure we knew who our dad was and why he couldn't be somewhere. If you really want to know what I thought about my father growing up, I would have to quote my mother; "Your dad is doing what he has to do, for us." My dad may be the one in the spotlight, but my mother runs the show.
MK: He is not wrong about my lovely bride. She runs the show as Producer, Director, and Stage Manager!
RYAN: I also worshiped my dad, as all boys with good fathers should. If you look at my choices, I followed him as close as I could. I thought he was an amazing human - basketball player, high tenor, great actor (we are gonna forget that the man can't dance), and well respected in his church responsibilities. I wanted to be all of those things. I still do (except I can put my left foot in front of my right). Each of these things took time "away" from the family and me but provided me with a wonderful example of what a man can be. And isn't that a parents first job, to teach their children how to become good people?
Mark - tell us about your recent work with the United Way. How did you come to get involved in that, what is your role and how does it work?
MK: On any given day, thousands of people experience homelessness in Maricopa County. Many of these individuals and families are experiencing homelessness for the first time and require only temporary assistance to get back on their feet. The Valley of the Sun United Way "Project Connect," is an event which takes place a few times a year in different locations, the most recent was on April 6, in Mesa, and is part of a long-term, multi-faceted strategy to help end homelessness in our community. The Red Mountain, Kimball, and Skyline Stakes of the LDS Church, and the All Saints Catholic Church all partnered in this event which offered instant access to resources people in our community need to start the journey back to health, financial stability, and housing. I was asked to be point man from the LDS Church in coordinating and running this event with the United Way.
Each Organization asked each member of their respective congregations to prayerfully consider how they might contribute to this effort. It could be by serving as a volunteer on the day of the event, or by donating clothing, snacks, or toiletries. The youth participated by loading new, donated backpacks for upwards of 400 guests (Homeless) with toiletries, snacks, and water.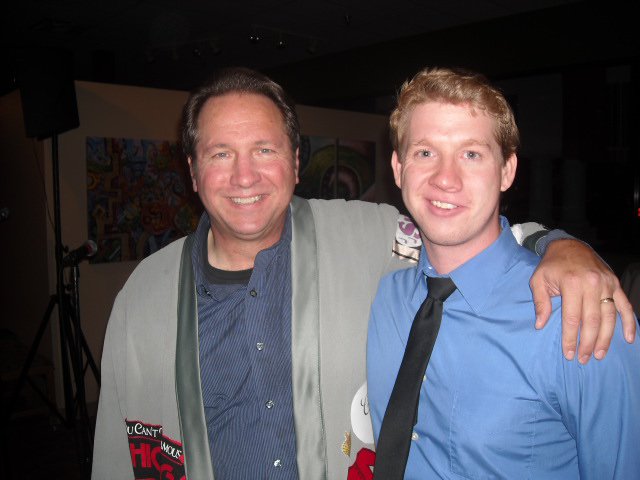 In the words of our Savior: Matthew 25: 40 "...Verily I say unto you, inasmuch as ye have done it unto one of the least of these my brethren, ye have done it unto me."
JS: Ryan, how do you feel about what your dad is doing? I mean, isn't he doing enough, already?!
RYAN: I think his work in public service and religious relations is amazing. He has had quite a bit of success in Arizona the last few years as an actor and I think anyone who says that he should try to parlay that into greater prestige is a fool. He has turned his attentions to serving those around him. His faith, and that is a faith I share, teaches that when we have the means to do so, we should seek to serve our fellow man. Both of my parents take this seriously and always look to see how they can turn outwards and serve, even when they don't have the time, money or energy to do so. I had a professor in college say that if I wanted to be a successful actor I had to eat sleep and breathe that industry. I could not disagree more. Those who put all of their time in theatre miss the world. They only know what's been done, and the trends inside. If art is meant to "hold up a mirror" one must know what it is reflecting. In that vein, I think that what my dad is doing in his charitable efforts makes him a better man, and in turn, a more well equipped actor. By serving those who need him, he is opening his heart and letting in new people and broader views. So, in short - No. He isn't doing too much. He is simply doing what he can. If he were capable of more, he would give more, and I would support him every step of the way.
Thank you, fellas. This was an honor and a privilege.
You can follow Ryan's shenanigans on his website, RyanKleinman.com. Look for Mark later this summer and fall in the Hale Centre Theatre's Joseph and the Amazing Technicolor Dreamcoat and Kiss and Tell. Beyond that, you'll find him all over the East Valley burning up the boards and making the world a better place, one beautiful moment at a time.
Jeanmarie (Simpson) Bishop is Founding Artistic Director of the Nevada Shakespeare Company which she co-founded in 1989 and from which she retired in 2012. Jeanmarie (read more...)