BWW Review: Laugh Your Head Off with REP's A COMEDY OF TENORS
Manila, Philippines--What do you get when you have mistaken identity and false accusation of infidelity mixed with melodrama, comedy, Italian and Russian accents, seduction, misunderstanding, opera, and Lorenz Martinez shifting from one character to another? Definitely, a hilarious night at the theatre.
Repertory Philippines (REP) opens its 81st season with the rollicking, operatic farce "A Comedy of Tenors." Written by Ken Ludwig, "A Comedy of Tenors" is a sequel to his acclaimed work "Lend Me A Tenor." You may think that having to watch a sequel you wouldn't understand some of its contexts but Ludwig has managed to write a sequel yet a standalone play.
Set in a hotel suite in Paris in the 1930s, "A Comedy of Tenors" tells the story of a famous Italian opera singer, Tito Merelli (played by Lorenz Martinez), hours before his concert, who mistakenly catches his wife with another and more younger man. Not knowing the true identity of the young man, Tito goes through Act One accusing his wife of infidelity and finding out that the young man is his operatic rival. He flees the hotel and leaves his overstressed producers to find a way to save the concert. Along the way, the producer and his assistant come across an Italian bellhop, Beppo (also played by Lorenz Martinez) whose voice is as angelic as the famous Italian opera singer Tito, and who would've known, he looks identical like him. The show must go on as these crazy group of opera-loving characters goes back and forth accusing and seducing one another as Lorenz shifts from one character to the other.
For REP's adaption of "A Comedy of Tenors," it's all about Lorenz Martinez!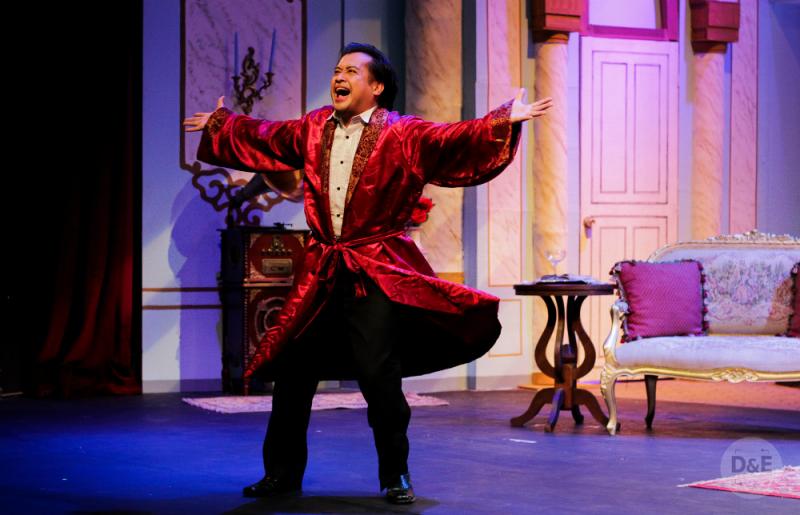 Can you imagine Lorenz running backstage doing quick changes then running back on stage shifting characters? Well, he definitely pulls it off and surprisingly with less perspiration to a very daunting track. His performance will definitely amaze you as you watch him enter from one door dressed as Tito and enter from another dressed as Beppo. Martinez already steals the show the moment he enters as Tito and all throughout his misunderstandings and arguments with his wife, his producers, his daughter, and his rival. When you thought you couldn't get enough of Lorenz who dramatically speaks with an Italian accent and quotes opera verses, he suddenly appears as Beppo in a very comedic end to the first act. "A Comedy of Tenors" showcases his versatility as an actor. Not only can he pull off an Italian accent but he keeps his energy all throughout the show while shifting from Tito to Beppo AND he sings a divinely take of La Traviata's "Brindisi-Allegretto" with his costars Arman Ferrer and Noel Rayos.
REP assembles a colorful ensemble to surround Lorenz's crazy antics. Playing as Maria, Tito's hot-blooded and ecstatic wife, is the hilarious Issa Litton. Also with an Italian accent, Litton joins Martinez in the back and forth of misunderstandings and mistaken identities. It's really a joy to watch her on stage with Martinez and see her innocently do an action and interpret it wrongly.
Joining Martinez and Litton are Jeremy Domingo playing Henry Saunders, the American producer of the show, and Noel Rayos playing the adorkable partner and son-in-law of Saunders, Max. Between the bickerings of Maria and Tito, you will see the characters of Domingo and Rayos going through the show, making sure the concert must go on. This pair successfully brings to the stage the stress of putting up a production and dealing with divas alongside everyone's problems. The back and forth insults and conversations of Domingo to Rayos are well timed without going over the top on the insults and not going too far on the dialogues. Domingo definitely keeps up that stressful ambiance of their situation, which is that they only have minutes left until their concert, as each and every moment that seems lax, he suddenly enters stressing out the point that they don't have that much time left. While Rayos follows suit but gets distracted along the way, he makes his character a very lovable one, which made his ending scene a heartfelt one instead of an unnecessary part of the play.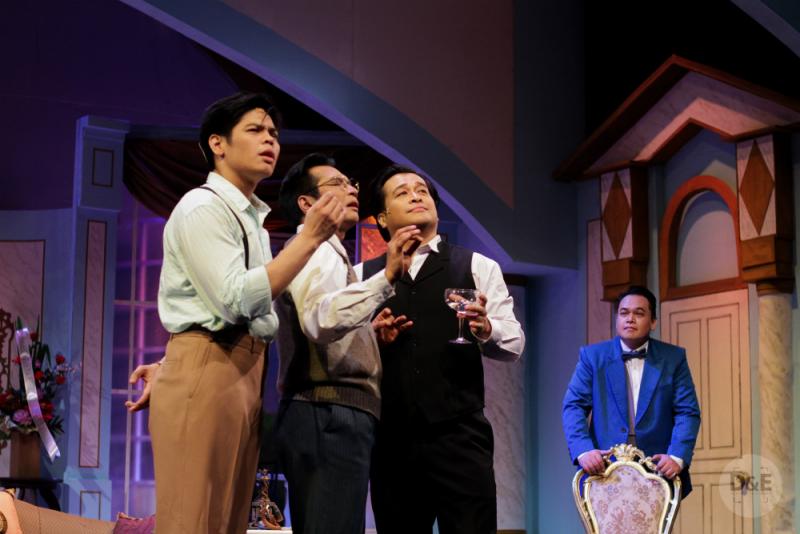 New in the Philippine theater scene is Arman Ferrer playing the young rival of Tito, Carlo Nucci. Ferrer's flair in singing is praiseworthy; he's able to captivate the audience the moment he sings with Martinez and Rayos. Alongside Ferrer is Mica Pineda who's highly charming as Mimi, the daughter of Tito and Maria. They've managed to have the audience laugh a bit, though it was at the very end scene when everything was revealed did they exhibit their strengths as actors.
Adding to the colorful characters of opera singers, hot-blooded wife, producers, and lovers, is the Russian soprano singer and former lover of Tito, Tatiana Roson. There could've been a more noticeable entrance for the character of Roson played by Shiela Valderrama-Martinez but Valderrama all throughout the second act is exquisite and stunning as the Russian Soprano off to seduce Tito. It's lovely to see Valderrama playing alongside her real-life husband Lorenz Martinez.
Some people may say that it's easy to make people laugh, especially in productions like this where the script is already perfectly funny, but there's that borderline of being in a funny situation and making a situation funny. To create a farce comedy, the director and the actors must remember to not cross the border of overacting every comedic situation, and just playing it at a level where it would naturally make people laugh. For "A Comedy of Tenors," it's a perfect mix of melodramatic lines, exaggerated situations, and energy from the cast. Director Miguel Faustmann has definitely shaped this play perfectly without going over the top and feeling like a soap opera or the actors forcing laughs from the audience. Who better to direct this uproarious play but Faustmann himself who actually played the role of Tito Merelli in "Lend Me A Tenor" in 2003.
The colorful characters are very much supported by the colorful and cartoonish texture of the set. Though at times, it feels like the set is kind of delicate that something might break or fall down whenever the actors open a window or close a door. The set feels like there are some little details missing to give it a more Paris suite for a famous Italian opera singer atmosphere.
Like any theater production here in the Philippines (even sometimes with foreign touring groups), technical problems are not avoidable, especially microphone problems. Props to the Jeremy Domingo who stayed in character and did his best to project clearly his lines on opening night. But all was well the next entrance of Domingo.
The phantoms of the backstage also deserve some praise as they help Martinez with all his quick changes and running around getting into places. A minor note, at the very end, we got to see a crew member quickly bring in a stool, which made it a bit off because the whole show was so enclosed due to how the set was made; you would never have felt there were crew members behind it.
Technicalities and preferences aside, "A Comedy of Tenors" is one hell of a comedic production. The art of putting on a farce is not an easy task for any group of actors but REP manages to pull it off. Their mixture of melodrama and comedy is perfect. "A Comedy of Tenors" is really an ensemble performance and REP does a great job in gathering a perfect mix to play all these characters. Their energy and comedic timing support one another as they go through the whole play.
If you're looking for a night of good laugh then this play will definitely laugh your head off.
Catch the crazy and hilarious ensemble of "A Comedy of Tenors" now through February 18 at the Onstage Theater, Greenbelt 1, Makati City. Buy tickets (P1,200-P1,500) at REP at (632) 843 3570 or Ticketworld at (632) 891 9999 or visit TicketWorld.com.ph.
Photos: Repertory Philippines