The Irish Tenors to Launch 25th Anniversary Tour Of North America
Beginning in Clearwater, FL on Feb. 27, the tour includes Fort Lauderdale (Feb. 28), Seattle (March 3), and more.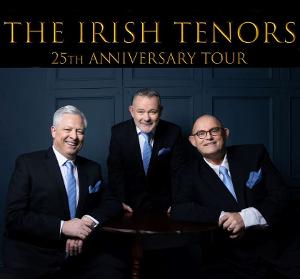 The Irish Tenors officially announced their 25th anniversary tour of North America, which includes U.S. tour dates for February and March 2023.
Launched in Ireland in January 2023, "The Irish Tenors' 25th Anniversary Tour" features the powerful vocal lineup of Anthony Kearns, Ronan Tynan, and Declan Kelly in concert with orchestra under the baton of Maestro David Wroe. Beginning in Clearwater, FL on Feb. 27, the tour includes Fort Lauderdale (Feb. 28), Seattle (March 3), Honolulu (March 10), New York (March 17), Cleveland (March 24), and Columbus (March 25), among other U.S. cities. Full list below. Tickets are on sale here: www.theirishtenorsmusic.com
This year, The Irish Tenors will visit Hawaii for the first time, performing with a 64-piece strong Hawaiian Symphony Orchestra on March 10, 2023. Among many highlights, they also will perform with the famed Cleveland Pops Orchestra on March 24, 2023.
With ten best-selling CDs to their credit, The Irish Tenors - along with The Three Tenors and Andrea Bocelli - have delighted audiences all over the world and are one of the most successful acts in PBS history.
"Throughout the past 25 years, we've recorded multiple gold, platinum, and double-platinum CDs and major television specials -- but nothing compares to the magic of performing in concert," said The Irish Tenors in a statement.
To commemorate the occasion, a new "25th anniversary" special edition CD by The Irish Tenors will soon be on sale for $20.00 (plus shipping and handling) at upcoming concerts and on their website.
As musical ambassadors from Ireland, The Irish Tenors have not only serenaded Presidents and Prime Ministers on historic occasions, but millions of concert fans, with the full-bodied sound of symphonic backing and pure tenor harmony.
The Irish Tenors have been the acknowledged Celtic music kings since they burst upon the scene with a pair of PBS television specials from Ireland, "The Irish Tenors: Live in Belfast," and "The Irish Tenors: Live in Dublin," followed by their third PBS special, "Ellis Island" in 2001 before a live American audience, with award-winning actor Martin Sheen as host. The Ellis Island recordings sold a million CDs and DVDs and ranked no.1 on Billboard's "Heatseekers" list.
Among their Billboard-topping, best-selling albums, 'Heritage' ranks as one of the finest with classic recordings of many of the most beautiful Irish songs. 'We Three Kings' is their best-selling Christmas album.
In addition to appearances on popular television shows, such as "The Today Show," "Good Morning America," "Regis and Kelly," "Martha Stewart," and "A&E Breakfast with the Arts," The Irish Tenors are one of the best-selling acts to appear on QVC.
The Irish trio has performed with symphony orchestras in concert in some of the most prominent venues in America, from Radio City Music Hall to Madison Square Garden and Carnegie Hall, and The Hollywood Bowl. They have blazed the trail from coast to coast, thrilling audiences with their enchanting Irish repertoire, sweeping secular selections, and dynamic holiday fare.
Since their debut on the world stage, The Irish Tenors have made countless traditional treasures breathe with new life. Moreover, they?ve become known as gifted interpreters of a wide range of material, including such songsas "My Heart Will Go On" (from Titanic), "Fairytale Of New York" (previously recorded by Kirsty MacColl and The Pogues) and even Jimmy Kennedy's "South of The Border (Down Mexico Way)." These songs live comfortably in their repertoire alongside the classic "Danny Boy," "Whiskey in the Jar," and "Fields of Athenry."
Known as the Godfathers of the Irish repertoire, The Irish Tenors' powerful vocal line-up of Anthony Kearns, Ronan Tynan, and Declan Kelly is unquestionably the leading brand of this genre. Together, they combine to produce an unforgettable concert experience that touches hearts and stirs emotions. Songs of celebration and humor, mixed with touching melodies and songs that warm the heart and stir memories.
For 25 years, The Irish Tenors have toured continually, thrilling old fans and winning new ones. In the United States, they are one of the most successful Irish touring acts in history, second only to U2.
"We're delighted to soon celebrate 'all things Irish' with songs we cherish and friends we've made over the years. So, please join us as we kick off the St. Patrick's Day season," said The Irish Tenors in a statement.
The Irish Tenors Tour Spring Schedule 2023:
Feb 27th - Clearwater, FL
Feb 28th - Fort Lauderdale, FL
March 3rd - Seattle, WA
March 10th - Honolulu, HI
March 12th - Myrtle Beach, SC
March 16th - Torrington, CT
March 17th - New York, NY
March 19th - Chester, NY
March 20th - Greensburg, PA
March 22nd - Glenside, PA
March 24th - Cleveland, OH
March 25th - Columbus, OH
Additional tour dates to be announced here: www.theirishtenorsmusic.com.
---
Join Team BroadwayWorld
Are you an avid theatergoer in Philadelphia? We're looking for people like you to share your thoughts and insights with our readers. Team BroadwayWorld members get access to shows to review, conduct interviews with artists, and the opportunity to meet and network with fellow theatre lovers and arts workers.
Interested? Learn more here.
---