THE ANCHORESS to Get World Premiere At the Kimmel Center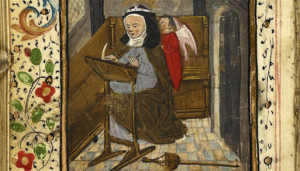 The Anchoress, a new monodrama by composer David Ludwig, "a composer with something urgent to say" (Philadelphia Inquirer), will have its world premiere on Wednesday, October 17, 2018 at 7:30 PM at the Kimmel Center in Philadelphia under the auspices of the Philadelphia Chamber Music Society. The next evening, Thursday, October 18, the New York premiere will take place at DiMenna Center for Classical Music. Set to texts by Katie Ford, whose poetry "possess[es] the veiled brilliance of stained glass windows seen at night" (The New York Times Book Review), The Anchoress is based on the medieval mystic tradition called anchorism and its relationship to contemporary society. It will be performed by soprano Hyunah Yu, the early music ensemble Piffaro: The Renaissance Wind Band, and all-saxophone PRISM Quartet.
The Anchoress explores struggles with faith, alienation, gender, and social power through the imagined person of a Medieval anchorite. Anchorism as a movement lasted throughout early Christianity to about the time of Shakespeare; and though it was a gender-neutral practice, at its height women anchorites outnumbered men four to one. An anchoress would permanently sequester herself into a small cell an 'anchorhold,' attached to a church. She had one small window through which to speak to townspeople coming to her for guidance. Her daily life resembled a prayerful funereal rite. By withdrawing from the world and choosing a form of death, she became a "living saint" in the eyes of the Church.
Also on the program are three of the composer's earlier works: Our Long War, a song cycle for soprano, violin and piano, and his first collaboration with poet Katie Ford; Josquin Microludes, which was commissioned by PRISM Quartet, and is a set of miniatures that incorporates Josquin's Mille Regretz into its musical language; and Three Anchoress Songs for flute and saxophone, composed as Ludwig was developing The Anchoress song cycle, which will be performed by flutist Mimi Stillman and saxophonist Matthew Levy. Additionally, PRISM will perform works by Machaut and others arranged by Ludwig for Piffaro. A Pew Center for Arts and Heritage Performance Grant supported the creation of The Anchoress.
Tickets for the Kimmel Center performance on October 17 at 7:30 PM at the Perelman Theater will be available September 4. For more information contact the Philadelphia Chamber Music Society at 215-569-8080 pcmsconcerts.org or the Kimmel Center, 215-893-1999 (kimmelcenter.org). Ticket information for the DiMenna Center performance will be announced shortly. For more information contact www.dimennacenter.org.
Says the composer, "The austere anchoritic lifestyle feels extreme from my modern vantage point, yet its larger goals of solace and meaning are deeply relevant to me as a person living a frenetic digital life. The artistic elements of this project address this conflict directly: the 'found' poetry of Ford's anchoress, the human voice, instruments of the ancient Renaissance wind consort, and the modern saxophone quartet all contrast in different ways. Within these contrasting elements I can explore issues of ancient and modern, spiritual and temporal, and the slowness I need to create and contemplate amid the constant 'busy' that I - and just about everyone I know - feel acutely.
Artistically and personally I feel a necessity and responsibility to respond to the world around me. In my own struggle to find a place in a society where both feelings of alienation and overexposure are so prevalent, the ideals of the anchorite's monastic life are especially appealing to me."
Said Katie Ford, "From the very beginning of my writing life 24 years ago, I've had a tense devotion to theological questioning and to the subversion of religious doctrine that works against the human good. The first poem I wrote for The Anchoress, at a writers' conference in the dry alpine air of the High Sierra, I wrote as if I were translating a foreigner from the far past, a Christian recluse with doctrinally transgressive ideas.
David Ludwig and I have had many hours of discussion over what I've written, how I can write into the questions that arise in our conversations, how he can set this anchoress, and how he can further "compose" her. As in our past collaborations, our relationship is fruitful because fundamentally we admire and trust each other's artistry. The premiere for the audience will also be the premiere for me. I never hear anything prior to that. Neither of us is instructive toward the other, and our starting point is fascination. When you strike upon fascination, you're in a vast field as a writer and, I imagine, as a composer. From this serendipitous creativity we offer The Anchoress."
"My work doesn't belong to any one school or method of composition; one of my biggest challenges is to develop techniques that enable me to express myself musically through whatever sounds the subject calls for."
David Ludwig's music has been described as "arresting and dramatically hued" (The New York Times) and "supercharged with electrical energy and raw emotion" (Fanfare).
Ludwig has written for many prominent artists, including Jonathan Biss, Jennifer Koh, the Dover and Borromeo quartets, eighth blackbird, ECCO, and orchestras including the Philadelphia, Minnesota, Pittsburgh, and National Symphonies. In 2013 his choral work, "The New Colossus," was selected to open the private prayer service for President Obama's second inauguration. In 2012 NPR Music selected him as one of the Top 100 Composers Under Forty in the world. His 2017-18 season highlights included the premiere of a concerto written for pianist Anne-Marie McDermott, commissioned by the Bravo! Vail music festival in honor of their thirtieth anniversary.
Recent highlights include a violin concerto written for his wife, acclaimed violinist Bella Hristova; the concerto was commissioned by a consortium of eight orchestras across the United States. Other recent commission and performances include Titania's Dream for the KLR Trio, Swan Song for Benjamin Beilman commissioned by Carnegie Hall, and Pictures from the Floating World commissioned by the Philadelphia Orchestra for bassoonist Daniel Matsukawa and conductor Yannick Nézet-Séguin.
Born in Bucks County, P.A., Ludwig comes from several generations of eminent musicians including grandfather Rudolf Serkin and great-grandfather Adolf Busch. He holds degrees from Oberlin, The Manhattan School, the Curtis Institute, The Juilliard School, and a PhD from the University of Pennsylvania. Ludwig serves as the director of the composition faculty of The Curtis Institute of Music, and is the Gie and Lisa Liem Artistic Advisor and director of the Curtis 20/21 Contemporary Music Ensemble. Website: davidludwigmusic.com.
Katie Ford is the author of Deposition (2002), Colosseum (2008), and Blood Lyrics (2014), all published by Graywolf Press. She teaches at the University of California, Riverside. Katie Ford was born April 29, 1975 in Portland Oregon. She began writing at the age of nineteen, while earning her B.A. in English from Whitman College. Soon after, she earned her Master's in Divinity from Harvard. Ford went on to pursue her Master's in Fine Arts (MFA), with a concentration in poetry, from the Iowa's Writers Workshop. Along with her published poetry collections- Deposition, her debut collection, which confronts God, violence, and Christian belief; Colosseum, which was named "Best Book of 2008" by Publishers Weekly, and which explores the theme of ruination and pulls from Ford's personal experiences as a resident of New Orleans when Hurricane Katrina drove thousands out of their homes; and Storm which continues on the theme of ruination with a focus on the efforts to escape New Orleans in the aftermath of the hurricane-her individual poems and essays can be found in many contemporary journals and reviews.
Ford's individual poems have appeared in many journals and reviews, such as American Literary Review, The New Yorker, The American Poetry Review, The Paris Review, Seneca Review, Ploughshares, Poets & Writers, and Pleiades. Ford's poem, "The Soul," from her most recent book, Blood Lyrics (Graywolf Press, 2014) was selected for publication by the Public Poetry Project of the Pennsylvania Center for the Book in 2013. Ford teaches at the Department of Creative Writing in the University of California, Riverside.
South Korean-born American soprano Hyunah Yu first gained recognition in 1999 as a soloist in St. Matthew Passion with the New England Bach Festival. She was a prize-winner in the 1999 Walter W. Naumburg International Competition and a finalist in the Dutch International Vocal Competition and the Concert Artist Guild International Competition in New York. At the 2000 Marlboro Music Festival, Hyunah Yu was discovered by eminent pianist Mitsuko Uchida, who in 2003 nominated the soprano for a Fellowship by the Borletti-Buitoni Trust.
Piffaro delights audiences with highly polished recreations of the rustic music of the peasantry and the elegant sounds of the official wind bands of the late Medieval and Renaissance periods. Its ever-expanding instrumentarium includes shawms, dulcians, sackbuts, recorders, krumhorns, bagpipes, lutes, guitars, harps, and a variety of percussion - all careful reconstructions of instruments from the period. Under the direction of Artistic Directors Joan Kimball and Bob Wiemken, the world renowned pied-pipers of Early Music present an annual subscription concert series in the Philadelphia region; tour throughout the United States, Europe, Canada and South America; and appear as performers and instructors at major Early Music festivals. Recordings are a significant part of the ensemble's work, and 18 CDs have been released since 1992, including four on the prestigious label Deutsche Grammophon/Archiv Produktion.
Intriguing programs of great beauty and breadth have distinguished the PRISM Quartet as one of America's foremost chamber ensembles. "A bold ensemble that set the standard for contemporary-classical saxophone quartets" (The New York Times), PRISM has performed in Carnegie Hall on the Making Music Series, in Alice Tully Hall with the Chamber Music Society of Lincoln Center, and throughout Latin America and China under the auspices of the United States Information Agency and USArtists International. PRISM has also been presented to critical acclaim as soloists with the Detroit Symphony and Cleveland Orchestra, and conducted residencies at the nation's leading conservatories, including the Curtis Institute of Music and the Oberlin Conservatory. Two-time recipients of the Chamber Music America/ASCAP Award for Adventurous Programming, PRISM has commissioned over 250 works, many by internationally celebrated composers, including Pulitzer Prize-winners Julia Wolfe, William Bolcom, Jennifer Higdon, Zhou Long, and Bernard Rands, and MacArthur "Genius" Award recipients Bright Sheng and Miguel Zenón. PRISM's discography includes releases on Albany, ECM, innova, Koch, Naxos, New Dynamic, New Focus, and its own newly launched label, XAS Records.
Mimi Stillman has appeared as soloist with orchestras and as recitalist and chamber musician at top venues here and abroad. She can be heard on several recordings and she has taught masterclasses for various institutions. She celebrates the canon while deeply exploring new music and Latin genres. Her recent "Syrinx Journey", honored Claude Debussy on his 150th birthday by making a video of his three-minute masterpiece "Syrinx' every day for one year. She is founding Artistic Director of Dolce Suono Ensemble. At age 12, she was the youngest wind player ever admitted to the Curtis Institute of Music where she studied with the legendary Julius Baker and Jeffrey Khaner. She received a MA and PhD (abd) in history at the University of Pennsylvania, and is a published author on music and history. Her Música en tus Manos project to introduce chamber music to the Latino community of Philadelphia won the Knight Arts Challenge Grant. She is on faculty of Curtis Summerfest, Music for All National Festival, and University of Pennsylvania.
Saxophonist, composer, curator, producer/engineer, and educator Matthew Levy is co-founder and director of the world-renowned PRISM Quartet, and has been a collaborator with other artists and ensembles. He is the recipient of a 2016 Pew Fellowship in the Arts, as well as composition fellowships from the Independence Foundation and the Pennsylvania Council on the Arts. He has scored four motion pictures, including PBS's Diary of a City Priest. Matt has recorded for a number of labels; his music is highlighted on four PRISM recordings. Matt has premiered solo works, collaborated with a host of choreographers and dance companies, and appeared as a guest artist with the Philadelphia Orchestra, Detroit Symphony, Network for New Music, Dolce Suono Ensemble, and counter)induction. His work with PRISM has included tours of abroad; concerto appearances with the Cleveland Orchestra; and recital performances at Carnegie Hall and Lincoln Center. He teaches saxophone at Temple University and serves as a mentor for the Curtis Institute of Music's Community Artist Program.