Student Blog: Unplugging from the Hustle
Read along and find out what I do for fun to fuel up my social and personal battery!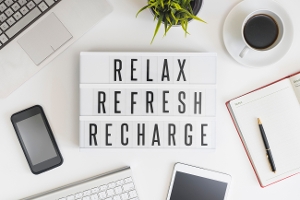 If you are a workaholic like myself, you understand that taking breaks is super important to your overall well-being. Life is not solely about working and worrying about fulfilling deadlines, therefore maintaining a healthy balance of personal life and work life is key to living a life with beautiful memorable moments. Luckily for me, I am grateful to have the city of Philadelphia be my campus. Having the city at my fingertips is thrilling because there is always something to do. I consider myself an old soul, therefore a lot of the activities that I enjoy doing, the average young adult finds not as entertaining! However I love how I enjoy my time, it makes me feel like I am living the dream life I always envisioned for myself. One of my favorite activities that brings me the most joy is taking a trip to my favorite coffee shop, Elixir. Let me preface, I do not like coffee .. AT ALL, I am a tea lover however, what makes this place special is its specialty drink "Strawberry Milk Latte". You can choose this oat milk drink over coffee or matcha. I personally always opt for the iced matcha and let me tell you, it is the perfect combination of perfection. Once I order this drink, I find a spot to sit in the cafe that makes the most sense for me to journal about my feelings, fears, and intrusive silly thoughts. I do this at least once a week to help me disconnect from my work mode and remind myself that I am deserving of free time within busy weeks.
Another activity that I enjoy doing is working out and doing group fitness classes. I find myself enjoying mentally and physically challenging classes. Although at the moment I may instantly regret and dread the workout, the feeling of feeling strong after class is very very rewarding. When I am not in rehearsals for shows, Saturdays are the days I set out time for these activities.
My routine is waking up early, cleaning my space in a way that feels liberating and comfy, getting dressed to go workout, heading to the gym, returning home, showering, cooking my favorite breakfast, lighting a candle, turning on Netflix, and unwind from the week. Those moments I have to myself mean a lot to me because no one can take that away from me. Another weekend ritual that I do typically on Sundays is shopping! Shopping to me can mean anything, it can entail grocery shopping or my personal favorite self-care shopping in which I treat myself to things I have been meaning to give myself.
This can also mean purchasing rush tickets to go see a broadway tour show that I have
been wanting to see. The most recent show I went to see was Les Miserables with my cousin. It was a treat to get out of the house and witness remarkable art with remarkable people. Therefore when you cannot find me at my university, at work, or typing the night away on my laptop, you can find me doing these activities that nourish my soul. There's no better feeling than discovering your likes and dislikes and creating and living the way that makes you feel like your most comfortable self!
---
Join Team BroadwayWorld
Are you an avid theatergoer in Philadelphia? We're looking for people like you to share your thoughts and insights with our readers. Team BroadwayWorld members get access to shows to review, conduct interviews with artists, and the opportunity to meet and network with fellow theatre lovers and arts workers.
Interested? Learn more here.
---
Related Stories