Click Here to Visit the College Center

Blogs are the opinions of the authors and do not necessarily reflect the opinions of BroadwayWorld. BroadwayWorld believes in providing a platform for open and constructive conversation.

Student Blog: Mask Up!
If we have worn masks for over a year already, why should it be an issue to continue wearing them?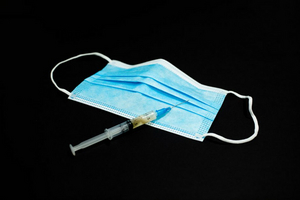 After more than a year without Broadway, I am eager to attend my first show in a few months. Since I have tickets for a show on Halloween, I will have to show proof of vaccination and wear a mask in order to attend. According to a recent announcement from the Broadway League, all audiences, performers, crew members, and theatre staff must be vaccinated and audiences must wear masks. This does not bother me at all since I recognize the benefits of keeping everyone healthy and safe in exchange for incredible theatre. If we have worn masks for over a year already, why should it be an issue to continue wearing them?
Many people are aggravated over the recent announcement since mask wearing has become more lenient after the widespread distribution of the vaccine. However, due to the rise of the Delta variant, the vaccine may not protect us all from COVID-19, so we have to continue doing our part in keeping each other safe. The rise of the Delta variant has also been an excuse for some people to not get the vaccine. In their minds, they think that if this vaccine cannot protect them from all variants of the virus, then there must be no purpose. Nevertheless, the vaccine is vital for society because it prevents hospitalization and death from the virus.
I am proud of the Broadway League for standing behind the safety of performers, crew members, theatre staff, and audiences. If someone does not want to wear a mask or get the vaccine, then they should not be interacting with a large number of people that could put their health, and the health of others, at risk. The only major concern that comes from the Broadway League's announcement is whether children will be able to safely attend theatre. Since the vaccine is not yet approved for children under 12, they must provide proof of a negative test in order to attend a show. Even if a child tests negative, there is still the chance that they developed the virus between the time of the test and entering the theatre.
I am curious to see how proof of testing, as well as proof of vaccination, will be handled. Will ticket holders be required to bring paper proof of vaccination and tests? Or instead will ticket holders submit proof online prior to the performance to limit interaction at the door? Will Broadway follow the procedures currently in place across the world such as in the West End and Australia? The answers to these questions could determine how long wait times will be to get into the theatre and how early patrons should arrive at the theatre. Either way, these policies should be announced as soon as possible given that the first new Broadway play opens in just 2 days. Hopefully, once Broadway reopens, there will be a clear procedure that audiences can follow and the policies prevent shows from having to shut down, then reopen such as the case with Andrew Lloyd Webber's Cinderella. Undoubtedly, we will have a clue as to how the theatre industry will function for the next year once Pass Over begins performances.