Showbiz Satire MISTAKES WERE MADE Starring Tony Braithwaite to be Presented at Act II Playhouse
The production is an Act II Playhouse Premiere and will run from March 21 through April 16, 2023.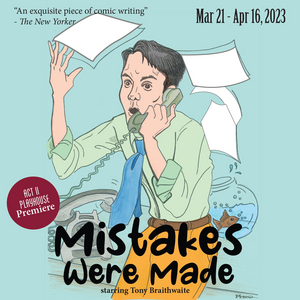 Act II Playhouse has announced its latest production, the showbiz satire, "Mistakes Were Made" by Criag Wright. The production stars Act II Playhouse Artistic Director, Tony Braithwaite.
The production is an Act II Playhouse Premiere and will run from March 21 through April 16, 2023.
Tony Braithwaite is Felix Artifex - a manic theatrical producer scrambling for success. He thinks he has found gold in an epic drama about the French Revolution, which is also titled "Mistakes Were Made." To produce it, he needs to woo a vacuous Hollywood star for the lead role. Throughout the play Felix juggles multiple phone lines - chatting with everyone from the author's indignant agent to the star's ex-girlfriend, to a man in the Iraqi desert who is confronted by terrorists while shepherding sheep!
Braithwaite is also the director of "Mistakes Were Made."
"Two of my favorite roles have been Sam in Fully Committed and Max Bialystock in The Producers, and this play combines some of the best elements of both of those shows," said Braithwaite.
"This show has snappy dialogue, sharp showbiz satire, and a hilarious but harried down-on-his-luck lead character. Plus, this show boasts something neither of those plays do: a large fish puppet named Denise that I get to talk to and confide in!"
The production also features Renee McFillin as Felix's assistant, Esther. McFillin returns to the Act II stage following her appearance in "Cole For Your Stocking."
Nick Cardillo is the Assistant Director, Paul Dake the Production Stage Manager, and Laura Mancano the Assistant Stage Manager and puppeteer. Adam Rigger is the production Scenic Designer, James Leitner the Lighting Designer, Adam Danoff the Sound Designer, and Alice Dake the Scenic Painter.
Ticket prices start at $32 and are available online at act2.org, by calling the Act II Box Office at 215-654-0200, or in-person at the Box Office at 56 E. Butler Ave., Ambler, PA. The Box Office is open Mon-Sat, 2 p.m. - 6 p.m. Student tickets are $15 and group discounts are available.
Act II Playhouse is committed to theatrical programming that is both accessible and entertaining. Act II is committed to creating and producing original, classic, and contemporary plays, musicals, and cabarets (both comedic and musical) that reflect the highest artistic standards, and presenting them in our intimate venue that draws audiences and performers into a unique, vibrant and dynamic interaction. Act II Playhouse has received 43 Barrymore nominations and 6 Barrymore Awards. Act II Playhouse was founded in 1998; in 2012, Tony Braithwaite became the 3rd Artistic Director in the theatre's history.
---
Join Team BroadwayWorld
Are you an avid theatergoer in Philadelphia? We're looking for people like you to share your thoughts and insights with our readers. Team BroadwayWorld members get access to shows to review, conduct interviews with artists, and the opportunity to meet and network with fellow theatre lovers and arts workers.
Interested? Learn more here.
---