Review: CHICACO- A MUSICAL VAUDEVILLE at The Royale Theatre At Planet Royale
Drew Anthony Creative aims to entertain and does just that with new take on classic
Vaudevilles traditionally lean far more on entertainment than on any moral or philosophical lessons, and the goal of Drew Anthony Creative's production of CHICAGO (subtitles 'A musical vaudeville) is simply that; a cast of entertainers, entertaining. It's a goal they well and truly kick and that makes this production of CHICAGO- A MUSICAL VAUDEVILLE something to see.
The seating configuration at the Royale Theatre is perfectly suited to this show, and one can wonder if this impacted the choice of show or venue. Anyone lucky enough to be seated at the front may find themselves forgetting they're at the theatre and feel as if they're in a prohibition-era cabaret bar in Chicago. Costumes by Dani Paxton really add to this, helping to set the scene wonderfully. The three-person band is on stage the entire time, helping to transform the feel of the show. The stage is small, yet choreographer Lauren Ferreira uses it to full effect, and the ensemble does a brilliant job adding extra energy and entertainment to an already excellent show.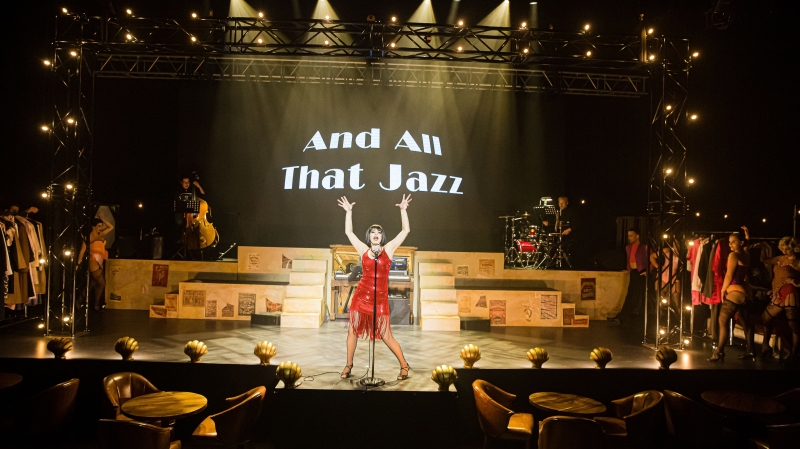 Elethea Sartorelli makes a brilliant Roxy Hart, one of the most entertaining murdered you're likely to see. Opposite Sartorelli is Lucy Williamson as Velma Kelly, another dry but witty murderer. Williamson and Sartorelli are both immensely talented performers, and seeing them take on some of the classics from this show such as 'All That Jazz,' 'Funny Honey,' and 'Cell Block Tango' is a real treat, the nearly wild response from the audience to their big numbers laying testament to that. Part lawyer, all showman Billy Flynn is portrayed by Brendan Hanson, who dominates the stage as you expect the character to. He also shows off some outstanding vocals, most prominently in 'Razzle Dazzle,' a memorable number from any performance of Chicago but one that Hanson truly adds to.
Vincent Hooper is a jack-of-all trades, and that much is clear in his portrayal of Amos Hart. Hart is a character desperate to be seen, and Hooper's performance is perfectly withdrawn and unassuming, yet he easily wins over the audience (as it seems is his wont in any performance he does). Rachel Monamy is outstanding as the Matron "Mama" Morton. She is a dominant presence on stage as needed, but quickly swaps to a scheming bribe taker when needed. In yet another brilliant performance despite not having played a similar role recently is Greg Jarema as an irresistible Mary Sunshine, with sunshine by name and nature as is Jarema's style.
The excellent ensemble take on a variety of roles, often needing to quickly change between two which adds an excellent depth to CHICAGO- A MUSICAL VAUDEVILLE. They also hit all their marks to make this show, known to be full of classic musical theatre numbers, something to remember. It's impossible to be disappointed by this wonderful show put on by an extremely talented cast, and you'll laugh and cry and sing along.
CHICAGO- A MUSICAL VAUDEVILLE is at Theatre Royale at Planet Royale through September 25th. Tickets and more information from Ticketmaster
I sit in the small field of miners who enjoy theatre. My love began when The Phantom of the Opera toured, and I dragged my new girlfriend along. Interest in one show became an interest in many, as ... (read more about this author)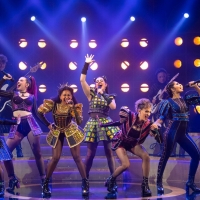 Review: SIX THE MUSICAL at Crown Theatre

November 28, 2022

Worldwide smash SIX THE MUSICAL has arrived in Perth for a limited season. From humble beginnings to a grip on Broadway and the West End, it is breaking ground with the success of its online presence. The show itself is a sight and sound spectacular. Whether you want a history lesson or simply to rock out for the night, it has something for you.
---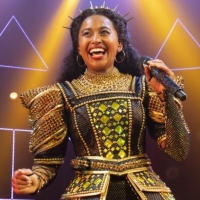 Interview: Phoenix Jackson Mendoza of SIX THE MUSICAL at Crown Theatre

November 25, 2022

SIX THE MUSICAL is a runaway success. Starting as a side project for Cambridge University students it has grown into a theater phenomenon not to mention its massive online presence. Perth is the next stop on the Australian tour, and star Phoenix Jackson Mendoza stopped by to share her thoughts and insights into the show as well as her life.
---
Review: BARRACKING FOR THE UMPIRE at Subiaco Arts Centre

October 18, 2022

The crux of BARRACKING FOR THE UMPIRE puts AFL in a different light, one that is swiftly becoming worryingly relevant. This heart-warming and humourous look at country life is a gorgeous debut play from the multi-talented Andrea Gibbs, and one that offers plenty for theatre fans and sports fans alike.
---
Review: THE GRAND DUKE at Dolphin Theatre At UWA

October 17, 2022

For their latest treat to a willing Perth audience, the Gilbert and Sullivan Society of WA dove deep into the archives for the famous pairs last production, THE GRAND DUKE. A wonderful comedy with a plot bordering on farcical, there are enough songs and laughs to endear people to both the show and to Gilbert & Sullivan in general.
---
Review: SEUSSICAL THE MUSICAL at Regal Theatre

September 28, 2022

I once asked a friend for recommendations of good musicals, and they suggested SEUSSICAL THE MUSICAL. Having finally had the chance to see it thanks to HAMA Productions' I can readily see why my friend answered so quickly, and Seussical immediately becomes one of my favourites on the back of a wonderful retelling with top quality cast and staging.
---