Latest News on Julie Cohen
Latest News on Julie Cohen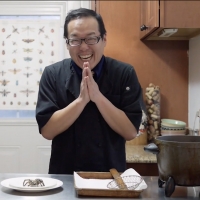 The 13th Annual Food Film Festival Announces Chefs, Films, and More
by Kaitlin Milligan - Oct 14, 2019
The Food Film Festival returns to New York City for its 13th straight year! The four-day Festival will feature a series of events where food and film lovers get to Taste What They See on the Screen...right in their seats! At each event, guests are served the food from the films as they watch on the screen in the Festival theatre. That's always followed by an official Festival After-Party with more food, drinks and fun, served up by chefs and restaurants from New York City and beyond.

VIDEO: Check Out the Official Trailer for Upcoming Ruth Bader Ginsburg Documentary, Out May 4
by Macon Prickett - Mar 8, 2018
RBG is a revelatory documentary exploring Ginsburg 's exceptional life and career from Betsy West and Julie Cohen, and co-produced by Storyville Films and CNN Films. At the age of 84, U.S. Supreme Court Justice Ruth Bader Ginsburg has developed a breathtaking legal legacy while becoming an unexpected pop culture icon. But without a definitive Ginsburg biography, the unique personal journey of this diminutive, quiet warrior's rise to the nation's highest court has been largely unknown, even to some of her biggest fans – until now.