Latest News on Alan Filderman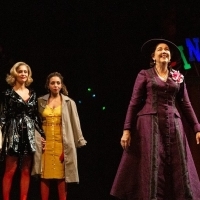 Photo Flash: THE SKIN OF OUR TEETH at Berkshire Theatre Group
by BWW News Desk - Jul 18, 2019
THE SKIN OF OUR TEETH is one of two Pulitzer Prize winning plays by Thorton Wilder. Though the other, OUR TOWN, is far better known and far more frequently produced. The title comes from a phrase in the book of Job (19:20) and refers to the commonly used expression: to have escaped by the skin of one's teeth. The biblical reference is rather fitting. Like the bible, this play is meant to express an abstract or spiritual meaning through concrete or material form; a symbolical narrative. Biblical references are woven through this allegorical play that in the course of three acts spans thousands of years of human experience.
STAGE TUBE: Hoffman, Taylor Lead BILLY GREEN Webisode #9
by BroadwayWorld TV - Dec 16, 2010
Many of everyone's Broadway and off-Broadway favorites, including Michael Urie, Wesley Taylor, Jennifer Damiano, Karen Olivo, Mitchell Jarvis and more have teamed up on the webisode project Billy Green. BroadwayWorld last brought you the eighth episode in the series and today brings you the latest installment, 'The Agreement' below, starring (in order of appearance):Starring (in order of appearance): Rick Elice, Wesley Taylor, Adam Dannheisser, Mitchell Jarvis, Dave Brown, Peter James Zielinski, Brandon Espinoza, Miko de Leon, Skylar Astin, Eddie Cooper, Logan Rowland, Matthew Gumley, Timothy Kiefer, Charlie Brady, Quincy Dunn-Baker, Max Von Essen, Brennan Brown, Jackie Hoffman, and Alan Filderman.