Latest News on Susan Davis
Stage Credits
Productions
[Broadway, 2017]
Producer
[Broadway, 1964]
Producer
Stage
Productions
[Broadway, 2017]
Producer
[Broadway, 1964]
Producer
Susan Davis News
Members Of Congress Take To The Online Stage For Shakespeare Theatre Company's WILL ON THE HILL
by Stephi Wild - Aug 8, 2020
D.C.'s most popular bi-partisan event is going online - making it accessible to the entire nation! On Monday, September 14th, Members of Congress and distinguished Washington influencers from both sides of the aisle will present the Bard's take on power and policymaking in an original script.
BWW Feature: Quarantine Mystery Chiller Theater Presents Saturday Night Online Episodes
by Shari Barrett - Jun 21, 2020
Quarantine Mystery Chiller Theater presents Episode 13, an online reading of 'Backstage Murder' written and directed by Kelly Brighton and produced by Jeff LaGreca, on Saturday, June 20 at 7pm. The story centers on the much hated, Artistic Director of The West Hollywood Theatre Company, Finishing The Hat, who is found murdered. Was it his Board of Directors? Join the fun by tuning in to find out! The episode also features a commercial parody written by Amanda Conlon, and a Gruesome Lady segment written by Jeff LaGreca.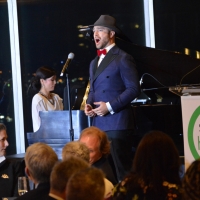 Photo Flash: Jon Batiste, Muhammad Yunus, Ann Ziff, & More Attend 2019 Sing For Hope Gala
by Chloe Rabinowitz - Nov 14, 2019
On Monday, October 28, Sing for Hope held its 13th annual Sing for Hope Gala, uniting New York's philanthropic and cultural leaders for a magical evening in support of the organization's programs and commitment to bring the arts to under-resourced areas. The event, co-chaired by Ann Ziff, Jon Batiste, and Muhammad Yunus, was held at celebrity chef Danny Meyer's acclaimed Bay Room event space.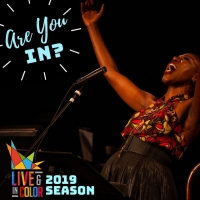 Live & In Color To Develop New Musical THE GOLDEN THRESHOLD And New Play NARROW DAYLIGHT For 2019 Season In Salem, CT
by Stephi Wild - Aug 18, 2019
Artistic Director Devanand Janki continues to gather a diverse group of New York theatre professionals at the Bingham Camp in Salem, Connecticut to develop new works with his theatre company, Live & In Color. Now entering their 5th annual artistic residency, Live & In Color is an innovative theatrical program during which artists spend time in a rural setting creating work that gives voice to underrepresented communities onstage.
Canadian Alliance of Film & Television Costume Arts & Design Awards Winners Announced
by Kaitlin Milligan - Feb 11, 2019
Joanna Syrokomla and Cynthia Amsden, Co-Chairs of the Canadian Alliance of Film & Television Costume Arts & Design (CAFTCAD) Awards are very pleased to announce the official winners of this evening's gala. The CAFTCAD Awards congratulate the nominees and the winners and thank the team who worked diligently to make this evening possible, the generosity of the sponsors, as well as all the costumers who submitted their designs. We look forward to the 2020 CAFTCAD Awards.

BWW Review: Seattle Opera Celebrates New Civic Home
by Erica Miner - Dec 21, 2018
The brand-new, state-of-the-art rehearsal, storage and administrative building is now ready for use by the opera company
Seattle Opera Celebrates Grand Opening of New Civic Home
by A.A. Cristi - Nov 5, 2018
Come celebrate the Grand Opening of Seattle Opera's new civic home! This state-of-the-art building will allow the company to expand its work with communities across Washington State, and, from 2-5 p.m. on Saturday, December 15, members of the public are invited to a free open house. 
Firehouse's TO DAMASCUS Awarded $10,000 NEA Grant
by Stephi Wild - Feb 10, 2018
National Endowment for the Arts Chairman Jane Chu has approved more than $25 million in grants as part of the NEA's first major funding announcement for fiscal year 2018. Included in this announcement is an Art Works grant of $10,000 to Firehouse Theatre for the world premiere of Richmond composer Walter Braxton's opera TO DAMASCUS. This is the first direct NEA grant that Firehouse has received in its 24 year history.
Industry Editor Exclusive: How Broadway's Dealing with #MeToo and #TimesUp
by Cara Joy David - Jan 31, 2018
It is hard to be the first person to report someone's harassment. Even in this day and age, with the TimesUp and MeToo movements, most individuals are afraid to be labelled forevermore as the person who came out against X person. What happens if no one else chimes in? Will you look like a liar? And--even if you did want to come forward--how would you do it? Going straight to the media is not the right call for everyone, and the media also doesn't care about every harasser.

Photo Flash: First Look at Firehouse Theatre's TO DAMASCUS
by Stephi Wild - Jan 19, 2018
TO DAMASCUS builds on a range of sources including the bible story of Paul's conversion, August Strindberg's THE ROAD TO DAMASCUS, the rivalry between Lorenzo de' Medici's patronage of secular art versus Girolamo Savanarola's bonfire of the vanities and his call for an orthodox religious revival, Thomas Mann's only play FIORENZO, the poetry of Gerard Manley Hopkins, James Marcus Schuyler and Ezra Pound, William Carlos Williams, and the Catholic Mass. Check out photos below!