Latest News on Stephen Alexander
Stage Credits
  [Off-Broadway]
Original Off-Broadway Production, 1999
Performer 8 [Replacement]
Stage
Performances
  [Off-Broadway]
Original Off-Broadway Production, 1999
Performer 8 [Replacement]
Stephen Alexander News
HAIR IL MUSICAL al Teatro Nazionale di Milano dal 2 al 5 maggio
by Andrea Domanico - Apr 25, 2022
Torna a Milano Il Musical HAIR Prodotto Da MTSentertainment in collaborazione con la Compagnia dell'Alba. Dal 2 al 5 maggio al Teatro Nazionale CheBanca.
HAIR IL MUSICAL riparte in Tour da gennaio 2022
by Andrea Domanico - Dec 16, 2021
Riparte il tour di HAIR IL MUSICAL prodotto da MTS Entertainment e Compagnia dell'Alba con nuovi membri del cast. Scatenata, coloratissima, emozionante, coinvolgente, quella di HAIR, creato da James Rado e Gerome Ragni - autori rispettivamente del libretto e delle liriche -  e da Galt MacDermot, autore delle musiche, è una storia senza tempo, una storia di amicizia, amore libero e pacifismo, ancora oggi simbolo della controcultura hippie, che porta messaggi di straordinaria attualità
2021 CAPA Marquee Award Winners Announced
by Stephi Wild - Jun 3, 2021
Designed to celebrate, support, and advocate for high school musical theatre education throughout central Ohio, the program evaluated nominated high school musical theatre students and productions from 12 participating high schools.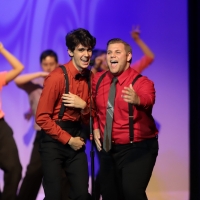 CAPA Announces Nominees For The 2021 CAPA MARQUEE AWARDS
by Stephi Wild - Apr 23, 2021
The Columbus Association for the Performing Arts (CAPA) today announced the nominees in all 11 categories of the 2021 CAPA Marquee Awards presented by American Electric Power Foundation.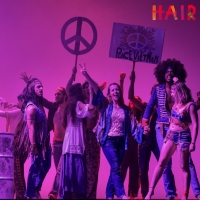 BWW Review: HAIR al Teatro Della Luna
by Sara Altea Balestra - Oct 6, 2019
La stagione teatrale è ricominciata e io l'ho inaugurata con HAIR, al Teatro della Luna di Milano, in scena dal 3 al 6 Ottobre e poi in tour nei mesi successivi.
#BASTAGUERRA: MTS Entertainment, in collaborazione con Compagnia della Rancia, annuncia il cast di HAIR!
by Andrea Domanico - Jul 18, 2019
Un cast eterogeneo, composto da giovani talenti e da artisti di grande esperienza che, scelti accuratamente dai creativi dopo attente audizioni ed una lunga selezione, provengono tutti dalle migliori scuole di musical e formazione in Italia.
Julia Rush Shares LOVE'S FIERCE EMBRACE
by Christina Mancuso - Jul 5, 2016
Julia Rush, a twenty year veteran of the mortgage industry and enthusiast for helping people, has completed her new book 'Love's Fierce Embrace': a passionate novel in which romance unfolds between two unlikely people as they strive to discern the murky series of events that lead to their initial encounter in the roles of hero and unconscious maiden in distress.
Lakewood Theatre's SPAMALOT to Open 9/6
by Tyler Peterson - Aug 23, 2013
A chorus line of dancing knights, beautiful show girls, flatulent Frenchmen, killer rabbits and one legless knight will kick off Lakewood Theatre Company's 61st season for the Portland area premiere of Monty Python's SPAMALOT September 6 - October 13, 2013. The show sponsor is AKT CPAs, Advisors, Consultants.
Triangle Productions Presents GRACIE, 5/3
by BWW News Desk - May 26, 2012
Triangle Productions presents a new original musical GRACIE that celebrates the life of Northwest native, Gracie Hansen. The musical begins on the eve of her gubernatorial announcement in 1970 and looks back on her years in entertainment in Morton, Washington; the '62 Seattle World's Fair and the years at the Hoyt Hotel's Roaring 20's Room.