HAIR IL MUSICAL al Teatro Nazionale di Milano dal 2 al 5 maggio
Il musical celebra la pace ospitando nelle sue serate milanesi le allieve dell'Accademia d'arte drammatica di Kiev.
Torna a Milano Il Musical HAIR Prodotto Da MTSentertainment in collaborazione con la Compagnia dell'Alba. Dal 2 al 5 maggio al Teatro Nazionale CheBanca.
Hair, il musical hippie senza tempo
Scatenata, coloratissima, emozionante, coinvolgente, quella di HAIR, creato da James Rado e Gerome Ragni -autori rispettivamente del libretto e delle liriche - e da Galt MacDermot, autore delle musiche, è una storia senza tempo, una storia di amicizia, amore libero e pacifismo, ancora oggi simbolo della controcultura hippie, che porta messaggi di straordinaria attualità: fratellanza, multiculturalità, libertà, come desiderio di spogliarsi di tutto per essere se stessi (come nella scena di nudo di fine primo atto), ambientalismo, lotta alle differenze sociali e sessuali e impegno civile, sono alcuni dei temi che ancora oggi risvegliano la coscienza dei "nostri" giovani.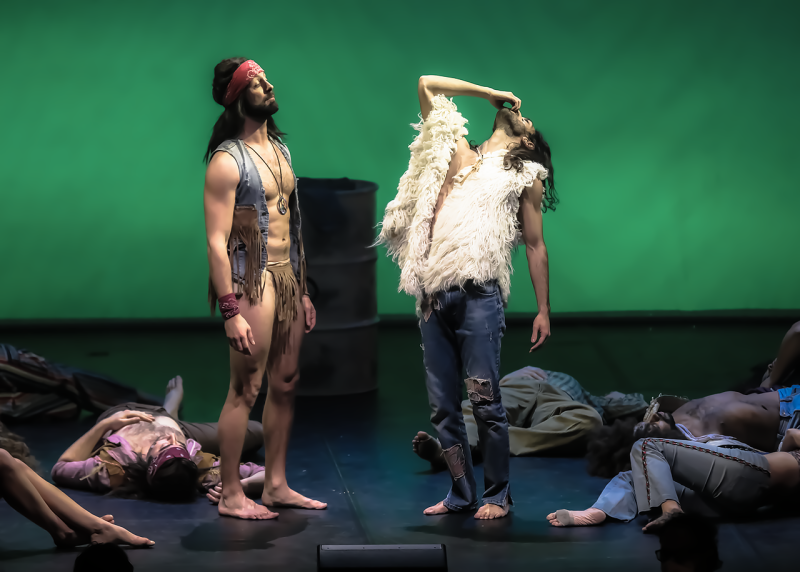 Un pensiero di pace per l'Ucraina
Hair il musical è uno spettacolo che grida alla felicità, alla libertà ma soprattutto alla pace. Alla luce dei recenti eventi in Ucraina gli organizzatori hanno deciso di ospitare il regista Matteo Spiazzi che il 24 febbraio scorso si trovava a Kiev per il debutto, mai avvenuto, di The Ball.
Con lui ci saranno alcune allieve dell'accademia d'arte drammatica di Kiev che una volta arrivate in Italia grazie al progetto stage4ukraine e all'ospitalità presso le Accademie teatrali italiane possono continuare i loro studi. Al termine dello spettacolo sarà possibile ascoltare la loro testimonianza e fare una donazione per supportare queste ragazze nella loro crescita personale e professionale.
Eventi educativi in occasione delle repliche milanesi
In occasione delle repliche milanesi prima della rappresentazione, agli spettatori più giovani verrà offerto un incontro con il cast e con uno psicologo che introdurrà le tematiche trattate nel musical tra le quali la tossicodipendenza e l'educazione sessuale, perché lo show possa essere anche occasione di approfondimento e crescita.
Inoltre verrà presentato il libro fotografico HAIR THE TRIBAL LOVE - ROCK MUSICAL, edito da NonSoloTeatro per MTS: 168 pagine ricche di foto scattate dietro e davanti le quinte al debutto del 2019. Le foto sono firmate da Clara Mammana e MSV studios. Il libro sarà disponibile nel foyer del teatro con prezzo speciale riservato agli spettatori del Teatro Nazionale CheBanca!.
Prezzi dei biglietti, date e orari di Hair il musical
Repliche da lunedì a giovedì, ore 20:45
Prezzi
Poltronissima Vip: € 49,00; Poltronissima: € 46,00; Poltrona: € 36,00; Galleria:€ 28,00.
Per acquistare
https://teatronazionale.it/produzione/hair-il-musical/
CAST ARTISTICO
JACOPO SICCARDI Berger
STEFANO LIMERUTTI Claude
VITTORIA BRESCIA Sheila
MATTIA CAPUANO Woof
PIER LUIGI LIMA Hud
MATTEO MINERVA Margaret
ALICE TOMBOLA Ronnie
ELGA MARTINO Crissy
STEFANIA MENEGHINI Jeanie
VALERIA DELLA VALLE Dionne
MAURIZIO MISCEO Walter
FABIO LORENZATTI Hubert
FRANCESCO CONTI Steve
FRANCESCA GALEAZZI Mary
MONICA PATINO Leata
MATTIA EPIFANI Paul
ILARIO CASTAGNOLA Hiram
e con il supporto dei diplomandi MTS - MUSICAL! THE SCHOOL
PIETRO MASCHERONI
ENEA MANDOLINI
LEONARDO DI RENZO
NICHOLAS LEGA
SOFIA PAVANI
FEDERICA PEDONE
ALESSIA LATTANZIO
BEATRICE PUGLISI
DAVIDE MEDICI
GIULIA ZANIBONI
PASQUALE DELLI PAOLI
GIORGIA MARTENA
SABRINA BERTO
FEDERICA FLÜCK
ROBERTO TESTA
FRANCESCA VALENTE
REBECCA BALESTRA
CHIARA RUGGERI
GIOVANNI IACUONE
TEAM CREATIVO
Regia, Scena e Costumi: Simone Nardini
Musical Supervisor: Stephen Alexander Lloyd
Direzione Musicale: Eleonora Beddini
Direzione Canora: Pasquale Girone Malafronte
Supervisione alla Direzione Canora: Eleonora Mosca
Coreografie: Valentina Bordi
Disegno Luci: Valerio Tiberi
Acting Coach: Michele Savoia
Assistente alle coreografie: Michela Brasca
Assistente alla regia: Marco Martini
Parrucche: Mario Audello
Traduzione del libretto di Sandro Avanzo e Simone Nardini
ORCHESTRA DIRETTA DA ELEONORA BEDDINI
Eleonora Beddini -Tastiera
Ezio Allevi - Sax
Marco Campagna - Batteria
Daniele Catalucci - Basso