Sara Gore News
NBC Announces OPEN HOUSE Season 15 Premiere Date
by Michael Major - Sep 6, 2022
Each week, in celebration of aspiration and inspiration, host and licensed real estate agent Sara Gore takes audiences inside some of the most jaw-dropping and one-of-a-kind properties on and off the market, where viewers meet the innovative designers, architects and envelope-pushing creatives who call these places home. Watch a video teaser now!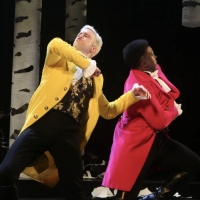 Video: Gavin Creel and Joshua Henry Talk INTO THE WOODS On New York Live
by Grace Cutler - Aug 13, 2022
Watch a new interview of Joshua Henry and Gavin Creel discussing INTO THE WOODS.
SHARE'S 16th Annual Tasting Benefit Raises over $500,000
by Marina Kennedy - Oct 10, 2019
SHARE is pleased to announce that the 16th celebration of A Second Helping of Life, the annual tasting benefit where famous female chefs and pastry chefs come together to serve their signature tastes in support of women facing ovarian and breast cancer,
Food Icons Anne Burrell And Rachael Ray Whip Brand-New Roster Of Cooking-Challenged Stars Into Culinary Shape In Return Of Worst Cooks In America: Celebrity Edition
by Marina Kennedy - Aug 15, 2016
Worst Cooks in America: Celebrity Edition is back for a second helping with food masters Anne Burrell and Rachael Ray each leading a team of celebrity cooking disasters through an intense culinary boot camp where the most improved cook wins $50,000 for their charity, as well as bragging rights for their team leader. The celebrity recruits are: Mindy Cohn, Matt Dallas, Tommy Davidson, Barbara Eden, John Henson, Loni Love, Kenya Moore, Mike "The Situation" Sorrentino and Nicole Sullivan. Worst Cooks in America: Celebrity Edition premieres Wednesday, September 14 th at 9pm (all times ET/PT) and the winner is named during the season finale on Wednesday, November 2 nd at 9pm.
Sara Gore Videos
STAGE TUBE: Patti LuPone & Mandy Patinkin Visit NEW YORK LIVE
by BroadwayWorld TV - Dec 1, 2011
Patti LuPone co-hosted the hour-long show with regular hosts Jane Hanson, Sara Gore and Jacque Reid, and Mandy Patinkin appeared as a guest to talk about Broadway's AN EVENING WITH PATTI LUPONE AND MANDY PATINKIN as well as Mandy's hit TV series, 'Homeland.' Click below to check out their appearance!
BWW TV: Puppy Love Yappy Hour
by Robert Diamond - Feb 12, 2011
Tinsley Mortimer, Sara Gore, Wendy Diamond, Nicole Lapin, Carl Quintanilla, Real Housewives Sonja Tremont Morgan, Ramona Singer, Dina Manzo, and their dogs launched Puppy Love at Yappy Hour® to promote what can come from true, unbridled puppy love! Wendy Diamond, Tinsley Mortimer, Sara Gore, Nicole Lapin, Carl Quintanilla and their adorable dogs celebrated Yappy Hour®! The premiere cocktail benefit for people looking for true puppy love with a man, woman, or couples looking to adopt a rescue dog in need of a loving home. Yappy Hour® is a caninelicious benefit where everyone can bring their favorite furry friends along for a barking good time! It's the only place where pet parents can celebrate with their animals, raise money for animal rescue, and everyone goes home with their tails wagging.