Photos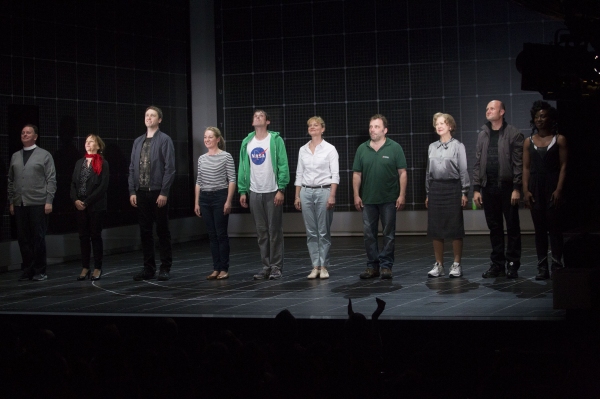 Tony Turner (Reverend Peters), Victoria Willing (Mrs Shears), Daniel Casey (Roger Shears), Emily Joyce (Judy), Graham Butler (Christopher Boone), Sarah Woodward (Siobhan), Nicolas Tennant (Ed), Gay Soper (Mrs Alexander), Sam Bond (Ensemble) and Vivienne A
From: 
Date:
07/09/2014
Sam Bond News
Sam Weber Releases New Single 'Get Out of the Game'
by Michael Major - Jan 11, 2022
Sam Weber fans will be relieved to hear that his internal reckoning about quitting everything a starting fresh didn't end up taking root. On the other hand, he turned those daydreams into one hell of a song—"Get Out of the Game". Listen to the new single now! Plus, check out Weber's upcoming tour dates.
Henry Chadwick Releases New Song 'Never Say No'
by Sarah Jae Leiber - Aug 22, 2019
Indie rock darling Henry Chadwick has unveiled the piano driven "Never Say No," the second single from his upcoming new EP, The President of Make Believe, due out this fall via Swoon City. Premiering the song with GLIDE Magazine, they describe, "[Never Say No] showcases Chadwick's skill in the greatly underrated realm of piano rock alongside his savvy songwriting skills… effortlessly infectious." "Never Say No" will be available on all digital platforms this Friday, August 23rd, 2019 here. Chadwick and his band kick off their fall tour in support of the new EP on September 27th with a hometown show at Moe's Alley in Santa Cruz, CA, before heading up and down the California coast and Pacific Northwest, wrapping up at Furstworld in Joshua Tree, CA on October 25th, 2019. All announced dates are below with tickets available at http://www.henrychadwick.net/

Bassel & The Supernaturals Release CALCULATED LOVE
by Tori Hartshorn - Feb 4, 2019
Chicago's Bassel & The Supernaturals just released their new single 'Calculated Love' and premiered it over at Glide Magazine, which stated 'Calculated Love kicks off with a sharp bluesy guitar solo before bursting into a funky disco groove. Bassel Almadani lays his silky smooth and extra suave vocals over harmonic background singers and feisty guitar and brass grooves. The music brings to mind retro acts like Earth, Wind & Fire alongside more modern groovers like Jamiroquai, making for a song that preaches love and invites the listener to grab a partner and hit the dance floor.'

Extra! Extra! Plaza Theatre Company's NEWSIES Opens This Friday!
by Kyle Christopher West - Jan 28, 2019
This Friday, February 1st, Plaza Theatre Company opens DISNEY'S NEWSIES THE MUSICAL at PlazaCo's Dudley Hall location at 305 S. Anglin Street in Cleburne, TX opening on February 1st and playing thru March 2nd, 2019. The show will be the 126th produced by Plaza Theatre Company since its inception in November of 2006.
Alan Bennett's ALLELUJAH! To Be Shown In UK Cinemas This November
by Stephi Wild - Aug 3, 2018
Allelujah! - the new play by Alan Bennett which received its world premiere at the Bridge Theatre last month - will be in cinemas on 1st November with National Theatre Live.

The Brother Brothers Announce Album, Sign to Compass, & Premiere New Single FRANKIE at Billboard
by Macon Prickett - Jul 25, 2018
Brooklyn-based Americana darlings The Brother Brothers have announced their debut album Some People I Know to be released October 19 on Compass Records. Billboard premiered the band's first offering today, saying 'The soulful folk on 'Frankie' reflects Moss' American ideals, built with tender country strings and swelling into the harmonic repetition of 'I don't care about money.'

Photo Flash: First Look at Alan Bennett's ALLELUJAH! at the Bridge Theatre
by Stephi Wild - Jul 13, 2018
Production images are released for the world premiere of Nicholas Hytner's production of Alan Bennett's Allelujah! at the Bridge Theatre. Check out a first look at the production in the photos below!

Photo Flash: Inside Rehearsal for World Premiere of Alan Bennett's ALLELUJAH!
by Stephi Wild - Jun 12, 2018
Rehearsal images have been released today for the world premiere of Nicholas Hytner's production of Alan Bennett's Allelujah! at the Bridge Theatre. Check them out below!
Mute Swan Debut More Sonoran Psychedelia in ENOUGH FUN Video, Watch Now via Post-Punk
by Tori Hartshorn - May 30, 2018
Tucson psych-rock purveyors Mute Swan have been releasing swirling, dreamy jams since 2014, and today the band is releasing their latest with Post-Punk. The hazy "Enough Fun" video follows a ragtag band of American one-percenters cruising in the Mercedes, burning money with a pope-like figure, looking as if it could be the result of the eccentrics of The Garden making a video for Galaxie 500 and leaving the VHS out to melt in the desert sun. Although sonically light and airy, the lyrics allude to frustration with the unchecked power of today's wealthy elite. Explains vocalist Mike Barnett, 'America is having a melt down right now. This song is about that. With fuzz.' It's a taste of the underground DIY oasis blooming in the Sonoran Desert, a longtime source of inspiration and refuge for the art community.

Rehearsals Begin For World Premiere Of Alan Bennett's ALLELUJAH! At The Bridge Theatre
by Stephi Wild - May 29, 2018
As rehearsals begin, casting is announced for the world premiere of Nicholas Hytner's production of Alan Bennett's Allelujah! at the Bridge Theatre.
Sam Bond Videos
BWW TV: Broadway-Bound THE CURIOUS INCIDENT OF THE DOG IN THE NIGHT-TIME Reopens at West End's Gielgud Theatre!
by BroadwayWorld TV - Jul 23, 2014
The National Theatre's acclaimed production of The Curious Incident of the Dog in the Night-Time reopened earlier this month, at the Gielgud Theatre in the West End. VIP guests included Alice Levine, Amy Beth Hayes, Amy Molyneaux, Andrew Scott, Billy Bailey, Charlotte Riley, Dave Berry, David Gyasi, El James, Emma Freud, Frances O'Connor, Greg McHugh,Honor Blackman, Ian Glem, Isaac Hempstead Wright, Ivan Massow, Jane Asher & Gerald Scarfe, Jeremy Vine, Joanne Froggatt, Jonathan Bailey, June Whitfield, Kelly Adams, Laura Whitmore, Louise Brealey, Lydia Rose Bewley, Masie Williams, Michel Roux Jr, Natascha McElhone, Reece Shearsmith, Sam Bailey, Samantha Barks, Sarah Solemani, Stephen Wight and Warwick Davis. Go inside the special reopening night event below!