Latest News on Mike Roberts
Stage Credits
Productions
[London Fringe, 2005]
Lighting Designer
Writing
Bookwriter
Mike Roberts News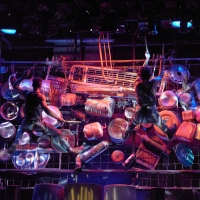 STOMP Will Close in New York City Next Month After Nearly 29 Years
by Stephi Wild - Dec 6, 2022
The award-winning percussion, rhythm and comedy sensation, STOMP will end its (almost) 29-year run on January 8, 2023. STOMP's North American and European tours will continue to run.
Warrington Museum's Artistic Weekend Promises Activities For All The Family
by Marianka Swain - Jul 4, 2018

Cultural Quarter Prepares For A Super Sunday Of Family Fun
by Stephi Wild - Jun 8, 2018
Culture Warrington is going out of this world this weekend as it celebrates the town's cultural offering with two fantastic events.

YouTube Premium's DALLAS & ROBO Launches Today
by Macon Prickett - May 30, 2018
YouTube's animated comedy series "Dallas & Robo", starring Kat Dennings and John Cena, premieres today on YouTube Premium with all eight episodes available to binge.

Harriet Thorpe is to Star as The Princess Margaret in A PRINCESS UNDONE
by BWW News Desk - Sep 18, 2017
Kensington Palace, 1993. She was the Diana of her day. That day has gone. But HRH The Princess Margaret has a final chance to be of service.
Eric Idle's OWL AND THE PUSSYCAT Sets Sail for The Belgrade Theatre
by Julie Musbach - Jan 28, 2017
The owl and the pussycat are setting sail for the Belgrade Theatre in a brand new musical adaptation for families this February half-term. Based on the best-selling book by Eric Idle and inspired by Edward Lear's poem, The Quite Remarkable Adventures of the Owl and the Pussycat has been adapted for the stage by Dougal Irvine.
Mike Roberts Frequently Asked Questions
How many shows has Mike Roberts written?
Mike Roberts has written 1 shows including Pinoc, the Barbarian (Bookwriter).