Latest News on Errol Dante
Errol Dante News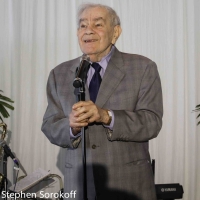 Photo Coverage: Catskills On Broadway's Freddie Roman Receives Lifetime Achievement Award at Footlighters
by Stephen Sorokoff - Feb 17, 2020
We headed out on I95 but my mind superimposed Rt 17 in New York State. The signs advertising Medical Facilities, Orthopedic Surgeons, and The Hard Rock Casino became the Billboards for Grossingers, The Concord, and Browns Hotel. Freddie Roman, creator and star of Catskills on Broadway and comic superstar was going to receive the Footlighters Club's Shecky Greene Lifetime Achievement Award at Miami Shores Country Club. Getting such an award is usually a momentous solemn ritual, but when 7 of your fellow comedians will be toasting and honoring you the event becomes a room that is filled with the most amount of laughter on the planet.

Photo Coverage: Footlighters Honor SARGE with Shecky Green Lifetime Achievement Award
by Stephen Sorokoff - Mar 18, 2019
The Footlighters Club was ground zero for Comedy yesterday as Freddie Roman, Dick Capri, Scott Record and Rick Corso celebrated one of their peers, the acclaimed entertainer Sarge who is one of the most admired improvisational comedians, singer and musical piano savant in show business. President and producer of the event Errol Dante started off the afternoon with his stirring rendition of Granada but then it was all laughs as the jokes flew wild and feverishly and there were probably more laughs at the Miami Shores Country Club per square inch than any other place on the planet. The humor heard at the Footlighters event must out of political necessity stay inside the Footlighters but rest assured no one was left unscathed.
Photo Coverage: Little Anthony Presented With Lifetime Achievement Award By The Footlighters Club
by Stephen Sorokoff - Feb 26, 2018
The Footlighters Club presented their Entertainer of The Year and Lifetime Achievement Award to Little Anthony (Gourdine) at a fundraiser for The Footlighters Foundation which aids indigent entertainers and musicians yesterday and Broadwayworld attended.