Latest News on David Zack:
Latest News on David Zack
David Zack News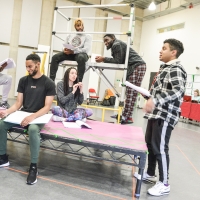 Photo Flash: Inside Rehearsal For CRONGTON KNIGHTS at the Belgrade Theatre Coventry
by Stephi Wild - Jan 16, 2020
Pilot Theatre have released rehearsal images for the premiere of Emteaz Hussain's new adaptation of Alex Wheatle's award-winning novel Crongton Knights.
MARVIN HAMLISCH: A CELEBRATION Comes to Catalina Jazz Club
by Stephi Wild - Oct 22, 2019
Steven Brinberg a?' best known for creating and performing Simply Barbra, the acclaimed all-live homage to the legendary Barbra Streisand a?' will produce and host an all-star tribute to Marvin Hamlisch at Catalina Jazz Club (6725 West Sunset Blvd) in Los Angeles, CA on Thursday, October 24 at 8:30 PM. The evening will feature Edie Alyson (Little Shop of Horrors), Alan Bergman (Two-time Oscar-winning lyricist), Herve Coeur (Haitian singer and songwriter), Kay Cole (A Chorus Line, Bye Bye Birdie), Mary Bond Davis (Hairspray), Fay DeWitt (Flahooley), Nancy Dussault (Two-time Tony nominee), Joshua Finkel (Kiss of the Spider Woman), Ilene Graff (Grease, I Love My Wife), Natalie Lander (a?oeLegally Blonde: The Search for Elle Woodsa??), Ashley Fox Linton (Wicked), Melissa Manchester (Grammy winning singer and songwriter), J. Elaine Marcos (A Chorus Line), Barbara Minkus (Funny Girl), Jenny O'Hara (The Odd Couple, Promises Promises), Noah Weisberg (Charlie and the Chocolate Factory), Jennifer Westfelt (Wonderful Town, a?oeYoungera??), and David Zack (Sweet Smell of Success). Michael Lavine serves as Music Director. For tickets and information, please call (323) 466-2210 or visit SimplyBarbra.com.
BWW Review: E Spot Lounge Welcomes MICHAEL LAVINE & FRIENDS
by Don Grigware - Apr 20, 2017
At the E Spot Lounge, upstairs at Vitello's, Studio City on Tuesday April 18, Amy Brothman and Dianne Fraser produced a delightfully eclectic evening of song and storytelling under the supervision of musical director Michael Lavine, titled simply Michael Lavine & Friends. What a treat! Lavine, who lives most of the year in New York, is a director, performer, coach and musical genius par excellence. He has produced a CD also entitled Michale Lavine & Friends, which, like the show, offers rarely heard songs from less familiar Broadway shows. Some of these are musical gems, and for one reason or another, never hit the charts.
FST to Celebrate Songs of Sammy Cahn This Summer with COME FLY WITH ME!
by Tyler Peterson - Jun 2, 2016
The legendary lyrical talent of Sammy Cahn takes center stage in FST's first Summer Cabaret production, "Come Fly With Me!" The Sammy Cahn Songbook. With lyrics by Sammy Cahn, music by Jule Styne & Jimmy Van Heusen, this dynamic cast of four will perform from June 14 through July 17 in the John C. Court Cabaret. Subscriptions are available for $39 and may be purchased online at floridastudiotheatre.org or by phone at 941-366-9000.
BWW Review: AN EVENING OF CLASSIC BROADWAY Returns Triumphantly to Rockwell
by Don Grigware - Apr 14, 2016
On Tuesday April 12 I eagerly returned to Rockwell Table and Stage for the third time to see An Evening of Classic Broadway. The show comes to Rockwell for one evening every couple of months. Why do I keep coming back? Produced by Dianne Fraser and musically directed by extraordinarily talented Brad Ellis ... and with a bevy of great singers on board, it's guaranteed fun, extra high on entertainment, and it incorporates Broadway standards both classic and contemporary. If that isn't enough, the structure is laid back and spontaneous, allowing one to sit back, relax and just savor the sounds.
BWW Review: THE COUNT OF MONTE CRISTO: The Musical Premieres Spectacularly at the Hollywood Fringe Festival
by Shari Barrett - Jun 16, 2015
The musical expands on the many motifs raised in the novel while offering a fresh perspective on the nearly thousand-paged piece of literature. Originally written as a three-hour production, thankfully the Fringe show has been edited down to two. Those not familiar with the novel, however, may find themselves a bit lost in Act I given all the time shifts between the many scenes, but everything becomes much easier to follow once Act II kicks into gear. Ultimately it is a tale of love, loss, and extreme agony coupled by an undeniable thirst for retribution set in France in the mid-1800's when women's lives were set by the man they married and little else.
BWW Reviews: Good People Theater Company's Elegant CLOSER THAN EVER
by Ellen Dostal - Feb 24, 2015
A tastefully elegant production of Maltby & Shire's CLOSER THAN EVER brings the duo's beautiful and thought-provoking songs to life in the intimate performance space at Hollywood Piano in Burbank. It's a co-production between Good People Theater Company and Hollywood Piano; a partnership that means the audience gets the rare opportunity to hear the score played on a gorgeous 9½ foot Mason & Hamlin grand piano.
Musical Theatre Guild to Stage THE GOLDEN APPLE in Concert at New Roads School, 2/8
by BWW News Desk - Jan 16, 2015
Musical Theatre Guild, the winner of the Los Angeles Drama Critic's Circle Margaret Harford Award for sustained excellence in the theatre, will continue their 2014-2015 season with the 1955 cult classic THE GOLDEN APPLE. The one-night-only concert will take place at the Moss Theatre at New Roads School in Santa Monica on Sunday, February 8, 2015 at 7:00 pm.