Latest News on Darren Gibson
Stage Credits
  [Off-Broadway]
Encores! Concert, 2003
Performer
  [Off-Broadway]
Encores! Concert, 2003
Ensemble
  [Broadway]
Original Broadway Production, 2002
Ensemble [Replacement]
  [Broadway]
Broadway Transfer Production, 1998
Dance Ensemble
Pas de Deux Dancer
Productions
[Broadway, 2003]
Assistant to the Choreographer
Stage
Performances
  [Off-Broadway]
Encores! Concert, 2003
Performer
  [Off-Broadway]
Encores! Concert, 2003
Ensemble
  [Broadway]
Original Broadway Production, 2002
Ensemble [Replacement]
  [Broadway]
Broadway Transfer Production, 1998
Dance Ensemble
Pas de Deux Dancer
Productions
Assistant to the Choreographer
Darren Gibson News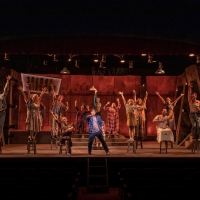 Spotlight on the Faculty of Stephens College Conservatory for the Performing Arts
by Team BWW - Jan 19, 2022
The Stephens College Conservatory for the Performing Arts faculty includes Broadway actors, ballet masters, theatre managers and artistic directors, and a regular rotation of working artists.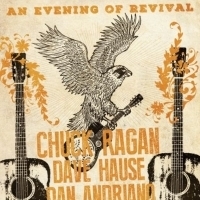 Chuck Ragan, Dan Andriano, Dave Hause Celebrate 'An Evening Of Revival'
by Kaitlin Milligan - Jun 5, 2019
It's been nearly seven years since Americana singer/songwriter Chuck Ragan and his camaraderie of like-minded musicians celebrated his much-adored and lauded REVIVAL TOUR which merged the punk, alternative, and folk worlds and borne a jamboree of music and collaboration.  So it is with excitement and anticipation that Chuck Ragan and Revival Tour alums Dan Andriano (Alkaline Trio) and Dave Hause (The Loved Ones) are getting together to put on AN EVENING OF REVIVAL, a one-time "revival" of sorts of the much-missed tour.  Set for Sunday, July 7th at Solana Beach, CA's Belly Up (143 S Cedros Ave, Solana Beach, CA 92075), it proves to be one of the must-attend shows of the season, if not year.
TexARTS Youth Academy presents THE LITTLE MERMAID, JR.
by A.A. Cristi - Jun 16, 2017
Join us "Under the Sea" for TexARTS Youth Musical Theatre Academy's production of The Little Mermaid, Jr.  Performances are scheduled for June 23 & 24 at the Kam & James Morris Theatre at TexARTS (2300 Lohman's Spur, Suite 160 Austin, Texas 78734).
TexARTS Announces Studio Expansion
by A.A. Cristi - Aug 2, 2016
TexARTS, a performing and visual arts nonprofit organization, is expanding its current Lakeway facility with the addition of five studio spaces.
TexARTS' A FUNNY THING HAPPENED ON THE WAY TO THE FORUM Opens Next Week
by Tyler Peterson - Jun 13, 2016
TexARTS will present "A Funny Thing Happened on the Way to the Forum" as part of our fully-staged youth summer musical. This is the eighth year TexARTS has offered this summer musical theatre intensive program. Over thirty students rehearse the summer musical during a three-week camp with nationally recognized guest artists. The summer program concludes with two performances opened to the public on Saturday, June 25 and Sunday, June 26 at 1:00 pm and 6:00 pm.
TexARTS Teens to Present Original Musical Revue of Broadway Favorites
by Robert Diamond - Nov 6, 2015
The TexARTS Musical Theatre Academy is known throughout the Lake Travis region for producing memorable youth productions like 'Beauty and the Beast Jr.,' 'Bring It On the Musical' and 'Legally Blonde the Musical,' but this fall, the students have taken on a whole new challenge. A collaboration of TexARTS artistic director Darren Gibson and show director Russel Taylor, these 23 teenage artists have put into production an original revue of Broadway favorites called 'Project Broadway: Working Title.'
Darren Gibson Frequently Asked Questions
How many Broadway shows has Darren Gibson been in?
Darren Gibson has appeared on Broadway in 2 shows.
How many West End shows has Darren Gibson been in?
Darren Gibson has not appeared in the West End