Review: ROBIN HOOD at Imagination Stage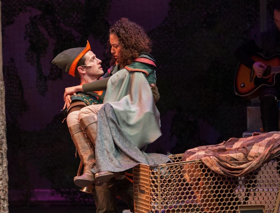 The tale of Robin Hood has provided source material for several famous screen adaptations over the years, including the classic Hollywood film with Errol Flynn and the Disney animated feature that portrayed all the characters as animals. With the exception of Young Robin Hood at Round House Theatre a few years back, there really hasn't been a good stage treatment for the guy who steals from the rich to give to the poor...until now.
Imagination Stage's current production of Robin Hood features everything that a good Theatre for Young Audiences (TYA) production should have - a superb cast and design team, great direction from the company's Founding Artistic Director Janet Stanford, and sword play. What more do you need?
Greg Banks' thoroughly engaging adaptation begins with bucket drummer Bob (Jon Jon Johnson) providing us with a little pre-show serenade. Then we meet several homeless types out for a buck - one guy asks you to sign his jacket and then charges you a dollar. These ragtag types transition to playing characters in the story as we go to Sherwood Forest to join Robin Hood (Christopher Dinolfo) and his band of merry men to fight off the Sheriff of Nottingham (Michael Glenn).
As we progress through the story, we learn how Robin and Maid Marian (Alina Collins Maldonado) met and how the very vein and egotistical Prince John (Mick DePinto) plot to capture Robin. As you might guess, this does not go very well for the bad guys. There's also an opportunity to learn how several of the merry men came to be. This includes Much (also played by Maldonado) whose father was killed by the sheriff, and of course, Little John (Jason B. McIntosh). Without giving too much more of the plot away, I'll say that by the end, it's a sure bet that the audience will be cheering.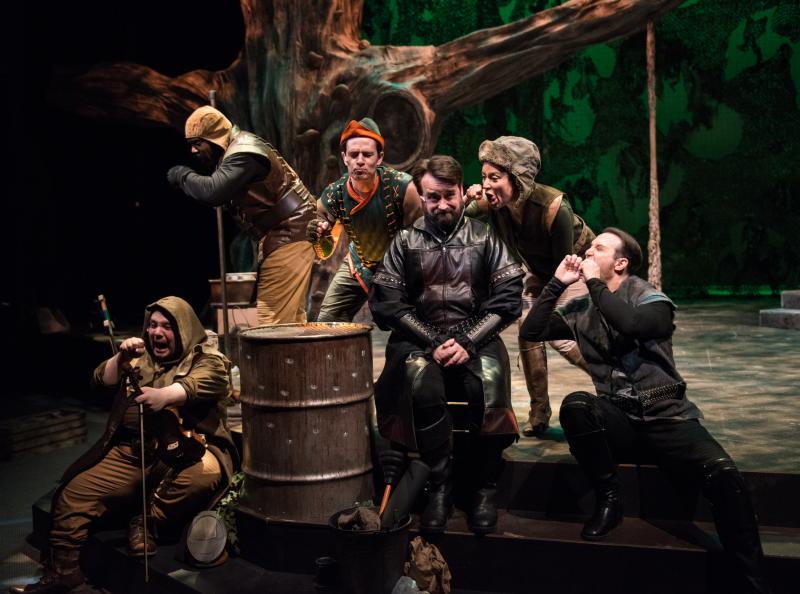 Performance wise, this cast is as strong as any I've seen in a TYA show for some time.
An agile Christopher Dinolfo carries the show the beginning to end as our hero Robin Hood. He has to climb and leap all over James Fouchard's set so agility is a must. You can help but root from him all the way through the play.
Alina Collins Maldonado showcases her distinct and strong stage presence once again as Maid Marian and Much. I've seen her in four shows in the last year and a half and her performances always wow me. This one is no exception.
Nick DePinto (who also serves as musical director) wonderful, slimy performance as Prince John. The egotistical and vein take on this character is perfect and his musicianship is an added bonus.
Jason B. McIntosh is endearing and Will Scarlett, another member of Robin Hood's tribe. He is imposing when needed, especially when protecting his boss.
Jon Jon Johnson is a multi-talented performer and musician. In this case, he plays Hood's tribesman Friar Tuck, but also plays violin and (as mentioned earlier) bucket drums.
Last. but certainly not least, is Michael Glenn. He gives a mammoth Shakespearean-like take of the Sheriff of Nottingham. Even though you want to see Glenn's character get his, you can't help but marvel at Glenn's performance. It's that strong.
Production elements match the performances.
James Fouchard's intricate set includes a full-size tree for Dinolfo to make his first entrance as Robin, and a high platform that acts a tower dungeon.
Kendra Rai has solved the problem of distinguishing one character from another when a single actor plays multiple roles without gobs and gobs of costume changes. Under dressing always works in the theater, and here it is used to full advantage. Be sure to look out for Dinolfo's transformation at the final archery match.
Zachery Gilbert's lighting creates a moody Sherwood Forest.
Sound Designer Justin Schmitz adds the final touches with an atmospheric soundscape that enhances rather than intrudes. That is always the sign of a good designer.
Kelly and Mollye Maxner's fight and movement choreography are an added bonus. I've seen some productions of Robin Hood where there are no fights at all.
Director Janet Stanford's staging is sharp, well-paced, and does exactly what it should do. It tells the story straight forward without any added "improvements," which doesn't always happen in a TYA setting. Brava Ms. Stanford.
Robin Hood at Imagination Stage has it all. All hail!!!!
Running Time: 75 minutes with no intermission for school performances. 90 minutes with one intermission for public performances.
Robin Hood runs through May 20, 2018 at Imagination Stage, which is located at 4908 Auburn Ave, Bethesda, MD. For tickets, click here.