Latest News on Brig Berney
Stage Credits
Productions
[Broadway, 2013]
Company Manager
[Broadway, 2011]
Company Manager
[Broadway, 2011]
Company Manager
[Broadway, 2008]
Company Manager
[Broadway, 2007]
Company Manager
[Broadway, 2006]
Comapny Manager
Company Manager
[Broadway, 2006]
Company Manager
[Broadway, 2005]
Company Manager
[Broadway, 2005]
Company Manager
[Broadway, 2004]
Company Manager
[Broadway, 2004]
Company Manager
[Broadway, 1995]
Company Manager
[Broadway, 1994]
Company Manager
[Broadway, 1994]
Company Manager
[Broadway, 1993]
Company Manager
[Broadway, 1993]
Associate Company Manager
[Broadway, 1993]
Associate Company Manager
[Broadway, 1992]
Company Manager
[Off-Broadway, 1990]
Press Representative
Stage
Productions
[Broadway, 2013]
Company Manager
[Broadway, 2011]
Company Manager
[Broadway, 2011]
Company Manager
[Broadway, 2008]
Company Manager
[Broadway, 2007]
Company Manager
[Broadway, 2006]
Comapny Manager
Company Manager
[Broadway, 2006]
Company Manager
[Broadway, 2005]
Company Manager
[Broadway, 2005]
Company Manager
[Broadway, 2004]
Company Manager
[Broadway, 2004]
Company Manager
[Broadway, 1995]
Company Manager
[Broadway, 1994]
Company Manager
[Broadway, 1994]
Company Manager
[Broadway, 1993]
Company Manager
[Broadway, 1993]
Associate Company Manager
[Broadway, 1993]
Associate Company Manager
[Broadway, 1992]
Company Manager
[Off-Broadway, 1990]
Press Representative
Brig Berney News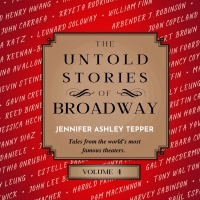 Jennifer Ashley Tepper's THE UNTOLD STORIES OF BROADWAY, VOLUME 4 to be Released in March
by Chloe Rabinowitz - Jan 29, 2021
Dress Circle Publishing has announced the release of THE UNTOLD STORIES OF BROADWAY, VOLUME 4, the latest in a series by historian and producer Jennifer Ashley Tepper. The book will be available on Tuesday, March 9 to commemorate the one-year anniversary of the 2020-2021 Broadway shutdown.
Photo Coverage: 'In The Heights' Cast Meet & Greet
by Walter McBride - Jan 15, 2008
The cast and creative team of In The Heights, the new Broadway-bound musical, held a press meet and greet on Monday, January 14 at the 42nd Street Studios. In The Heights will begin previews on Thursday, February 14, 2008, and open Sunday, March 9, 2008, at Broadway's Richard Rodgers Theatre.