Latest News on Brenda Dickson
Latest News on Brenda Dickson
Photos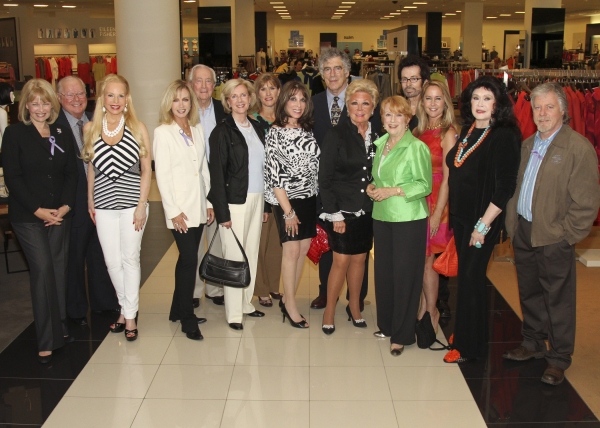 Ilene Graff, Warren Berlinger, Brenda Dickson, Donna Mills, James Karen, Channing Chase, Judy Norton, Kate Linder, Elliott Gould, Mitzi Gaynor, Nancy Dussault, George Chakiris, Erin Murphy, Barbara Van Orden and Stanley Livingston
From: 
Date:
05/24/2012
Designer Randy McLaughlin with Graffiti Gown Signatory Ladies: Lt - Rt - Dee Wallace, Rose Marie, Stefanie Powers, Ilene Graff, Alison Arngrim, Margaret O'Brien, Edith Shain, Florence Henderson, Judy Tenuta, Brenda Dickson and Kate Linder
From: 
Date:
05/08/2010
Brenda Dickson News
Photo Flash: Mitzi Gaynor Hosts Tony Awards VIP Kick-Off!
by Nicole Rosky - May 24, 2012
The Actors Fund just offered TONY Award VIP's a kick-off reception in advance of their highly anticipated annual Tony Awards Gala Viewing Party to be held on Sunday, June 10 at the Skirball Center in Los Angeles (http://www.actorsfund.org/performances-and-events/tonyparty2012). Check out photos from the celebration below!
Photo Flash: Celebrated TV & Movie Moms Gather At Hollywood Museum
by Charlie Piane - May 8, 2010
It was an abundance of family, friends, fashion and philanthropy as celebrated TV and movie Moms Florence Henderson (Brady Bunch), Ilene Graff (Mr. Belvedere) and Kim Rhodes (Suite Life of Zach & Cody), Nancy Dussault (Too Close for Comfort) and Dee Wallace (ET: Extra-Terrestrial) as well as other industry elite gathered for a pre-Mothers Day celebration at the Hollywood Museum for a special evening featuring the world famous Hollywood Graffiti Gown by Randy McLaughlin and Jerry Skeels of JERAN Design.