BWW Review: SWEAT at Dezart Performs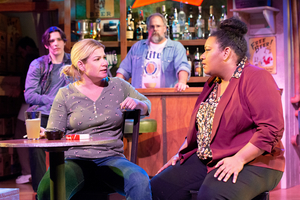 Back in 1999, the world was in a panic over Y2K which, as it turned out, was taking up a far better utilized space in our brains. Everyone was frantically wringing their hands that our technology was going to shut down everything automated, including our banks. People were stocking up on water and goods, and taking out large sums of cash to keep them afloat during the "crisis", while in small-town, factory-working America, people were experiencing a whole different kind of panic.
As automation and outsourcing were cutting down costs for corporations, increasing the bottom-line, and making shareholders rich, small-town factory workers were asked to take huge cuts in their salaries to increase the company's bottomline. Workers turned to their unions to fight for them, but corporations knew they had the upper hand. When they weren't outsourcing jobs to Mexico, the new immigrants, who'd long coveted jobs in factories, but were previously blocked by the long-termers, were able to begin their American dream by stepping over the picket lines, and taking their jobs. Reading, Pennsylvania was one of those beleaguered towns, a petri dish that fed on poverty, racism, and paranoia that often produced class war and hate crimes. It was also the beginning of a severe opiate crisis in the failing towns.
From a 2020 article in The Atlantic, "...both economic recessions and individual unemployment increases illegal drug use of various kinds. And late last year, another paper found that a rise in manufacturing-related job loss corresponded with an increase in opioid-related deaths."
So, while people in my world were worried about the Y2K 'crisis' that never happened, factory workers were experiencing the very loud death knell of their American dream.
Playwright Lynn Nottage, the author of the 2017 Pulitzer Prize-winning play, Sweat, which is now playing at the Palm Springs' Woman's Center and produced by Dezart Performs, said in an interview with MarketPlace, "Being poor is one of the hardest jobs in the world anyone can have. To survive from day to day is an epic struggle to find a way to feed yourself, clothe yourself, put a roof over your head. It is the most Herculean path when you have nothing." And that's the bones of her play, the heartbreaking and disturbing state of the human condition in dying factory towns.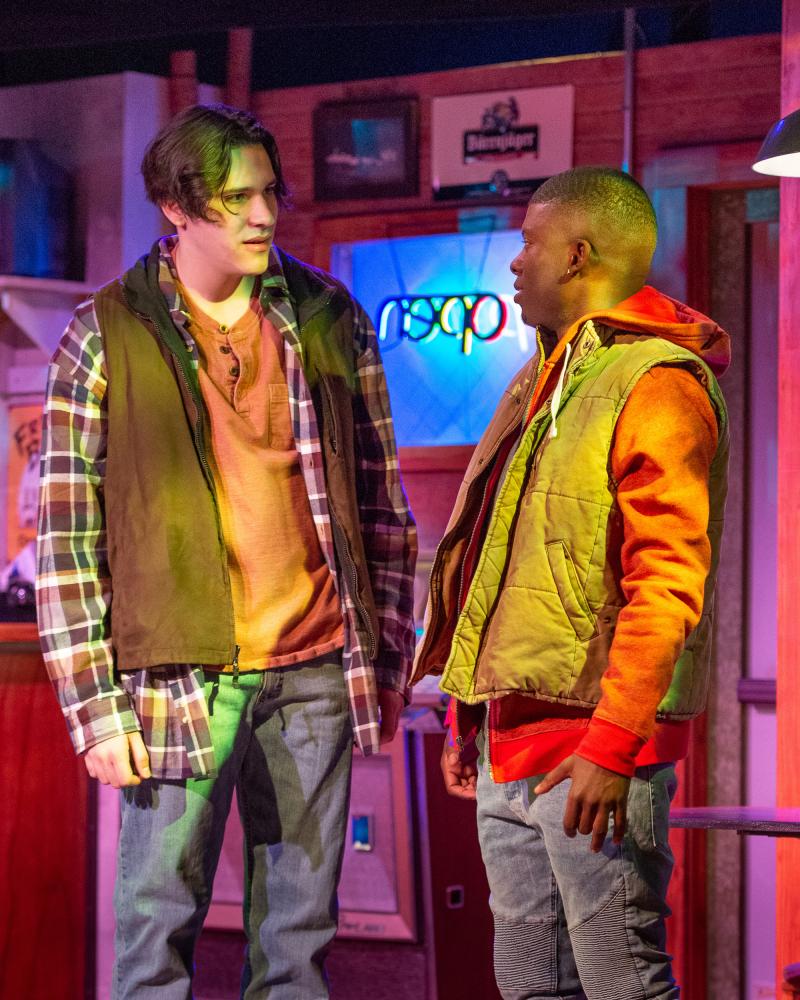 The play focuses on a tight group of friends in Reading, both black and white, who work in a factory and, in their off time, hang out and drink excessively at the local bar.
All of the older characters have worked at the factory since they were 18 or 19, and by the year 2000 have given the company 25-27 years of their life. They were generational workers, having followed in their parent's footsteps with an hourly wage that went up year after year, and a guaranteed pension. It was somewhat of an inheritance.
The play opens in 2008, eight years after an unknown event has taken place, and two young men are independently checking in with their parole office, Evan (a nice turn by Eddie Stephens), who is trying to give them a fighting chance to make it out of their current circumstances and change their lives for the better.
Jason (Corydon Melgoza), a white man with a faceful of tattoos, does not look like he has the slightest chance of doing that. Although it's all the rage in certain crowds nowadays, Jason's tattoos are Aryan nation which generally don't play out well in the "real" world. He's angry and sullen, just like his tattoos, and while Melgoza does a fine job in the opening, he ramps it up when he shows us how he got there later on in the play.
The second young man, Chris (Cortez Johnson) is a bible-carrying black man who feels true remorse and has sought counsel with his preacher over the guilt and shame he feels about whatever it is he has done. From the first moment he opens his mouth to speak, Johnson grabs your attention. He's a very skillful actor, who thoroughly embodies his character. We're pulled into him, our minds busy trying to figure out what it is his character has done to make him feel this way. It was my favorite performance of the night, not just because he has the most redeeming character arc, but because of Johnson's portrayal.
All of this eventually becomes clear as we flash back to the year 2000 and the curtains open to reveal a fully-realized bar, complete with functioning beer on tap, a tiny tv showing 2000 news and tv shows, envisioned and built by Thomas L. Valach.
I've said it before, and I'll say it again, Valach's sets are perfection. I feel like I have been in this bar before, and just like all the rest of his sets, it's more than solid. When you see the show, you'll understand this comment by the time it's all played out.
It's here we meet bartender Stan (Mike Truelock), Cynthia (Desiree Clarke) who is Chris' mother, Tracey (Theresa Jewett) who is Jason's mother, and their friend and co-worker, Jessie (Melanie Blue). Jessie's a drunk, but a fun one when she's not over served, and Cynthia and Tracey are besties who have weathered a lifetime together. That one of them is black and one of them is white is of no concern to the girls, until a supervisor job at the factory opens up, and Cynthia wins out over Tracey. And that's when everyone jumps into the handbasket, and we descend slowly into a living hell.
Tracey believes Cynthia was an Affirmative Action hire, and although it offends her, Cynthia isn't so sure Tracey's wrong. As the story progresses, it becomes abundantly clear to everyone that, while Cynthia is a terrific choice for that promotion, it was a strategic one for the company. She's privy to all the company plans and tries to help her friends. She tells them the factory is going to ask them to take a 60% cut in pay and give up their pensions. Their relationships begin to crumble as the blame game is called into play.
Just as Cynthia and Tracey are best friends, so are their children. While Jason wants a piece of his family's American dream by staying on at the factory and working until he can collect his pension, Chris is making inroads to college to become a teacher.
As all of this unfolds, Oscar (Miguel Arballo), who is of Columbian heritage, works in the background unnoticed by any of the regulars. Even he and Stan barely interact as he scuttles around replacing booze bottles, wiping up spills, and keeping the place humming. Even when there is opportunity to interact with Oscar, the patrons treat him with disdain. As Oscar slipped into the background, scene after scene, I kept wondering his purpose in the play and I, too, began to ignore him. It was a huge wake-up call to realize that after the fact.
Arballo does a terrific job keeping focus on his character's arc, as he slowly reveals himself. It's also a testament to director Michael Shaw's ability to get the most out of his actors. Although Arballo always gives his all to his performances, he's often relegated to playing smaller roles, and if I recall correctly, often cops. This was a chance for him to shine, and he does. He has really good chops in the right role. It's a very good performance, and I look forward to watching him in future roles.
Tracey's husband is dead, and they're pretty stoic about it - it is what it is. Cynthia has a deadbeat husband named Brucie (Cary Thompson) who lost his job almost two years prior when they let the union handle the layoffs at his factory. Without a job, Brucie has succumbed to that opiate crisis we talked about earlier. Cynthia has kicked him out of the house until he can get himself together. This is our first opportunity to see Desiree Clarke's acting chops, and just like in last year's White Guy On A Bus, she doesn't disappoint. As she is telling her friends the story of why she kicked him out, the audience is treated to some pretty solid laughs. It's a well-paced, and terrific performance by Clarke. We feel every moment of her frustration in having to make the decisions she does.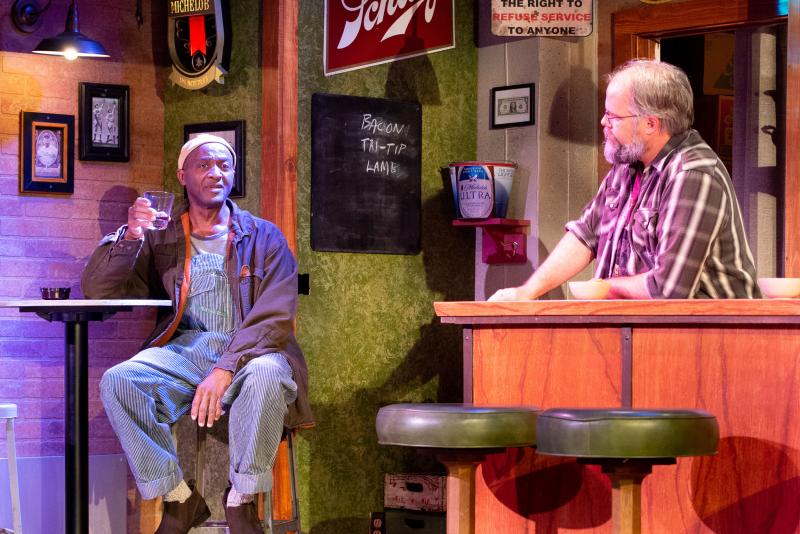 Cynthia's husband, Brucie, reminds me of William Macy's character in Shameless. He's a charismatic asshole, at times insightful, always on the dole, and always f'd up. Thompson never steps out of character, and although he's often trying to get money for his next drink, or fix, we get him, we even like him. Cynthia feels the same way; although she won't let him back in her house, she still loves him, and wants him to be in Chris' life. So at one time, when he had a job and a purpose, he was a great husband and father. Great job by Thompson, loved every minute he was on stage.
Let's talk about the third gal in the group, Jessie. Jessie spends a great deal of time passed out on a table at the bar. She wakes up occasionally to agree with whoever is the loudest. She still manages to hold down a job, which is surprising given that she's a pass-out drunk. But through one of her monologues, we find out why she is so broken. Melanie Blue is always highly watchable, and this is no exception.
Truelock's Stan, the bartender, is often the voice of reason, the one that understands both sides and tries to give usually sound guidance to everyone. He reminds me of an old friend, an actor, who also manages a bar. He's the guy that makes you feel at home, and although he can be a flirt, he is likely in love with Tracey. That's something you may end up exploring long after the fact. I did. It's one of those performances where you think, this isn't an actor, this is just a bartender doing what he does. Nicely played.
That brings us to our lead, Tracey. She's a hard-boiled, feisty, single mother who not only speaks her mind, she's not afraid to step in to protect her friends. That all changes, and it's a well-rounded performance by Jewett. Although I generally like those types, I rarely cared for Tracey. She's a bit of a "my way or the highway" character whose anger builds when she realizes what she is losing, and lashes out at everyone within reach. It's an incredibly hard role for a very likable actor to take on, and she does a great job. After the show, she approached our group pensively, leading with "I hope you don't hate me." Laughing, I told her I did, but that was the highest of compliments. It was a great performance.
Phil Murphy's lights, especially during the bar scenes were terrific, and whoever picked the shows that played on the TV, likely had a blast picking them out. When there is exposition that doesn't need a visual to understand, check out what's playing on the TV. It's a nice pairing with the legends that appear before each scene, giving us dates and facts about that moment in America.
Clark Duggar's sound design (also a producer) was a great journey back to the aughts; Frank Cazares' costumes kept us in the time period, as did the props by Cecilia Orosco, and the make-up and hair by Selene Colón.
I was in the Chicago theater community for a few years, and I will tell you this is the type of theater that we'd flock to see. It's that rare bird of a play that gives you the facts, and lets you decide on your takeaway. Seeing and telling a tale from all sides requires skill, a craft in which Nottage excels. It's hard to take sides, we see everyone's point of view up until the moment everything explodes in a very shocking way.
Like all good dramas, Sweat has moments of humor to keep us from causing ourselves any personal harm, although the first act left many of us concerned, okay...we were a bit depressed. When I returned to my seat, my neighbor to the right of me joked, "The second act is a musical." But it wasn't, what it was, was powerful theater that was well-worth the time not just because of Nottage's writing, but by the thoughtful directing of Shaw and this incredible cast. It continues to take up space in your brain long after you've left the theater.
If you're looking for a light-hearted, laugh riot, this is not the play for you. If your cerebellum craves thoughtful, well-crafted, well-directed, well-acted and well-produced theater, I encourage you to book a ticket back to Reading. It will absolutely make you Sweat.
DATES
March 6, 2020 - Mar 08 2020
SHOW TIMES
Fridays and Saturdays: 7:30 PM
Saturdays and Sundays: 2:00 PM
LOCATION
Pearl McManus Theater
at the Palm Springs Woman's Club
314 S Cahuilla Road
Downtown Palm Springs, CA 92262
760-322-0179
Related Articles View More Palm Springs

Stories

Shows
Kay Kudukis is a writer. If you want to know more about her, GABY (Google Ain't Broke, Y'all).