BWW Review: HOW I LEARNED TO DRIVE at CV Rep Theater is More Than Worth the Trip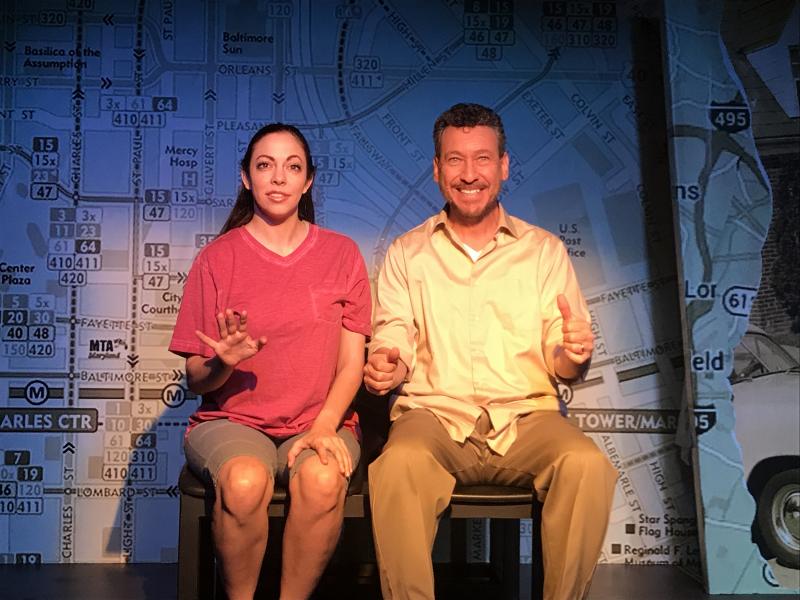 When CV Rep announced their 2018/2019 slate, their season opener was Israel Horovitz's play Lebensraum. The meaning of the German word in English translates to "living space" and is a fanciful story of a German Chancellor wanting to make reparations for Germany's murderous past, and announces an open invitation to six million Jews (first come, first welcome, unless you're a gay couple from France. Not the right optics.) to Germany, give them a living space and jobs. In Horovitz's own words, "I have tried to create a modern day circumstance that mirrors what was going on in the world when Hitler came into power... that Jews were being blamed for Germany's struggling economy, etc etc. So, yes, it is a heavy-duty warning that things forgotten are oft-repeated, and that there's no limit to human cruelty." That last sentence is more true than anyone knew at the time. In late 2017 Horovitz was accused of sexual misconduct by nine women. The youngest was sixteen when Horovitz assaulted her.
"They were very organized," said CV Rep director Joanne Gordon. "They contacted the theatre, the actors, everyone involved." All of the women had been young actors working with Horovitz and all considered him a kind and brilliant mentor. Until he became their nightmare.
Artistic Director Ron Celona and Gordon had many a phone call trying to figure out next steps. They had contracts and obligations to three actors and needed to find something that would work for them and fit into a season about "isms...an informal often derogatory, unspecified doctrine, system or practice: Socialism, Racism, Classism, Sexism" in short, all the isms.
In a brilliant and extremely apropos move, Celona and Gordon chose How I Learned To Drive by Paula Vogel, a play about the grooming of a young girl by her pedophile uncle. While that might seem like a huge turn-off, trust me - How I Learned To Drive in Gordon's hands is a breathtaking production of Vogel's Pulitzer Prize-winning play. Pedophilia and grooming are no laughing matter, but make no mistake - you will laugh. A lot. If you are not conflicted by your reactions to these characters, then you aren't paying attention. It is very, very smart.
Set Designer Jimmy Cuomo created a world that is literally a roadmap ripped from the childhood memories of our protagonist, Li'l Bit, in a searingly heartbreaking performance by Angela Sauer. Sauer effortlessly bounces back and forth through Li'l Bit's adolescence as she randomly recollects memories of her Aunt Mary's husband, Uncle Peck (Dennis Gersten), grooming her in the guise of teaching her to drive.
Gersten's Peck is a beautifully layered performance. Charismatic, kind, manipulative and deeply troubled by his feelings, he is a sympathetic villain that is so likable it is easy to see Li'l Bit's confusion and hate yourself for letting your mind normalize his actions. Seriously, the guy is a pedophile, but he's so nice, and he's patient. He's in it for the long con; he is a confused, but never conflicted soul. His desire is more important than anything else in his life. He is consumed by it. Sympathetic and creepy is a hard role to pull off, but Gersten nails it.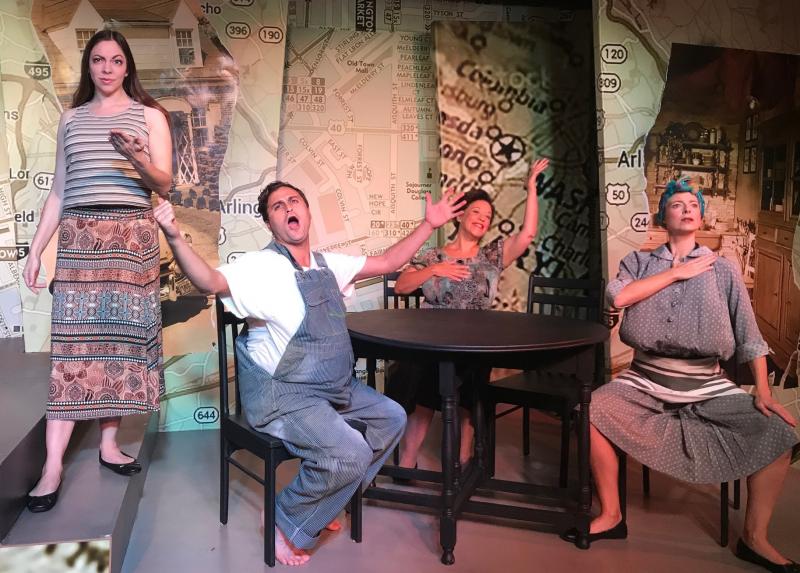 You are going to have to see the play to find out what Li'l Bit's mom and Aunt Mary (Debra Cardona), Grandma (Jillian Taylor) and Grandpa (Charles Pasternak) know about what's going on. The bawdy backwoods bunch of Bubba relatives provide verbal comic relief with a few laugh-out-loud sight gags courtesy of Gordon's imagination. (Let's face it, a play about incest and pedophilia needs relief, and comedy is a good palate cleanser.) Cardona's monologue as Li'l Bit's mom giving her drinking tips is hilarious, and her portrayal of Aunt Mary ends with a disturbing monologue that Cardona more than delivers. Taylor's Grandma is a hoot, a feisty throwback to a different era who alternates from being a prude to straddling Pasternak's Grandpa. Even the smallest roles are artful, so don't blink or you'll miss Pasternak's clever turn as the waiter whose reaction to Li'l Bit getting drunk echoes the audience's exact feelings at that moment.
Sauer's portrayal of Li'l Bit is terrific, and it occurs to this reviewer that understanding how she ended up being victimized is equally as important as the stories of her abuse. Understanding the "How" is a gateway to healing; the "Why" can never be explained in a satisfying way. Li'l Bit's memories might finally let herself off the hook.
This is Gordon's third time directing How I Learned To Drive, and she moves the actors across the stage and through Li'l Bit's memories with powerful understanding and expertise. Costume Designer Lori Jo Wood provides quick changes for the actors as they travel back and forth through time. The soundtrack of Li'l Bit's life is well-realized by Sound Designer Kate Fechtig, beautifully juxtaposing Li'l Bit's conflicted journey with the cheerfulness of bright uptempo songs of the day. And Moira Wilkie-Whitaker's lighting design is as subtle and smooth as Peck's manipulation of Li'l Bit.
This is a must-see production. It is what theatre is all about: bringing difficult subjects to the stage and examining them thoughtfully through a wide and open lens. It takes itself seriously but, like most damaged people, wraps itself in a bubble of humor to mask the experience. I don't want to speak out of turn, but if I was one of the nine women who had protested the mounting of a Horovitz's play, I would be pleased by CV Rep's choice and their thought-provoking, entertaining and informative production.
How I Learned To Drive runs from October 26th through November 18, 2018 at CV Rep in the Atrium, 69930 Highway 111, Suite 116 in Rancho Mirage. In 2019, the theatre will move to their new space at Cathedral Canyon and the 111.
Box Office: 760-296-2966
Website: www.cvrep.org