BWW Review: GARLAND IN WORD AND SONG at Black Box Booking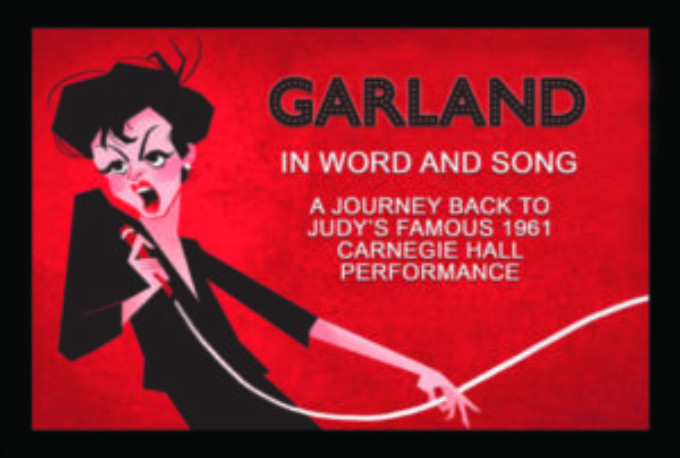 The setting is April 23, 1961, when a 38-year-old Judy Garland performed at Carnegie Hall in what the New York Times called "the concert of the century." Her Carnegie Hall appearance marked a huge comeback for the star. The live recording Judy at Carnegie Hall received five Grammy Awards and went Gold within a year. When Judy stepped out onto the stage at Carnegie Hall that night, the raucous standing ovation that greeted her was just the start of what has been called "the greatest night in show business history." Award-winning actress/singer Jody Briskey channels Judy Garland as she recreates that special night in Garland in Word and Song.

Actress Jody Briskey has portrayed Judy Garland before in the noted History Theatre premiere production of Beyond the Rainbow, which she later reprised at Florida Stage, in Manalapan, FL, and at the Theatre at Arts Garage in Delray Beach, FL. She received a 2006 Carbonell Award nomination for her performance at Florida Stage. "I knew there was something about her, especially when she sang, that latched on to my soul. As I developed my own passion for singing, I always made sure I sang something of Judy's. She had a way of singing a standard song you may have heard a dozen times by other performers but by the time she enveloped it with her heart it became uniquely hers. It's this heart that I feel as I bring her songs to my audiences. Over the years I've been given more opportunities to embrace Judy's music and it has led to this show of songs and stories", Briskey said.
As Judy Garland, Jody Briskey sings more than 25 songs, accompanied by on-stage pianist David Nagy. The set is fairly simple: a grand piano, a chandelier high overhead, an upstage trunk filled with costume spilling over and a downstage cocktail table with two chairs. Occasional lighting and projection elements highlight the musical numbers, but the lighting design is disappointing for this production. Briskey is too frequently dimly lit, and her big numbers are not matched with lighting to complement these moments.
Briskey meets audience expectations in duplicating the sound, style and mannerisms of Judy Garland. Her tireless delivery of song after song is astonishingly Judy in phrasing, vibrato, and every single portamento. As an actress she is also able to bring some of that endearingly fragile emotional quality of Garland as well. Among her best sung songs of the evening are "You Made Me Love You", "Old Man River", "San Francisco", "That's Entertainment" and of course "Somewhere Over the Rainbow". While heart-felt ballads and torch songs work well with just a piano as accompaniment, some of the other songs high energy songs such as "When You're Smiling", "Chicago" and "San Francisco" cry out for at least a trio behind her to drive home the arrangements.
Woven into this performance are the stories and banter that Garland told in her concerts. There are tales of her late sisters, husbands, children, and fellow show-biz professionals met along the way. Briskey is surprisingly able to copy Garland's speech pattern later in life. She had a habit of not quite finishing sentences; and trailing off the last word or two as she bounced on to the next thought she had tucked away as though it just couldn't wait to be said. There was a certain guileless charm to her rambling train of thought. However troubled and tumultuous Judy Garland's life may have been, she will always remain that little girl in search of the Wizard of Oz reminding us that "There's No Place Like Home!". People all over the world are still in love with her huge voice and talent, and this production of Garland in Word and Song, is a winning tribute to that iconic star.
Black Box Booking is an Entertainment Agency and National Tour Theater Production team, extensively dedicated to art and entertainment. As Entertainment Agents they help program your entertainment events in a manner that is complete, efficient, and professional. Bringing the beauty and art of musical and dramatic theatre to local audiences throughout the country, the Black Box staff works as a team to present our shows in an efficient, cost effective routing that matches the audience demographic to the particular show. For more information please call 561-906-0430 or go to www.blackboxbooking.com.
This Black Box Booking production of Garland in Word and Song will be appearing at the Willow Theatre at Sugar Sand Park through February 11, 2018. Showtimes are Thursday, Friday, & Saturday at 8:00 pm, and Saturday & Sunday at 2:00 pm. The 155-seat Willow Theatre is located in Sugar Sand Park at 300 S. Military Trail in Boca Raton, FL. For tickets and information you may call 561-347-3948 or go to www.willowtheatre.org.
The Cast
Judy Garland: Jody Briskey
David Nagy: David Nagy
The Crew
Concept and Development: Jody Briskey
Musical Director: Jimmy Martin
Scenic Design: B.I.G. Creative Services
Lighting Design: Nicole Stav and Laura Fulton
Sound Design: Andres Allesandro Beuses Casasanta
Costume Design: Rich Hamson and Christine Frank
Production Stage Manager: Nicole Stav
Review by John Lariviere
John Lariviere currently headlining throughout South Florida at local theatres and clubs. In August of 2016, John performed for the second year at the Florida (read more...)