Interview: Melanie Moore of TO KILL A MOCKINGBIRD at Orpheum Theater
"We hope that our show moves you in a way to want to get to know your community, and in a way that inspires empathy for somebody whose journey may not look like yours."
Broadway triple threat Melanie Moore sat down with BroadwayWorld in Omaha to give readers a glimpse of what they can expect this week as the curtain rises on the critically acclaimed Broadway touring production of To Kill A Mockingbird.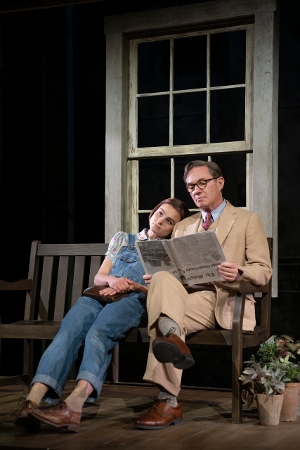 How did you find your start in the performing arts?
I started performing as a dancer when I was three. I have an older sister who is three years older and in dance class or something my mom put her into, and when I saw her up on stage I knew I wanted to be there. I was already putting on a little shows for my family, which I think most kids do, but when I saw her up on stage I just really wanted to be up there dancing. It's something I've always loved, but I tried to quit so many times because I wanted to go outside and play instead of going to dance class. I remember wanting to quit in the middle of the year, but my mom made me stick with it. That dance studio I was at was very smart because they had sign-ups at recital. So, you're in this costume and you're so excited and you get to be on stage, and of course you immediately sign up for another year. As soon as I signed up my mom said it was a commitment. So yeah... I danced my whole life, but I started taking voice lessons when I was maybe 13. I never performed really in that respect, but I took voice lessons off and on. I didn't get into musical theater or theater performance until I moved back to New York when I was maybe 21 or 22. I auditioned for a show at that time and that's sort of how I started doing theater.
My family and I used to watch So You Think You Can Dance regularly at our house and clearly remember your performances. You won your season and definitely had our votes! After growing up in the dance world, how did you find the comfort level and security to put yourself forward as both a singer and actress?
Well thank you for saying that you were a fan of So You Think You Can Dance. It was such a formative moment in my life and in my career, and it kind of jumpstarted everything for me. I've always loved musical theater, even if I wasn't active in it. My mom used to take me to see shows at the Fox and I once said to her, "I think I want to be on Broadway one day." I was really young and she pointed out that I couldn't really sing the same way that those performers did on stage, so she put me in voice lessons. I think one of the first times I ever went to sing in front of people was for a Christmas concert at a nursing home and I forgot all the words to Oh Holy Night. I was terrified. I still hate singing as myself, but I love singing as a character. It's the same feeling as being on stage in a show. I don't love being the center of attention as myself, but I love being the center of attention as a character. I love putting on somebody else's coat and a wig and just being someone else. I started singing a little bit more in my later high school years. Our dance studio had a theater production and we had to sing on stage, and that's when I sort of got more comfortable with singing. But when I moved back to New York after living in LA for a bit after So You Think You Can Dance, I was on the choreography side a couple times assisting for people and had heard what people had said about some amazing dancers who then came in the room afterwards to sing. I realized that peoples reputations do sort of follow them. There are some amazing dancers who struggle to sing or haven't trained, and the casting agents know that. They know who you are when they've seen you a few times, and I am a perfectionist and I didn't want to be known as an amazing dancer who couldn't sing. So for a year when I moved back to New York I took voice lessons two times a week, every single week. I have a great voice teacher who really sort of helped me to come out of my shell when it comes to singing and made me more comfortable. I ended up making my Broadway debut and singing on stage for the first time professionally in that show.
As for acting, I fell in love with that while performing in Fiddler on the Roof. I worked with Bart Sher for the first time on Fiddler on the Roof. When I got the audition for Scout, I knew if I got it, I'd be working with him, but I had still never really taken an acting class. I worked with a dear friend on the script and went in, and now I'm here.
Any advice for aspiring performers who might feel like they are only seen as one thing or another?
I think that having the confidence and sort of giving yourself permission to say that you are allowed to do many different things is important. Just because people may know you as one specific thing doesn't necessarily mean that you are just that. It's easy to be labeled as one thing like a singer or dancer or actor. It's very easy to categorize the people that we see, when in reality we are all so many things at once. Like Walt Whitman said, "We contain multitudes." Sometimes it feels scary to be bad at things or to be a novice at something, but I think that if you sort of just dive in with both feet and just try, sometimes some really beautiful and magical things. I think that I am a testament to preparedness. The opportunity can come but you need to be prepared for it. So I am very grateful for the opportunity I've been given, but I am also very grateful that I was prepared for that magical moment when it came.
For fans of the book or movie who are planning to come see the show in Omaha... Are there any major differences, or is the story intact? What can those fans of this story expect to experience next week?
This script is captivating. Aaron Sorkin adapted the script and he did so masterfully. The book and movie of To Kill a Mockingbird, the book specifically, are the framework for this script. It's a set work, and Aaron can't make changes to that work. The story is still exactly the same, the details are the same, but the difference with our play, which I think he's done so brilliantly, is that Aaron sort of turned it on its head so that people who know and love the book and the movie aren't coming in and sort of just sitting there with their arms behind their heads and not going on this journey. The moment the curtain opens the audience is greeted by an older version of Scout, who I play, and I have questions for the audience about the events that surrounded Bob Ewell's death, and Tom Robinson's court case surrounding that. The audience is sort of confused and has to sit forward in their seat and listen to the reframing that Aaron has so masterfully done. And I also think that Aaron has taken in the core of To Kill a Mockingbird, which is in my opinion a white family experiencing Black trauma for the first time. My wonderful colleague, Yaegel T. Welch, who plays Tom Robinson, put that so eloquently once in an interview and I can't unhear it. So while there's a complete reframing around the story, all the details and the events of the story are the exact same. Our story just sort of centers on what Aaron felt like was the most important thing to the book which was racism in this town in 1934.
Tell me a little about your audition for To Kill a Mockingbird.
I had originally auditioned to replace Celia in the Broadway cast in 2019, and I had walked out of the audition feeling like I had crushed it. They asked me at that audition if I'd be interested in going on tour, and then I didn't hear anything at all for four months after that. I did eventually get a call when I was on a flight back from LA, asking if I could come back in the next morning and read again for the tour. I had sort of let it go at that point, so I had to relearn the lines because it had been a while, but they offered me the job a couple weeks later. I think things kind of come to you when you let them go, and I definitely am so thankful that I am on tour now with this cast who are all just so incredible. I couldn't ask for a better cast to do this with and it has been such a gift. I got the job in winter of 2019 and had to wait until 2022 to start rehearsals. So it felt like the longest waiting game but it was a really incredible thing to come back to.
How did you approach your creation of the Scout Omaha audiences will meet next week? Did you find it helpful or intimidating to have Mary Badham around?
Not only did I have Celia Keenan-Bolger's Tony Award winning performance to live up to as I stepped into these shoes try to create my own Scout for tour, but I also had Mary Badham, who was nominated for the Academy Award for her portrayal of Scout in the film. It definitely was stressful to feel like I had these huge shoes to fill, especially since it is my first experience with a straight play, for lack of better term. This role is so beloved, so there definitely felt like there was a lot of pressure that came with it.
I am from Georgia originally and, while I have always loved performing and getting into sparkly costumes and being on stage, I also was, and my fiancé will probably tell you very much I still am, a tomboy. I always enjoyed being dirty. I had pet snakes and frogs growing up. I was always outside. I identify with this character. I feel like most people from the south who are even tomboy adjacent would probably say that, so I don't think that's necessarily an original thought. But I feel very strongly that I know this character, and I also know the type of relationships that these people have. So I really try to access my childhood self in a lot of ways. My accent comes very strongly from my grandma from Tennessee. It started very much with her accent and then I worked with a dialect coach to make it a little more Alabama appropriate for the time period. I think that my version of Scout is very much myself, and I didn't have to do too much to feel in her shoes because I think I grew up in those shoes in a lot of ways. Being with Mary every day while in rehearsal was so fun, and she's given me so much space which has been incredible. And Bart has never asked me to do anything that Celia has done. We are obviously two very different actors and we have different life experiences. We have very different senses of comedy and usage of our emotions, so I was never pushed to be the movie version of Scout or Celia's Scout. They have sort of allowed me to have free rein on whatever I felt right for me. And that has been very freeing. And any time I can make Mary laugh in rehearsal just gives me such great pleasure. I think that character exists so deeply in Mary's bones and she's devoted her whole life to sort of teaching about what the story means, so it's always a joy when I feel like I've gotten a seal of approval from her.
Any last thoughts for our Omaha readers who might not have pushed that purchase ticket button yet?
I hope that everyone has already bought their tickets, but for anyone who is on the fence I would like to say to just come see the show. We've had such an incredible response from people across the country saying that this was their first play and that it was so moving even if they didn't think they liked plays. So if you've never seen a play, this is a beautiful play that will make you laugh and cry. I think our entire company's goal is to make you leave the theater and want to go sit down and have a conversation with your friends or family or whoever you might've seen the show with, and talk about the way maybe it moved you. I think it's impossible to watch our show and not feel incredibly saddened and moved by the fact that you could change a few small details and those events that we're talking about could still be pulled from headlines today. We want people to leave and ask themselves, "Why does that still look so similar? Why does this feel like not much has changed? What role do I play in that?" It's OK if you don't love our show. I think you will. But we hope that our show moves you in a way to want to get to know your community, and in a way that inspires empathy for somebody whose journey may not look like yours.