BWW Interview: Dr. Patricia Newman Talks About RESPECT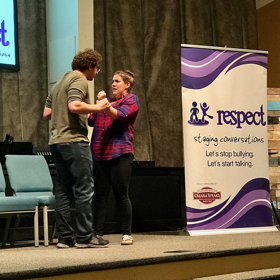 We all need a little RESPECT. That's why educator and child psychologist Dr. Patricia Newman founded a not for profit organization with a mission to build healthy relationships using theatre and community collaboration. RESPECT "works to give students the conversations and skills they need to prevent bullying, teen dating violence, child abuse, risks in social media and vulnerabilities related to negative peer pressure, suicide, depression, drugs, alcohol, self-harm, and more."
I had the chance to sit down with Dr. Newman and ask her a few questions about this unique use of theatre. How did it start? How does it work? And what is it about theatre itself that makes it especially suited to meet the emotional needs of kids.
Dr. Newman explained. "I'm a child psychologist. I see huge need related to relationship skills and the need for students to learn how to be safe and secure in their interactions with others. RESPECT is now over 17 years old. At the time it started, I was the past president of an organization, the National Council of Jewish Women, Omaha Section and the president of Jewish Family Service. Both were both interested in working to prevent domestic violence. It was one of those situations where they had a national mandate to do "something" but we could be flexible because these are concerns they care about. Since I work with kids I am very interested in preventing problems before they happen and so was scoping out the best way to PREVENT domestic violence. As it happens at that time the Omaha World Herald had published a piece about a play they were doing on the east coast regarding a young woman who had been killed due to dating violence. I called the Domestic Violence Coordinating Council (no longer in existence) and one of their biggest advocates, Dianne Lozier. She had also seen the article. She said the DVCC didn't have the staff or funds to do such a program independently, but if I could pull together a collaboration of people to help, she would find a way to help fund it and provide the educational support and resources we needed. We ended up bringing not one but 13 programs to Omaha! We brought in the programs and presented to students at the Rose Theatre, area schools and the Nebraska Medical Center. We paired them with Omaha based professionals who facilitated discussions and shared resources. We presented to about 4,000 students that week! We shared information and answered questions. It was a great way for all involved to teach and to learn!"
"After it was over, we thought, 'We can do this work ourselves.' It was costly to bring people in and we have great Omaha talent. Right? Talented and fabulous writers, mental health professionals, actors and educators! So, over the years, we've developed our own scripts and used our own talent. We have a great community advisory committee represented by people from school systems, faith based organizations, mental health organizations, parents, students, colleges, donors, the workplace and more!"
RESPECT is comprised of a team of eight part-time actor-educators and a small administrative staff. They travel across Nebraska and Iowa offering a wide range of workshops and role plays for kids of all ages, as well as adults. To date, RESPECT has performed in more than 3,400 programs with more than half a million participants.
Dr. Newman said, "Our mission is building healthy relationships. Our overall goal is to stage a conversation. We want kids to realize that they are not alone by listening to each other, having conversations with each other, and paying attention to various responses and what's happening on stage. We give them information, resources, examples of many useful strategies and the opportunity to try some of these solutions on - up on stage with the support of our actors and their peers."
Age appropriate programs are hosted in schools, after school clubs, churches, camps, college campuses, and more. Some of the programs featured in RESPECT's catalogue are "Puppy Pals" for preschool and kindergarten students, and "Stop & Think" and the "Bubbylonian Encounter" for elementary school students. For high school students, sessions focus on LGBTQ issues, bullying, and responsible reporting of bullying or abuse to adults. There are currently 11 programs in the RESPECT catalogue.
Dr. Newman talked about the programs. "In our preschool program, we teach kids how to stop and think and how to be a friend. For our younger kids, we have child abuse prevention programs. We have programs on safety in social media which includes talking about what information do you share with others on line, stranger danger and cyberbullying. Almost all of our programming has some cyber or social media issues addressed within. For our older kids, we deal with LGBT issues, homophobic slurs, dating violence, and different kinds of bullying. And for our middle school kids the teachers talked to us about so many issues that they wanted a play for each one! To problem solve that, in middle school, we developed a "menu play." School staff can choose three topics that fit the needs of their school the best. All of our plays are as interactive as possible. All plays have a discussion and processing session after the play. After questions, we pull scenes from the plays, and the kids get to come up and work out the scenes."
Dr. Newman continued, "For example, in the play there's a party and there will be a alcohol. We show that short scene and then stop the scene and say, "What could you do now?" And kids get up on stage and show how they would handle it if they were asked to be involved in such a situation in real life. They try out lots of different skills that they can use and this helps them develop 'cognitive flexibility' the ability to know that there are lots of different ways to think about and handle a situation. We know they're going to be challenged with these kinds of things. We want them prepared so they do not act impulsively or to just 'go along' with the group because they do not know what to do!"
In addition to the regular line up of programming, RESPECT offers an Artist in Residency program where students can work with the actor-educators who will teach them theatre skills and help them to create their own production about social issues and challenges unique to them. Dr. Newman explained, "We help them develop their own plays or artistic messages reflecting their own individual culture and environment. Our actor-educators do 4-5 sessions with the same kids. We always work collaboratively with the staff people who know the students to best design these activities. The work is always based on social relationships and issues. Usually they see a play and then they all work together and they write a play and put it on for their community."
Why theatre? According to Dr. Newman, theatre blurs the wall between actor and spectator. It allows for students to identify with the actors on stage and work through some of their own concerns through their identification with the various characters. "RESPECT uses theater as an educational medium to teach problem-solving and communication. Theatre captures and maintains their attention, allows us to be flexible and interactive with teaching and learning. We have continuous program evaluation in process. Our results, as well as other studies and data shared nationally, support that children can learn and maintain what they have learned, to help themselves and their peers, through this kind of programming. This is turn often helps them make better and informed decisions that allow them to feel more confident about themselves and their relationships."
According to Dr. Newman, "If you give kids information that they are dying to know about, that has an impact in their lives and that they're interested in, they will use it."
She added that practicing a response before a situation arises allows the student to react in a positive way. She has found through reviewing research and anecdotal information, from RESPECT and other organizations, that role playing, educational theatre and other theatre techniques are an effective way to present social issues for several reasons. Adults participating in the programs get to see how children perceive situations. Emotions are identified and labeled. Role playing is engaging for children and it facilitates creative problem solving while thinking independently. Finally, role playing allows children to act out solutions and adults to suggest better ways to handle them.
"Theatre gets their attention."
For more information www.respect2all.org
Related Articles View More Omaha

Stories

Shows