BWW Review: Mesmerizing, Gorgeous THE COLOR PURPLE: THE MUSICAL Makes Stop at Civic Center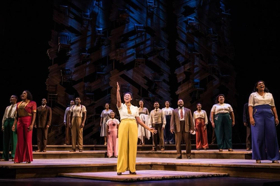 Any truly great piece of theater (or film or art or music or a book) is both timely and timeless, reaching out across many generations and diverse populations to deliver a universal human message that anyone can understand and relate to. You would be hard pressed to find a better example of this than The Color Purple: The Musical, currently making a stop along its North American tour at the Civic Center Music Hall in downtown Oklahoma City.
The Color Purple is based on a Pulitzer Prize-winning novel by Alice Walker and the subsequent film version of that novel. Its original musical incarnation ran for a number of years and received multiple Tony Award nominations in 2006, including best musical, book, score and a number of acting and technical award nominations. The revival production that appeared on Broadway in 2015 was again given multiple nominations and won the Tony for Best Revival of a Musical, as well as Drama Desk Awards and a Grammy.
With a book by Marsha Norman and music and lyrics by Brenda Russell, Allee Willis and Stephen Bray, it's easy to see why this musical has been so universally praised and applauded. While it is a sprawling, almost epic, saga that spans many years and quite a few characters who come and go, it's told in a way that is intimate and personal, with sharp, biting dialogue that's paired with gorgeous, mesmerizing songs.
As with any epic tale, there must be a character at its center who draws us in and connects us to the story and its themes. In this case, the primary person at the story's center is Celie, a young woman growing up in Georgia with her abusive father, Alphonso, and loving sister, Nettie. Celie has already been forced to give up a child twice when she is given away by her father to a local man called "Mister." He turns out to be an even more abusive man, a hard, demanding, mean and tyrannical person who controls everything, including Celie. At one point, Nettie joins Celie and Mister to live with them but she is thrown out by Mister, who threatens to keep the sisters apart forever. Throughout these difficult times, Celie finds comfort in other people she meets, including Mister's son, Harpo, and his wife Sofia. Later, Celia also meets Mister's lover, a jazz singer named Shug Avery, with whom Celia develops a very close relationship. The three women, Celie, Sofia and Shug, help each other to find strength and find themselves as they struggle to survive in the sexist, racist society they find themselves in.
Direction and musical staging of this touring production is by J.H. Doyle, who also directed the revival on Broadway (and was nominated for a Tony and won the Drama Desk Award for direction). He clearly has a talent for crafting each scene for maximum impact and effect, skillfully handing each small, intimate moment as well as he handles big, ensemble music numbers. The pacing of the production hits the right note, it was surprising how long the first half was as it felt much quicker than the actual run time. Even when things slow down for a moment, it's never dull or boring, there is always an energy, an electricity, to every beat.
Doyle is working with a spectacular cast of professionals here, some of whom also starred in the Broadway revival as well. As Celie, Adrianna Hicks could easily carry the show all by herself if she had to, but she doesn't have to with such an incredible cast around her. For her part, she gives Celie such a wonderful, believable and human life and personality on stage, it is a joy to watch her. That feeling is only surpassed by the greater joy of listening to her sing, as her gorgeous voice knocks every note and every song out of the park. As she creates a believable and wonderful journey for Celie, she also believably lives the emotions of every song, making the performance even better for doing so.
Hicks has two equals in talent and charisma in her two female costars. It is worth the price of admission to hear Carrie Compere sing in the role of Sofia. Compere makes it look so easy and effortless as she blows the roof off of the Civic Center with her stunning vocals. At the same time, she beautifully inhabits a character that could become caricature in the hands of a less-talented actress. She has quick wit and a twinkle in her eye when necessary and a believable sadness or anger when those emotions are called for.
Carla R. Stewart is just as stellar in the role of Shug Avery. This is another role that could descent into stereotype if not given a truthful performance by an actress of Stewart's caliber. She also has a fantastic chemistry with Hicks, making their intimate, touching moments together even more real and believable. Their duet "What About Love" is among the musical highlights, but it's a highlight every time that Stewart sings on stage.
While these three actresses shine the brightest in this production, their male costars are no less talented or charismatic. As Harpo, J. Daughtry shines in ever moment, whether it's a character-driven scene or a musical number, like the great "Any Little Thing" that he shares with Compere. Another musical highlight for the men is "Celie's Curse," sung by Gavin Gregory as Mister. While his character undergoes a journey and change that is not as well-written as Celie's, Gregory does a nice job with it and does an excellent job of creating the two sides of Mister, both the hard and softer versions.
There is no weak link to be found in this entire ensemble, really. N'Jameh Camara is lovely as Nettie and she has a perfect sister-like chemistry with Hicks. Their scenes together are always pitch-perfect. Although the character of Squeak is over-the-top in an unnecessary way, Erica Durham is hilarious in the role. Also hilarious are the three Church Ladies, Angela Birchett, Bianca Horn and Brit West, who form a kind of Greek chorus of glorious songstresses. There's also a group of ensemble men who play various roles and come together to create their own perfect harmonies.
Few things about this show aren't as perfect as those harmonious sounds of the ensemble when they sing together. Ann Hould-Ward's costumes are just right and never distracting or out of place. Jane Cox's lighting design is equally well-suited to the production. J.H. Doyle's set design is a little strange, with three wide columns reaching to the sky and covered with hanging chairs, some of which are used to create various settings. It's a little disappointing in terms of the beauty of the music, songs and characters, to have such a dull and drab set that doesn't really do anything to create a specific scene, time or setting. Using the chairs is creative and interesting but it occasionally leaves the audience unsure as to where scenes are actually taking place. Then again, it does put the focus squarely on those scenes, the characters, dialogue and lyrics, which is a good thing.
At this moment in time, especially, seeing this show is more than just a good thing to do. It's mandatory. We have arguably not come far at all from the kinds of sexism, racism, violence and abuse depicted in this show, which takes place in 1909. Finally, people are standing up and saying something about those terrible actions, just like the women in this musical do. It's not a far stretch to get from the rousing "Hell No!" of this musical to the #MeToo movement and the growing chorus of women who are standing up against the kind of abuse they have suffered for years. In that and other ways, this is a show that speaks to everyone, regardless of gender. Anyone who has struggled to find themselves and struggled to find their own sense of self-worth will recognize themselves in Celie and her story. This is a show about where and how we find faith, whether it's in God, in other people, or, most importantly, in ourselves. Right now, finding that kind of faith is as important as ever.
The Color Purple runs through January 7th at the Civic Center Music Hall, 201 North Walker Ave in downtown OKC. Showtimes are Wednesday and Thursday at 7:30pm, Friday at 8:00pm, Saturday at 2:00pm and 8:00pm, and Sunday at 2:00pm and 7:00pm. Tickets are available by visiting OKCBroadway.com, calling 405-297-2264, Monday through Friday, 10:00am to 5:00pm, or visiting the Civic Center Box Office.
Pictured: Adrianna Hicks and the North American tour cast of The Color Purple. Photo by Matthew Murphy, 2017.