THE LITTLE MERMAID To Open Off-Broadway At The Players Theatre
Perfect for all ages, the musical tells the story of Coral, the youngest of three mermaid sisters, and her quest to become a mortal.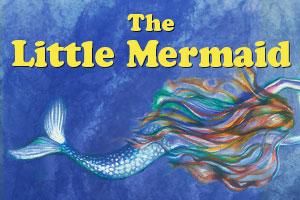 The Little Mermaid the Musical is opening Off-Broadway at The Players Theatre February 25, 2023, bringing to life the undersea adventure of the beloved children's classic by Hans Christian Andersen.
Perfect for all ages, The Little Mermaid the Musical, with books and lyrics by Artistic Director Brenda Bell and music by composer and Players Theatre owner Michael Sgouros, tells the story of Coral, the youngest of three mermaid sisters, and her quest to become a mortal.
The production stays true to the original tale and highlights themes of love and sacrifice. While the story itself has some significant messages about putting others before oneself, its heart-warming approach will keep audiences entertained while leaving them with the sense of just how important love is in all its forms.
"We think Andersen's story is perfectly balanced, and we love that we get to not only entertain but also share the original beloved classic with a new generation," shared Bell.
Throughout the show the live percussion ensemble, beautiful sets and costumes, and talented singers, dancers, and puppeteers will engage children and parents alike. As a bonus, each matinee performance on the weekends comes with a free family workshop one hour before the show. Meeting with the creative team and one of the actors, families will discover how the theatrical elements of the show bring the story to life onstage. They will also be able to make a craft to take home.
"The purpose of the music in any musical is to help tell the story. In the workshop we explain how we use orchestrations to support the story," said Sgouros.
As for the story, we are introduced to Coral, the little mermaid, and two of her sisters Shelly and Pearl, who together form a tight bond of sisterly love and companionship. But no matter how much Coral loves her sisters and her Grand Mum, who helped raise the three sisters, she longs for a life on land among the mortals. Coral takes audiences on an adventure as she saves a prince from a shipwreck, faces an evil Fish-witch, and gains a pair of legs-at the cost of her voice.
"The Little Mermaid" runs through February 25 - April 12 on Saturdays at 3pm and 7pm and Sundays at 11am and 2p at The Players Theatre: 115 MacDougal Street, New York, NY 10012. Family workshops are at 2pm on Saturdays and 10am on Sundays. For more information please visit: www.literallyalive.com.