Photo Flash: Tonya Pinkins, Cory Michael Smith & More Celebrate Opening Night of Ma-Yi Theater's HOUSE RULES
The Obie Award-Winning Ma-Yi Theater Company presents the New York premiere of HOUSE RULES, a new play by A. Rey Pamatmat, which opened last night, Thursday, March 31st, at HERE (145 Sixth Avenue, NYC). HOUSE RULES began previews on March 25th and runs through Saturday, April 16th. Jessica Hagedorn, Tonya Pinkins ("Gotham"), Cory Michael Smith ("Gotham") and Andre Holland ("The Knick") celebrated with the cast at the opening night party. Scroll down to check out the photos.
Ma-Yi Theater Company's Producing Artistic Director Ralph B. Peña directs a powerhouse ensemble featuring Obie Award winners Jojo Gonzalez (MA-YI's The Romance of Magno Rubio) and Mia Katigbak (NAATCO's Awake and Sing!), Tina Chilip (Golden Child), Jeffrey Omura (The Plant That Ate Dirty Socks), Conrad Schott (The Glory of the World, BAM), Tiffany Villarin (Peerless, Yale Repertory) and James Yaegashi (The Oldest Boy).
Princess Grace Award winning playwright A. Rey Pamatmat has fashioned HOUSE RULES, a funny and deeply moving new play where tradition and contemporary manners make strange bedfellows when the grown children of two Filipino-American families - neighbors in the same apartment building - come to realize their parents are not immortal, and that the rules of the many card and board games they play together are constantly renegotiated, as are the rules of living. In the mix are a tough-as-nails father, his sons, a physician and a comic book artist; a no-nonsense mother and her daughters, a doctor and a budding photographer; and another doctor who has mysteriously broken off his engagement with the old man's son.
HOUSE RULES has performances Tuesdays through Saturdays at 8:30; Saturday and Sundays matinees at 4PM. Tickets are $30-$35. For tickets and information: visit here.org, or call 212-253-3101. Information is also available at www.ma-yitheatre.org.
Ma-Yi Theater Company is under the leadership of Producing Artistic Director Ralph B. Peña and Executive Director Jorge Z. Ortoll.
Photos Courtesy of Lia Chang
Cast members James Yaegashi, Tina Chilip, Jojo Gonzalez, Mia Katigbak, Playwright A. Rey Pamatmat, Director Ralph A. Peña, Tiffany Villarin, Jeffrey Omura and Conrad Schott on the set of Ma-Yi Theater Company's HOUSE RULES at HERE

Jeffrey Omura, Jojo Gonzalez and James Yaegashi
Ralph A. Peña (Producing Artistic Director) and Jorge Z. Ortoll (Executive Director)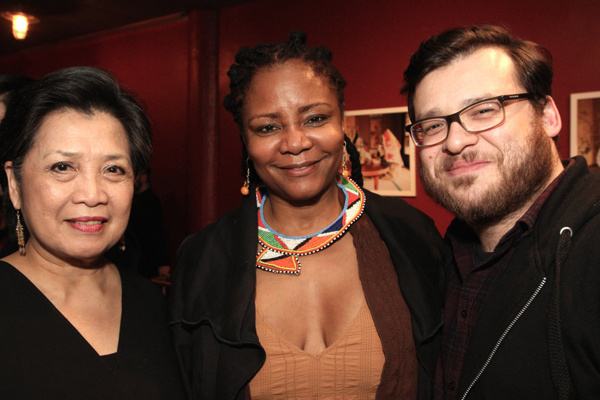 Mia Katigbak, Tonya Pinkins and Playwright Christopher Oscar PenÞa

Jojo Gonzalez and Andre Holland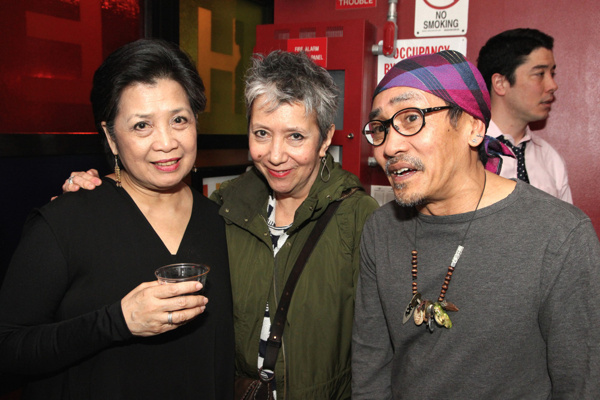 Mia Katigbak, Playwright and Author Jessica Hagedorn and Jojo Gonzalez

THE OLDEST BOY reunion for James Yaegashi and Jon Norman Schneider

Mia Katigbak, Andre Holland and Tiffany Villarin

Mia Katigbak and Cory Michael Smith
-Peter Kim, Jon Norman Schneider, Mia Katigbak and A. Rey Pamatmat