Click Here for More Articles on SILENCE! The Musical
Photo Flash: Stephen Flaherty Visits SILENCE! The Musical and TRIASSIC PARQ
Tony Award-winning composer Stephen Flaherty (Ragtime, Anastasia, Once on This Island, Seussical) caught up on his theatergoing this past weekend when he took in both SILENCE! The Musical at PS122 and TRIASSIC PARQ The Musical at the SoHo Playhouse. Check out photos of Flaherty with the casts below!
Winner of the 2012 Off Broadway Alliance Award for Best Musical, SILENCE! The Musical is the unauthorized parody of The Silence of the Lambs, with book by Hunter Bell, music & lyrics by Jon and Al Kaplan, and direction & choreography by Christopher Gattelli. After opening on July 9, 2011, the show was selected by Time Magazine as one of the year's Top 5 Musicals.
In the Academy Award-winning film The Silence of the Lambs, rookie FBI agent Clarice Starling matches wits with the brilliant but insane cannibal, Dr. Hannibal Lecter, to catch the serial killer known only as Buffalo Bill. Clarice faces her own demons while racing the clock to unlock Lecter's clues before another innocent girl is killed and skinned by Buffalo Bill. The laugh-out-loud wicked satire, SILENCE! The Musical,features a singing chorus of floppy eared lambs narrating the action as Buffalo Bill gleefully dances a hoedown while kidnapping hapless Catherine Martin. Even Dr. Lecter, scary as ever, sings about the life he'd like to lead someday outside the prison walls.
David Garrison (Hannibal Lecter),Jenn Harris (Clarice Starling) and Stephen Bienskie (Buffalo Bill) head the cast of SILENCE!, which features Harry Bouvy, Ashlee Dupré, Annie Funke, Howard Kaye, Nick McGough, Topher Nuccio, Ronica V. Reddick, Pamela Bob and Doug Trapp.
TRIASSIC PARQ The Musical, 2010's Best Musical winner at FringeNYC, is in previews now for a limited Off-Broadway engagement through August 5th. Opening night is tomorrow, June 27th. Written by Marshall Pailet, Bryce Norbitz and Steve Wargo, TRIASSIC PARQ is directed by Mr. Pailet, with choreography by Kyle Mullins and musical direction by Zak Sandler. The cast of TRIASSIC PARQ features Lindsay Nicole Chambers, Brandon Espinoza, Wade McCollum, Claire Neumann, Lee Seymour, Shelley Thomas, and ALex Wyse.
Raucous and hilarious, TRIASSIC PARQ The Musical vividly brings together music, sex and singing dinosaurs in ways hitherto unimagined. Chaos is unleashed upon the not-so-prehistoric world when one dinosaur in a clan of females spontaneously turns male. The mutation spawns a chain reaction of identity crises, forcing the dinosaurs to question the very facts of life they've held as truth. TRIASSIC PARQ is an unflinching musical meditation on science, faith and love. Like all great tales laden with import, it is narrated by Morgan Freeman.
For more information, or to order tickets, visit www.SilenceTheMusical.com and www.TriassicParq.com.
Photo credits:
Ritchard Druther
and
Donna Trinkoff


Stephen Flaherty (center) surrounded by the SILENCE! The Musical Company. Photo: Ritchard Druther.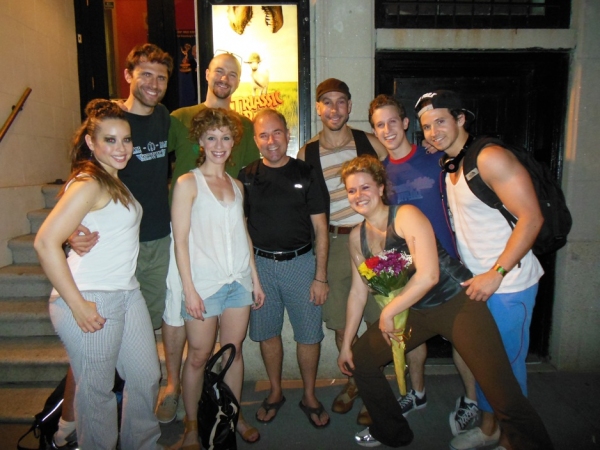 Stephen Flaherty (center) with the cast of TRIASSIC PARQ The Musical. Photo: Donna Trinkoff.

Related Articles
More Hot Stories For You