Origin Theatre Company Announces 2021 BLOOMSDAY REVEL
Actors featured include Terry Donnelly, Fiona Walsh, Una Clancy, Ed Malone, Aidan Redmond, Fiona Walsh, Gina Costigan, and Sarah Street.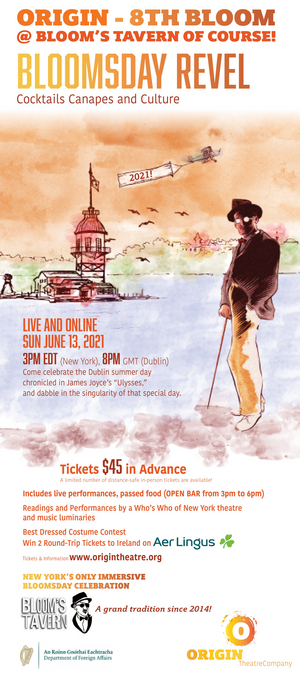 On Sunday June 13 at 3pm, Origin Theatre Company will present the 8th annual edition of its popular immersive Bloomsday celebration, renamed the "Bloomsday Revel." Co-produced with Blooms Tavern, which, once again, hosts the live event at its two-level Midtown home at

208 East 58th Street,

the distance-safe, in-person staging mixes a juried costume contest and dramatic readings from "Ulysses" -- performed by a cast of celebrated New York-based Irish actors including Terry Donnelly, Fiona Walsh, Una Clancy, Ed Malone, Aidan Redmond, Fiona Walsh, Gina Costigan, and Sarah Street. Musical interludes are performed by the Irish folk-rock troubadour, Alan Gogarty.
A limited amount of in-person tickets for the "Bloomsday Revel" are now on sale. Included in the $45 ticket price are

Bloomsday-inspired passed hors d'oeuvres and an open bar from 3pm to 6pm.

For tickets visit www.origintheatre.org
Produced by Origin Theatre Company, and co-curated by Paula Nance and Michael Mellamphy (and a grand tradition since 2014!),

"Origin's 8th Bloom... @ Bloom's Tavern of Course!"

commemorates the Dublin spring day chronicled in James Joyce's landmark novel "Ulysses," June 16, 1904.
The event's "Best Dressed" Costume Competition (for the

"most strikingly dressed Molly or Leopold Bloom") is sponsored by Aer Lingus, which provides free round-trip airfare for 2 to Ireland for the winner, chosen by a blue-ribbon panel of judges (to be announced). Couples and individuals are eligible. 1 grand prize will be awarded.
"Luckily we didn't miss a year in 2020," says "Mick" Mellamphy, Origin's new artistic director, who took over leadership of the company from its beloved founder, George C. Heslin, now the executive director of the New York Irish Center. "We were fully virtual last year, in a program packed with great performances and heartfelt messages. But this year we are creating an all-new hybrid that celebrates the many ways we share experiences like this unique and important literary holiday. James Joyce after all was all about setting new rules in art... we're immensely pleased to continue that tradition in 2021."
James Joyce first serialized "Ulysses" beginning in 1918. Considered a masterpiece of modernism, it was banned in the U.S. before the book was published in its entirety in France in 1922. Bloomsday observances around the world date back to 1924, five short years after the last world pandemic.
Mixing readings from "Ulysses," musical interludes, and special messages from fans and dignitaries in New York and the Island of Ireland, the 2021 "Bloomsday Revel" is supported by the Irish Department of Foreign Affairs through their Emigrant Services Program, with promotional support from Aer Lingus. Experienced live and in-person at Blooms Tavern, 208 East 58th Street, on Sunday June 13 from 3pm to 6pm EDT, "Bloomsday Revel" is broadcast on Facebook live. Tickets for the live event are $45 and include cocktails, canapés and culture! For information on how to take part in the celebration to

www.origintheatre.org